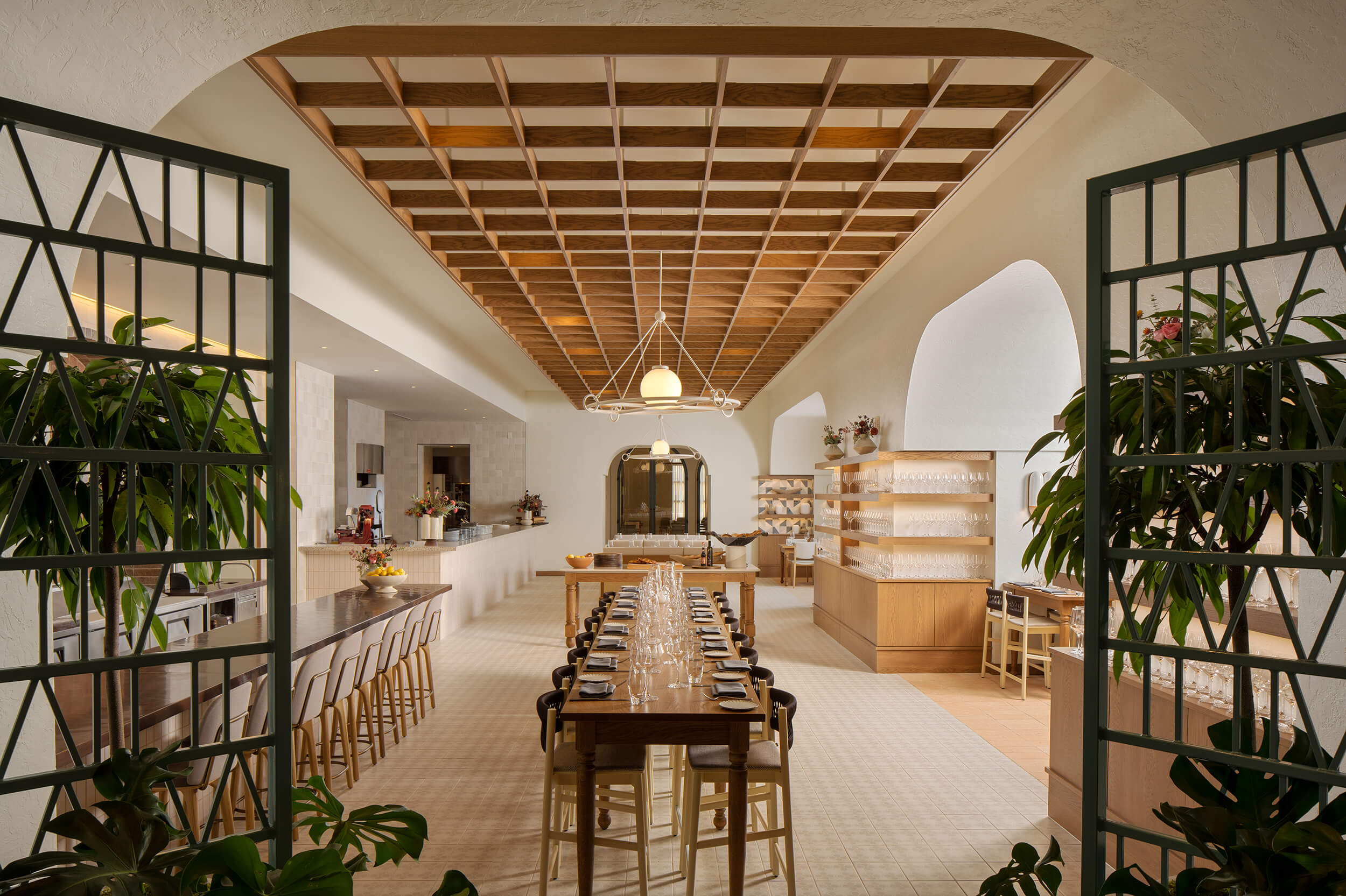 Interiors Awards
Interiors Awards Winners Announced
ICFF has announced the winners of the 42nd annual Interiors Awards. The annual trade fair relaunched the beloved Interiors Awards and distinguished Designer of the Year Award, formerly presented by Contract magazine.
Over its 41-year history, the program has been integral to the design field, celebrating exceptional interior design work across all industries and assisting in launching and supporting the careers of some of the world's best designers.
Judged by former designers of the year Nina Etnier, Float Studio; Primo Orpilla, Studio O+A; and Lauren Rottet, Rottet Studio, ICFF Interiors Awards honors outstanding interiors projects across 11 categories, including hotel, office, residential, and retail.
In addition, Kia Weatherspoon, president of Washington, DC-based Determined by Design, will be awarded the prestigious Designer of the Year award. Determined by Design specializes in the creation of beautiful, functional, and stimulating interior spaces that enable the progress of people and their neighborhoods. The SCAD professor and her team provide full-service interior design for multifamily affordable and supportive housing properties, boutique hotels, and small businesses located in economically challenged and emerging communities—driven by a commitment to establish exceptional interior design as a standard for all, rather than a luxury for few. From real estate developers to architects, and property owners to entrepreneurs, the firm collaborates with many who share a common vision of uplifting lives and enriching places.
Winners were announced during a breakfast ceremony on Tuesday, May 17th at Gotham Hall in New York. All winner and finalist projects will be featured further on icff.com.
Scroll down to see the ICFF Interior Awards finalists across all categories.
Adaptive Reuse/Historic Renovation

Winner
33 E Washington – SAIC Infrastructure and Stair, Chicago
Eastlake Studio, Chicago
Ambar, El Paso, Texas
The Johnson Studio, Atlanta
Winner
La Colombe d'Or, Houston
Rottet Studio, Houston
Bar/Restaurant

Winner
Ci Siamo, New York
Goodrich, New York
Marcus Baha Mar, Nassau – The Bahamas
Meyer Davis, New York
Osteria Betulla, Saint Petersburg, Russia
DA BUREAU, Saint-Petersburg, Russia
Primo, Orlando
Dutch East Design, Brooklyn, New York
Civic/Public
Winner
DC Public Library – Southwest Library, Washington, DC
Perkins&Will, Washington, DC
Sounding Boards Garden, North Lawndale, Chicago
Eastlake Studio, Chicago
Education
LearnScape, Leoben, Austria
INNOCAD Architecture, GrazStyria, Austria
Winner
The Schiff House Daycare Center at City College of New York, New York
Michielli + Wyetzner Architects, New York
Winner
Tom and Ruth Harkin Center at Drake University, Des Moines, Iowa
BNIM, Kansas City, Missouri
Healthcare
Balfour at Longmont, Longmont, Colorado
Balfour Interiors, Louisville, Colorado
Winner
The Children's Place Renovation & Addition, Kansas City, Missouri
HOK, Kansas City, Missouri
Hotel/Lodging
Chapter and Verse Hotel, Wuzhen, China
New Practice Studio, New York
Etereo, Riviera Maya, Mexico
Meyer Davis, New York
Winner
INNESS, Accord, New York
Post Company and Taavo Somer, Brooklyn, New York
W Rome
Meyer Davis, New York
Office
Winner
ARTIS Ventures, San Francisco, California
Studio O+A, San Francisco
Confidential Media Client, STUDIOS Architecture, San Francisco
VF Denver, Denver, Colorado
Rapt Studio, San Francisco
YouTube Office 2, San Bruno, California
JENSEN Architects, San Bruno, California
Other
800 Fulton Market, Chicago
Skidmore, Owings & Merrill, Chicago
Winner
Permanent Mission of the United Arab Emirates to the United Nations, New York City
Skidmore, Owings & Merrill, New York
WAN FAT JINYI CINEMA, Shenzhen, China
One Plus Partnership Limited, Quarry Bay, Hong Kong
Residential
Winner
Courtyard House, Vancouver
Leckie Studio Architecture + Design, Vancouver
G4 apartment, Saint Petersburg, Russia
DA BUREAU, Saint-Petersburg, Russia
Perez Residence, Miami
Meyer Davis, New York
West 76th Street Apartment, New York
Messana O'Rorke, New York
West Village Penthouse, New York
GRADE, New York
Retail Space
D.S. & Durga Williamsburg, Brooklyn
K&CO in association with Woods Bagot, with Kavi Ahuja Moltz and Pilskin Architecture, New York
Winner
The Hyundai Seoul
BURDIFILEK, Toronto
Student

Winner
Encamp: Temporary Shelter for Pilgrims and Tourists, Savannah College of Art and Design
Osmosis: A Chronic Disease Center Applied Integrated Care Model (ICM) to Facilitate Autonomous Healthcare Practices Among Healthcare Providers and Patients, Savannah College of Art and Design
Pulse- Exploratory Wellness Center, Fashion Institute of Technology
Wellness/Sustainable
Winner
Piaule Catskill Landscape Hotel, Catskill, New York
Piaule, Catskill, New York
SOM New York Office, New York
Skidmore, Owings & Merrill, New York