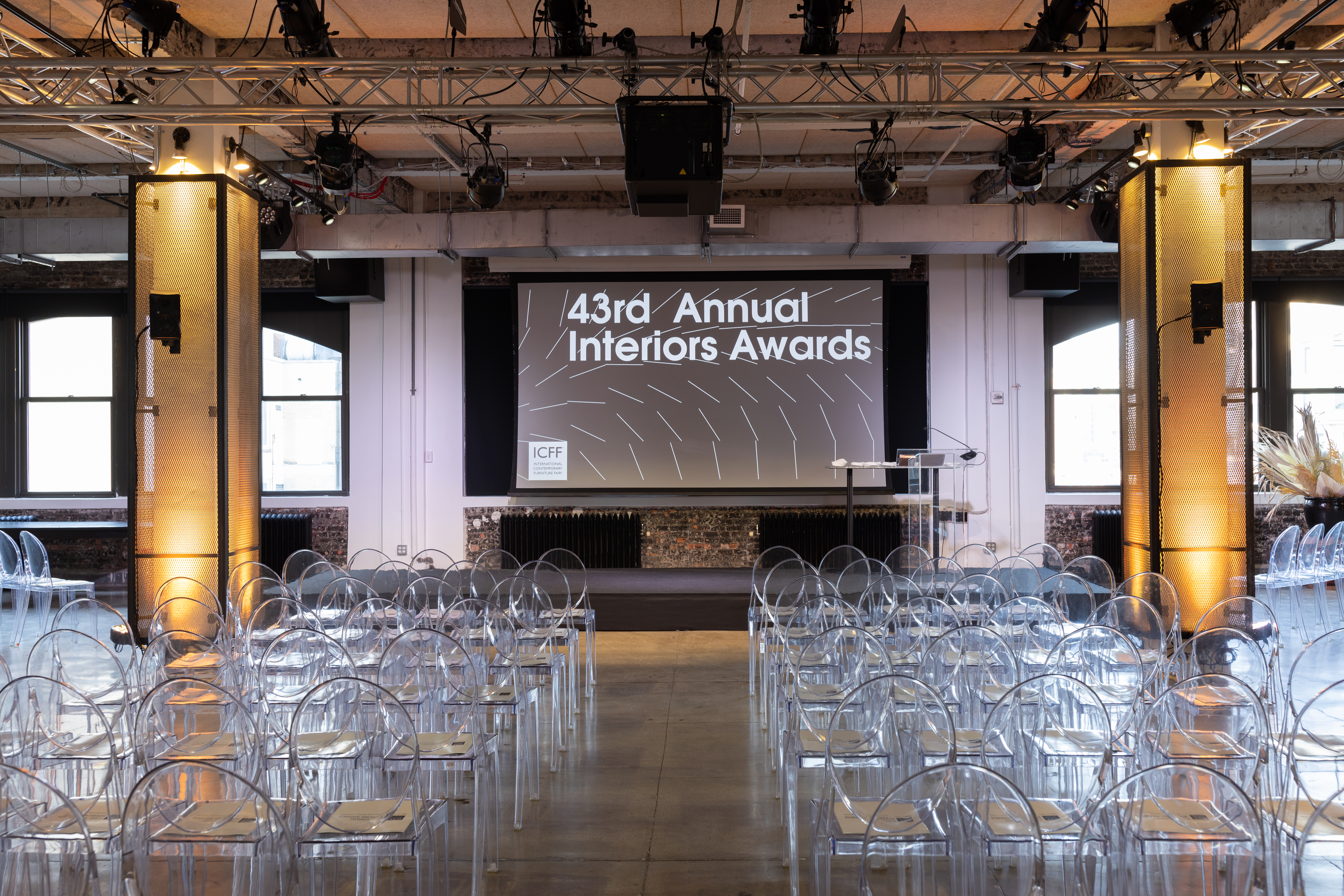 Interiors Awards
The 43rd Annual Interiors Awards
ICFF celebrates another year of exceptional work in the field of interior design across all disciplines at the 43rd Annual Interiors Awards.
On the Saturday night of this year's New York Design Week, some of the greatest talents in the industry gathered atop a building in the Flatiron district to celebrate the extraordinary work of their peers. The Penthouse at NeueHouse Madison Square set the scene with an Instagram-worthy spread of appetizers, great views, chilly drinks, moody lighting, and even the twinkle of a disco ball rotating overhead. But the star of the show was the collection of work up for one of this year's Interiors Awards.
The Interiors Awards and distinguished Designer of the Year recognition have both launched and supported the careers of some of the world's most incredible designers. An opportunity for designers across the world to have their work recognized, the awards span 12 categories: Wellness/Sustainable, Bar/Restaurant, Education, Healthcare, Hotel, Office, Adaptive Reuse/Historic Renovation, Retail, Civic/Public, Residential, Other, and Student.
An esteemed jury of design leaders selected this year's finalists—and winners. Huxley Hogeboom, the executive vice president of design and development at Left Lane Development, along with Sarah Klymson, the global vice president of product & brand development for Hyatt Hotels and Resorts, and Kia Weatherspoon, the president of Determined by Design and last year's Designer of the Year, considered the nearly 300 projects submitted to this year's awards.
And now for what you've been waiting for—the winners:
Wellness/Sustainable
Hotel Marcel New Haven | New Haven, Connecticut
Dutch East Design | Brooklyn, New York
Bar/Restaurant
Chleo | Kingston, New York
Islyn Studio | Brooklyn, New York
Education
Stanley Museum of Art at the University of Iowa | Iowa City, Iowa
BNIM | Des Moines, Iowa
Healthcare
Institute for Specialized Medicine & Intervention (ISMI) | Montreal, Quebec
HOK | Toronto, Ontario
Hotel
CIVILIAN Hotel | New York, New York
Rockwell Group | New York, New York
Office
Bay Area Research Company | Bay Area, California
SkB Architects | Seattle, Washington
Adaptive Reuse/Historic Renovation
The Pinch | Charleston, South Carolina
Morris Adjmi Architects | New York, New York
Student
Care Mobile Clinic
Soojung Yoo | ArtCenter College of Design
Retail
A.MANO Brooklyn | Brooklyn, New York
Sergio Mannino Studio | Brooklyn, New York
Civic/Public
Princeton Municipal Center | Princeton, Texas
Perkins&Will | Dallas, Texas
Residential
Junegrass House | Jackson, Wyoming
Messana O'Rorke | New York, New York
Transformative Spaces
Terroir Tribeca Galileo | New York, New York
Bentel & Bentel Architects/Planners | Locust Valley, New York
And at last, the Designer of the Year, a recognition made possible through the support of our partner, the Luxury Division of Pella.
We asked past Designers of the Year to nominate who they would suggest for this year's coveted award, and one name stood out: Morris Adjmi.
This year's honoree builds memorable spaces that are timeless, charmful, and at one with their locations. He supports artists by integrating art with architecture. He plays with unexpected materials inside and out. He's a mentor to many. And an inspiration to us.
And a very heartfelt thank you to our sponsors: Caesarstone, the title sponsor of the 2023 Interiors Awards, and the Luxury Division of Pella, sponsor of this year's Designer of the Year.
Stay tuned for a deep dive into each of this year's winning projects and see our interview with Designer of the Year Morris Adjmi.