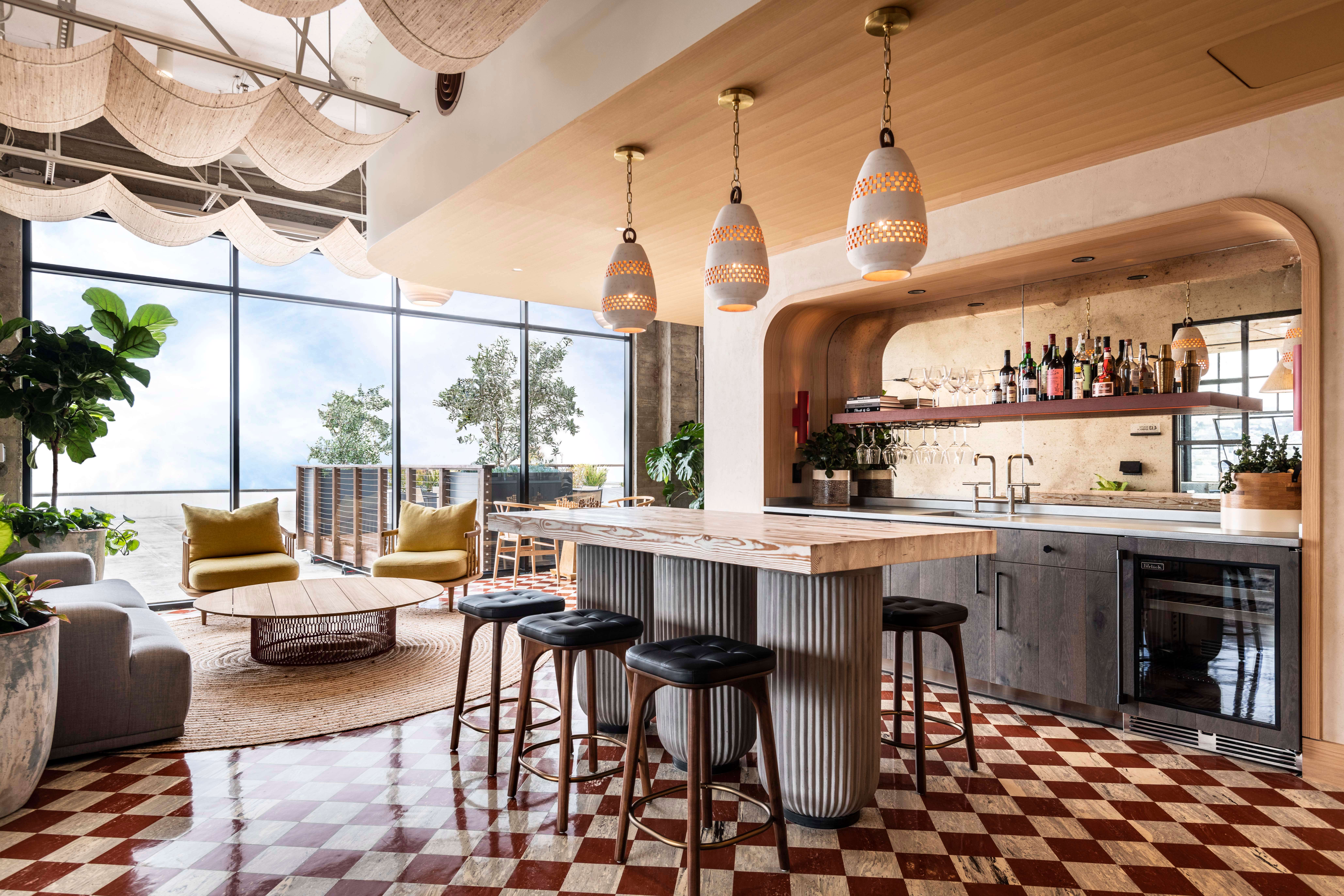 Interiors Awards
2023 Interiors Awards Finalists Announced
Selected by an esteemed jury of design leaders, winners—along with the coveted Designer of the Year honor—will be revealed and celebrated at the awards ceremony at NeueHouse in New York City on May 21, 2023 during ICFF.
Over its 42-year history, the Interiors Awards program has been integral to the design field, celebrating exceptional interior design work across all industries and assisting in launching and supporting the careers of some of the world's best designers.
This year's esteemed jury of industry experts across hospitality, residential, and commercial design have selected the finalists across the awards' 12 categories. Meet judges Huxley Hogeboom, Left Lane Development; Sarah Klymson, Hyatt Hotels and Resorts; and former Designer of the Year Kia Weatherspoon, Determined by Design, here.
Adaptive Reuse/Historic Renovation
The Landon | New York, New York
JG Neukomm Architecture | New York, New York
The Pinch | Charleston, South Carolina
Morris Adjmi Architects | New York, New York
Bar/Restaurant
Bar Cima | New York, New York
Dutch East Design | Brooklyn, New York
Chleo | Kingston, New York
Islyn Studio | Brooklyn, New York
Sofia Miami | Miami, Florida
Studio Munge | Toronto, Ontario
Civic/Public
1021 O Street State Office Building | Sacramento, California
HOK | San Francisco, California
Princeton Municipal Center | Princeton, Texas
Perkins&Will | Dallas, Texas
Education
Stanley Museum of Art at the University of Iowa | Iowa City, Iowa
BNIM | Des Moines, Iowa
University of California San Diego North Torrey Pines Living and Learning Neighborhood | San Diego, California
HKS | Los Angeles, California
Healthcare
Institute for Specialized Medicine & Intervention (ISMI) | Montreal, Quebec
HOK | Toronto, Ontario
Symphony Orthodontics | Bristow, Virginia
OLI Architecture | New York, New York
Hotel
CIVILIAN Hotel | New York, New York
Rockwell Group | New York, New York
Muir, Autograph Collection | Halifax, Nova Scotia
Studio Munge | Toronto, Ontario
Venice V Hotel | Venice, California
Relativity Architects | Los Angeles, California
Office
Bay Area Research Company | Bay Area, California
SkB Architects | Seattle, Washington
Confidential | Burbank, California
Gensler | Los Angeles, California
Mondelēz International Headquarters | Chicago, Illinois
Solomon Cordwell Buenz (SCB) | Chicago, Illinois
Residential
Angel Oaks Residence | Miami, Florida
[STRANG] Design | Miami, Florida
Junegrass House | Jackson, Wyoming
Messana O'Rorke | New York, New York
Retail
A.MANO Brooklyn | Brooklyn, New York
Sergio Mannino Studio | Brooklyn, New York
Jonathan Simkhai | New York, New York
Aruliden | New York, New York
Transformative Spaces (previously Other)
SUMMIT One Vanderbilt | New York, New York
Snøhetta | New York, New York
Terroir Tribeca Galileo | New York, New York
Bentel & Bentel Architects/Planners | Locust Valley, New York
Wellness/Sustainable
Entreverdes AE | São Paulo, Brazil
GS+AD International | São Paulo, Brazil
Hotel Marcel New Haven | New Haven, Connecticut
Dutch East Design | Brooklyn, New York
Student
Care Mobile Clinic
Soojung Yoo | ArtCenter College of Design
Patagonia x Golf
Paige Ofield | Savannah College of Art and Design