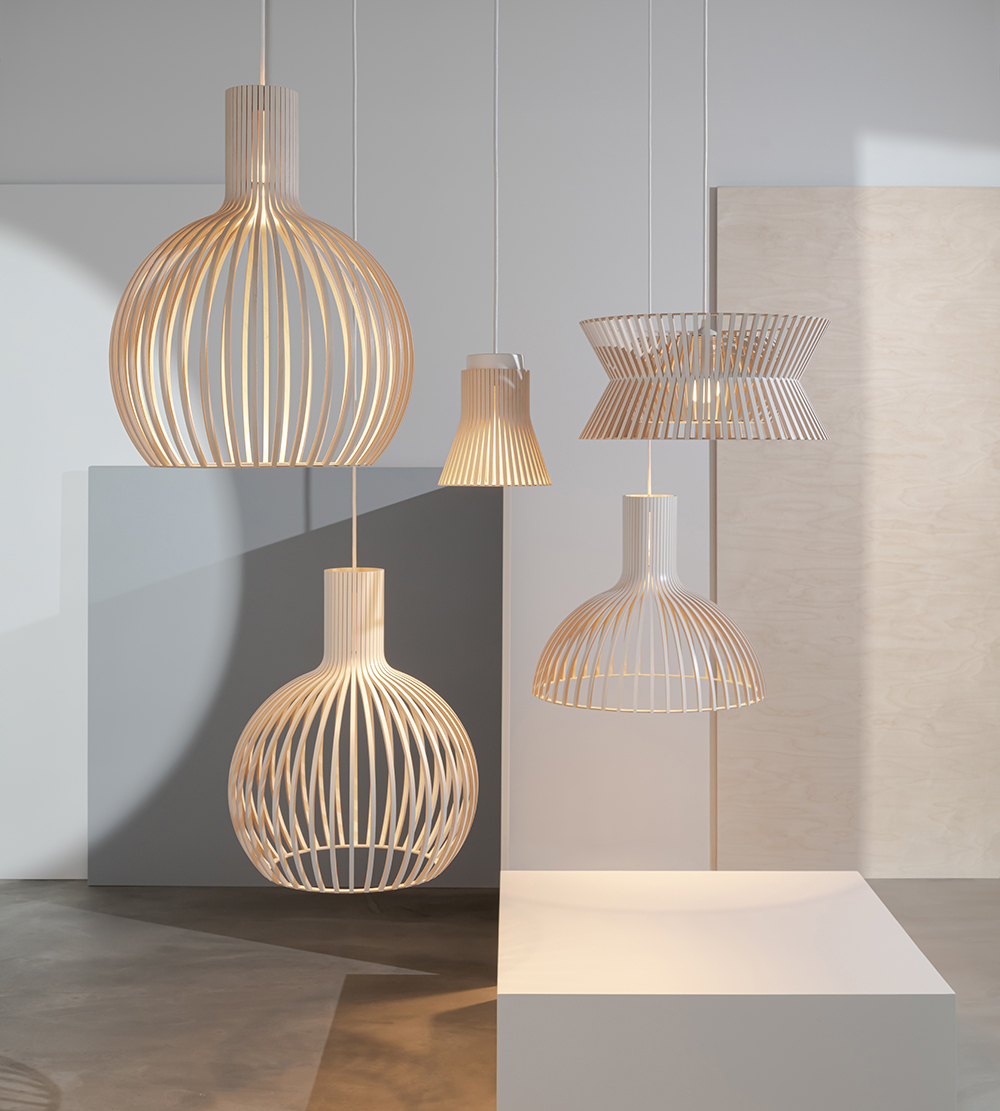 Secto Design: Light The Way
From the moment they met in 1995, Tuula Jusélius and Seppo Koho were kindred spirits; having a mutual respect for Scandinavian design and professional woodworking. The duo began collaborating and in 1999 the very first Secto Design lamp, the conical Secto 4200, was created. Today, the Finnish company specializes in design lights handcrafted from top-quality local PEFC certified birch wood and the collection consists of 26 different models, all crafted following ecological, ethical, and socially sustainable practices.
"The entire collection is designed by the award-winning Finnish architect Mr Seppo Koho," says Jusélius. "All Secto Design lamps are handmade at our factory, Sectomo. Sectomo is located an hour and a half drive north from Helsinki in the middle of Lakeland Finland surrounded by lakes and forests. The factory provides work for a little over 30 highly talented local craftsmen, who are the pairs of hands behind the lamps."

As an architect by trade, Seppo Koho views Secto Design lights as spaces by themselves. With the intention of creating lamps that give harmonious inviting light, the bulb is hidden and never blinds the viewer.
"Koho is fascinated by the play with light and shadows which one can see also in Secto Design lamps," says Jusélius. "The play of light and shadows together with the warmth of the birch wood give Seppo Koho's designs a poetic twist."

Secto Design shades are made of certified, top-quality birch veneer that is form-pressed into blanks. The blanks are then cut into slats, which are sanded and finally connected using rings of thin plywood. All By sourcing birch from PEFC certified commercial forests in Finland, aspects like biodiviersity, forest health, the wellbeing of the workers, and the cultural value of the forests are all taken into account."
"Finnish quality and environmental friendliness are among the key values of Secto Design," says Jusélius. "In production, every piece of birch is utilized. Recycling and waste sorting are prioritized throughout the whole manufacturing process and all wooden waste is delivered to a waste-to-energy power plant. For heating the premises Secto Design uses both geothermal and gas. As to the partners, Secto Design only uses suppliers and subcontractors who can prove that also their working conditions comply with national legislation and the high ethical standards of the company."