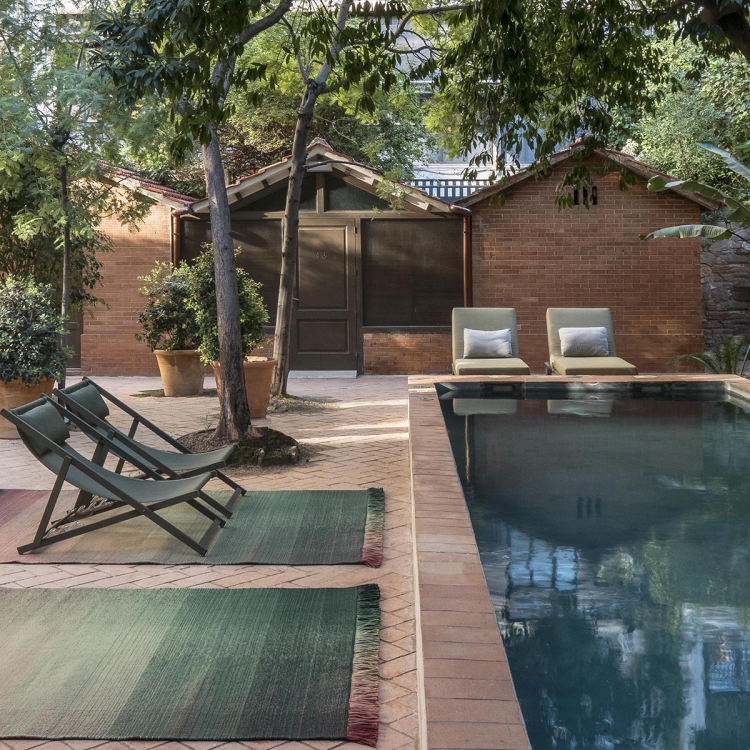 nanimarquina: Labor Of Love
Nani Marquina has been subject to design since she was a child living under her parents roof. Her father, the inventor of the famous Marquina oil cruet, made a lasting impact on Nani and she decided at a young age she wanted to create. It was 1987 when Nani founded her namesake company in Barcelona, taking on the challenge of maintaining traditional weaving practices and working alongside international designers.
"Nani was an interior designer herself in the 80s," says Scott Burns, VP Americas, nanimarquina. "She was pushing the boxes even then in Spain because she was in need of a modern rug for a project, but there wasn't one to be found. So she designed one herself, had it produced, and 34 years later here we are. She went to India when she didn't think the quality of the rugs were good enough in Spain and made the relationship with the suppliers in India and they're still our same suppliers today."
Moving production to India was a risk, but Nani quickly discovered the unlimited skills of the artisans and the cultural value of the rug in their society. To this day, nanimarquina still makes their rugs with ancient techniques by weavers in India, Pakistan, and Nepal with respect to their traditions and the environment."
While the Indian, Pakistani, and Nepalese weavers craft the rugs, there is a second branch to the company's collaborations. While Nani and her design team in Barcelona design many collections, the brand is known for working with dozens of internationally acclaimed designers and artists who bring their ideas to life alongside the Spanish studio.
"We are very fortunate to work with some of the most iconic designers in the industry today," says Burns. "Collaboration has always been very important to Nani. She's been working with designers for a long time and some fo these collaborations have become classics and staples of our collections. She enjoys it because collaboration heightens her creativity because you're bringing in different viewpoints, traditions, customs, and opinions, and you end up with beautiful designs."
This year, nanimarquina launched four new collections. The Tres collection, designed in-house is a traditional Indian flat-weave Dhurrie rug created with texture throughout by way of utilizing different pressure points while the rug is on the loom. The Silhouette collection, designed by Jaime Hayon is the designers second collaboration with nanimarquina. The indoor-outdoor collection depicts silhouettes of several imaginary characters that intertwine and coexist with one another. The Colors collection, also designed by Nani and team, is a 100-percent New Zealand wool collection featuring four color options in rich, saturated hues. And finally, the Flora collection is designed by Santi Moix, a Spanish designer who encapsolates the entire life cycle of a flower in his art. The collection features a literal interpretation of one of Santi's paintings as well as two irregular rugs.