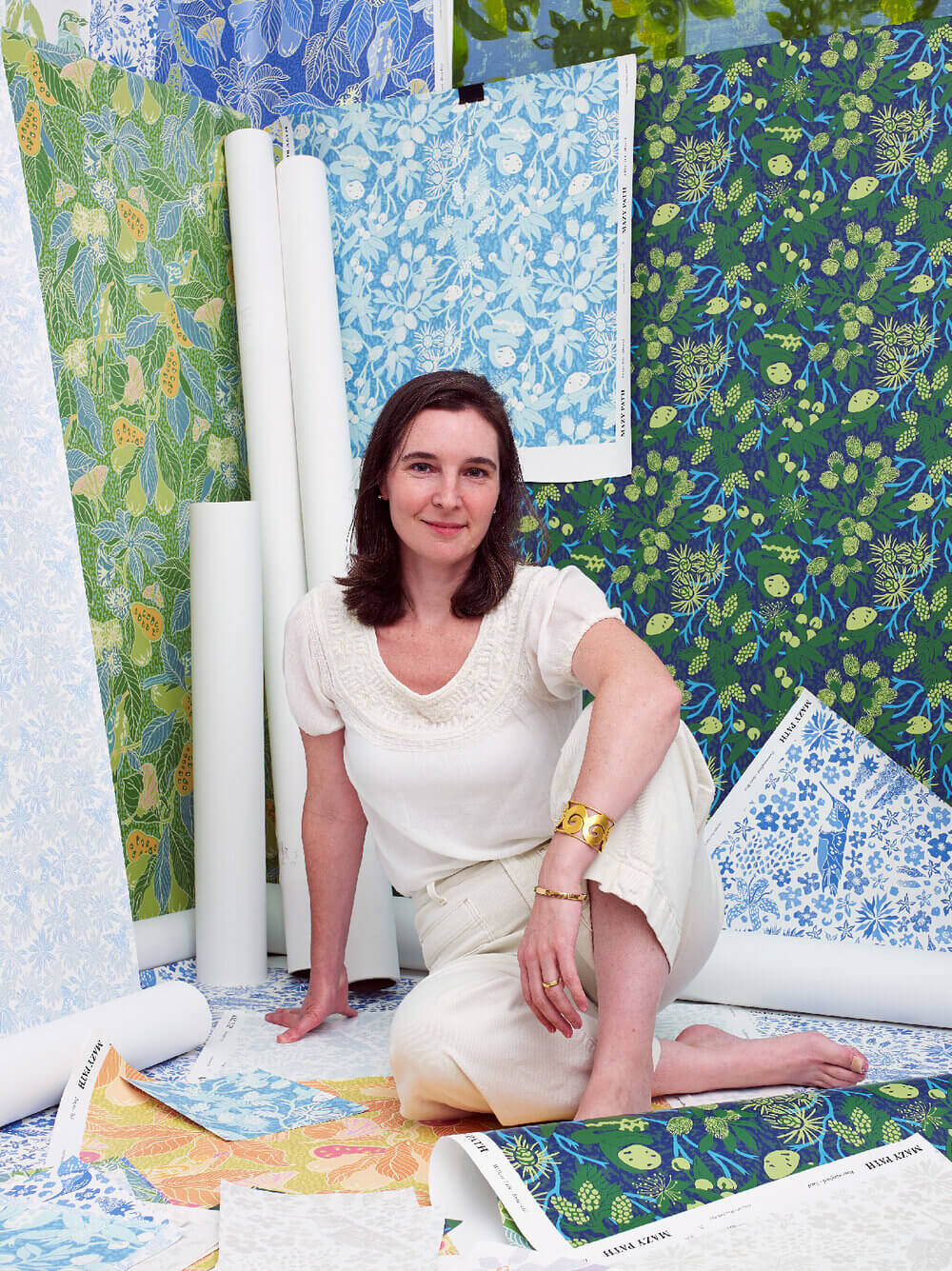 Mazy Path: All Natural
Walking into a space adorned in Mazy Path wallcoverings feels homogeneous to entering an enchanting garden. The brand, producers of handmade wallcoverings, is inspired by the beauty of plants and the infinite ways that they enhance our lives. Also passionate about linocuts—relief prints that simultaneously convey nostalgia and immediacy—the two loves come together in wallcoverings based on handmade linocuts that explore plants and their stories.
"At Mazy Path plants are my muse," says Alexis Audette, founder of Mazy Path. "I love them for their formal beauty, and I find wonder in all the ways that plants make our lives better and our planet inhabitable. Mazy Path's design ethos is rooted in my upbringing. I spent my summers in Vermont where my family has an old farmhouse. My memories are of picking wild strawberries in the meadows, foraging for chanterelles in the woods, playing hide and seek in stands of giant ferns, reading books in the shade of sugar maples, swimming in spring-fed ponds. The outdoors was my playground."
As Alexis got older, she learned to identify many trees, flowers, and grasses by name—Paper Birch, Queen Anne's Lace, Goldenrod, etc. All of these names came with their own vast history and gave the plants an entirely new dimension to explore.
"I started to read the work of nineteenth century transcendentalists, such as Thoreau and Emerson. Transcendentalism—the notion of access to the divine through nature—changed forever how I saw the natural world. I eventually attended RISD, became a designer and worked at large companies in the textile industry. But I credit my childhood experiences in a place of natural beauty, combined with an early education in how to see plant life through botanical and spiritual lenses, with shaping my creative point of view and planting the seeds for Mazy Path."
Alexis' affinity for wallpaper and textiles came from her mother, who loved florals and botanicals, both inside her childhood home and outside in the garden.
"When I share with other designers that I've spent my career designing wallpaper and textiles, their faces light up," says Alexis. "As we talk further, it often turns out that we share strong associations between decorative wallpapers and fabrics and our mothers and grandmothers. Wallpaper and textiles, with their specific patterns, colors, and textures, evoke a deep nostalgia for the women who decorated the homes we grew up in, influenced our design preferences, and opened our eyes to living with beauty. Mazy Path wallpapers pay homage to the worlds of patterns and plants that my mother taught me to love."
Mazy Path's design process is quite detailed. Alexis begins the process by developing layouts that lend themselves to the story she intends to tell. Her Hummingbird pattern is based on a Pedro de Lemos painting in which deer serve as the focal point of a dense garden. Following de Lemos' example, her pattern features flowers that gather around a hummingbird—the pollinator on whom they depend—like planets orbiting the sun.
"Once I've established the layout, I begin sketching motifs and placing them in the layout as though I were completing a puzzle," says Alexis. "Next I transfer the sketches to linoleum blocks, and start carving and printing them. Finally, I scan all of the prints and assemble them as a digital file at which point I begin to add color. The tension between exuberant color and formal surface design captivates me, and is what I strive to capture in my own work."
Wallcoverings isn't the end of the road for Alexis either. She plans to eventually include fabrics in Mazy Path's story and someday, maybe even ceramics. At ICFF 2020, Alexis planned to launch Mazy Path as a brand and Community Garden, her debut collection. Ultimately, she was able to fulfill both of these missions at ICFF and WantedDesign's virtual trade event CLOSEUP in October. And to those who find themselves tentative to incorporate bold, colorful patterns to their walls, Alexis would remind you of the words of the great Austrian architect and designer Josef Frank, "Pattern is calming."