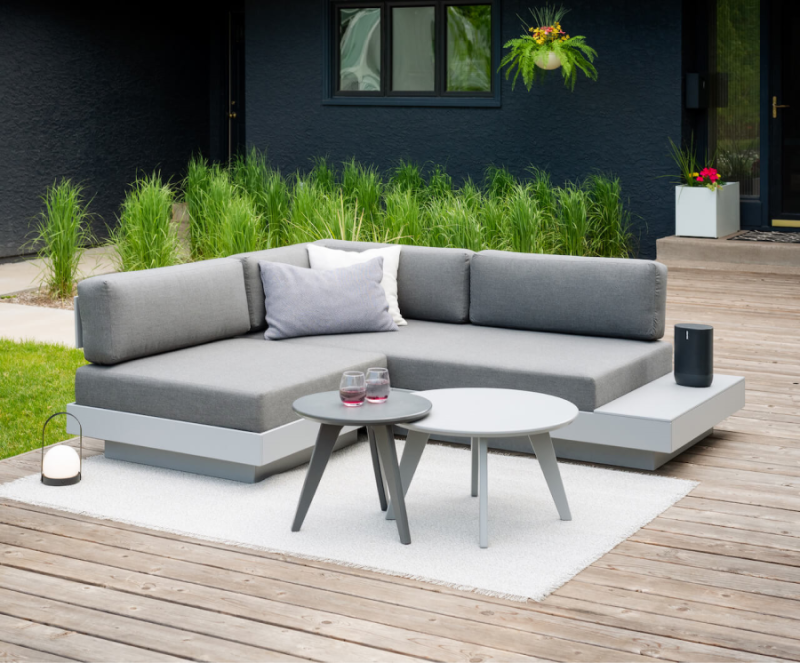 Brand Spotlight
Loll Designs: Grown-Up Fun
Skateparks—that's what Duluth, Minnesota-based outdoor furniture manufacture Loll used to craft before they knew how to even approach designing a chair. But back then, the company was called TrueRide and they were specializing in custom municipal skate parks made from post­industrial plastic.
"We were one of the first companies to use some sort of recycled material in our ramps," says Nate Heydt, VP Business Development, Loll Designs. "We were looking at this material and playing around with the waste, and the idea of Adirondack chairs made sense for the linear pieces that we had left over."
Heydt likes to joke that someone left the backdoor of the design world cracked open and they snuck in—and it's not a bad way to think about this progression from skateparks to high-end furniture, which you could argue happened by accident.
"It happened naturally," says Heydt. "First friends and family were buying them and then there was this outdoor gear store selling our stuff, and it just felt right. As we started transitioning out of the skate parks, (maybe we were growing up a little bit), creating something for someone's backyard felt like the right move for us."
Loll designs and manufactures all-weather, outdoor furniture made from ultra-durable high density polyethylene (HDPE), mostly from recycled materials. The company likes to say that they design furniture for the "modern Lollygagger"—an inspiration for the brand's catchy name.
"We're very very proud to manufacture in the US primarily out of US materials and primarily out of recycled and recyclable materials," says Heydt. "That's been a big key driving force. We're using as much recycled material as we possibly can, but it's also the durability factor for us. We're producing a product that will hopefully be passed down for more than one generation."
Loll utilizes recycled plastic milk jugs, which are compressed down into 4×8 sheets in three different thicknesses, which are then cut with a CNC machine into the various Loll furniture offerings. Since 2005, the company has recycled more than 135 million milk jugs into modern outdoor furniture.
"Our one primary type of material transfers through all of our furniture," says Heydt. "Because of that, everything kind of works together, which is really cool. This gives our end users and customers lots of options and ways to play with things."
While the company began with a simple Adirondack chair, Loll now produces a vast array of outdoor furniture. Their  sofas and sectionals, swing chairs, rocking chairs, chaises, dining and cocktail tables, planters, storage, as well as accessories—giving the end user free reign to create a beautiful outdoor setting that matches perfectly while doing good for the environment.