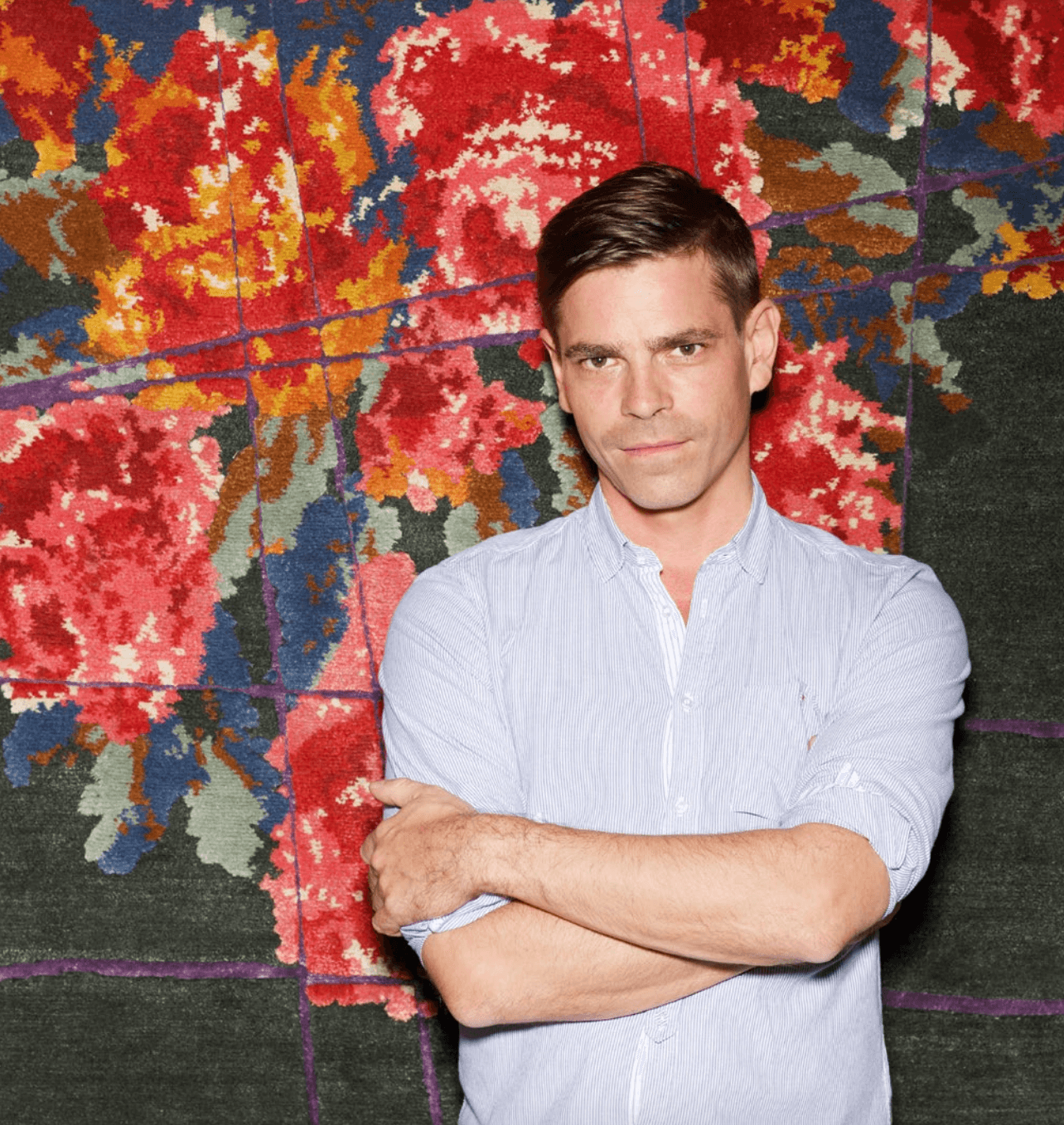 Jan Kath: Under Foot
Originally from Bochum, Germany, designer Jan Kath has made it his mission to create an entirely new perspective on carpets—combining classic elements and weaving techniques with contemporary, minimalist design. With a deep understanding of what makes people feel at home without sacrificing appearance, Kath's signature style brings the Persian rugs of yesteryear into the 21st century. Having launched his business in Bochum, where they are still headquartered today, Jan Kath stores are now located in Hamburg, Cologne, Berlin, Stuttgart, and New York.
"Nobody feels really comfortable in clinically styled apartments with highly polished concrete floors," Kath explains. "Our carpets are an organic dotting of the 'i', islands of wellbeing with a healing effect in cool interiors—without destroying the overall style."
As one of the most important carpet designers on the international stage, Jan Kath designs can be found in all corners of the globe—the homes of Arabian royalty, the Washington residence of Bill Clinton, the private suites of the Four Seasons in Cairo, and the Paris showrooms of important French fashion labels. While the carpets are beautiful with their vivid hues and intricate patterns, a cornerstone of the brand is Kath's steadfast focus on sustainability, quality manufacturing following centuries-old traditions, fair payment and good working conditions for all employees, and the fight against child labor.
"I've lived and worked in Nepal and Mongolia for several years myself," says Kath. He feels a close connection with the locals in these countries and visits the production facilities every month. "Of course, it's a moral imperative. But it's also in our own interest as a business to make sure that we provide the right working conditions. We set up day cares so our employees' children don't run around playing between the weaving stools. This gives our workers the peace and quiet they need to concentrate—many of our designs are highly intricate and difficult to create. We also want to keep the craft of weaving appealing. After all, we need a motivated skilled workforce in our factories, both for today and in the future."
Jan Kath produces both hand-knotted and hand tuft carpets. Hand-knotting a carpet is an extremely time consuming process that takes between 100 and 450 knots to complete every one square inch. For a 8-foot-wide carpet, four or five weavers sit side by side on a bench. Stretched out in front of them on the loom are the warp threads, which form the basic frame of the rug. The carpet weavers need to work in complete harmony and at an equal pace. The process requires real teamwork and the more complex a design is, the more detailed the knot pattern becomes, and the longer the process takes.
"I adore these different forms of expression and I have made it my mission to keep them alive," says Kath.
A hand tuft carpet can be produced significantly faster than a hand-knotted one and at a much larger scale. In hand tufting, rather than individual threads being tied around a warp thread, they are shot from a tufting gun onto a prepared base material. In 2011, Prince Albert II and his bride Charlène walked down a 338-foot-long red carpet designed by Jan Kath during their wedding in Monaco. This carpet was produced in Thailand in two months—yet had it been hand woven, it would have taken at least three years to produce.
With a portfolio of 30 collections featuring vastly different styles and motifs—from the Jungle collection, inspired by flying over tropical rainforests to the Bidjar collection, inspired by a basic pattern from north-west Persia—Jan Kath offers a carpet for every space. New collections can be viewed hanging below steel beams and lifting cranes in the Bochum showroom, which is set within a refurbished 10,000-square-foot factory building.