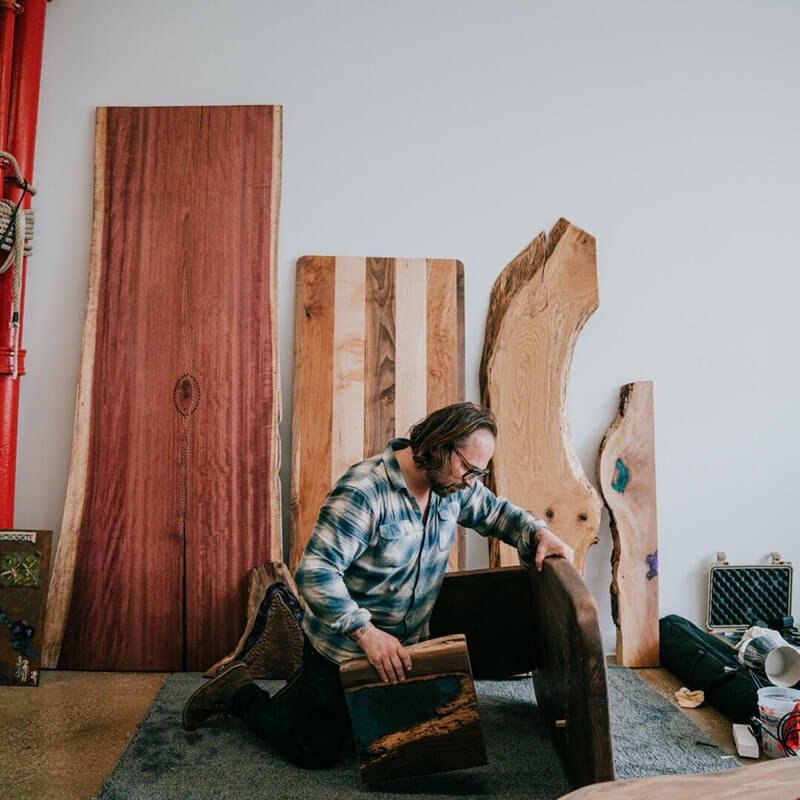 Ian Love Design: A Love For The Faults
From sculptural designs to functional art pieces, from large-scale spalted wood dining tables to mixed-media wall art, Eastern Long Island-based designer Ian Love is hand-crafting it all from almost entirely local timber. The former career musician discovered his passion for working with his hands six years ago after finding respite in the hobby of gardening following family tragedy that drastically reoriented his life and priorities. Based in Speonk, Long Island, Love expanded on this idea of working with his hands and began woodworking projects with his daughter—the first steps towards developing the design business he still runs today.
I make a mixture of furniture, sculpture, lighting, and art," says Love. "I'm based out of my house here in Eastern Long island, and I also have a showroom at Industry City in Brooklyn. I make one-of-a-kind pieces an about 90 percent of the material is very local. I take entire trees and break them down to create coffee tables, stools, lighting, art, everything…"
Love's design process is a little different than most furniture designers. Rather than sitting down, sketching a design, and the choosing the materials that work best for that design, Love lets the material, mostly spalted (diseased) wood guide the entire process.
"The process of making something new usually starts the same," says Love. "I have some material with a very vague idea of what I want to make and a lot of room for mistakes. The great thing about doing it that way is there's a synergistic aspect of working with a piece. Through its cracking and splitting, you see a grain or borough, and all the sudden the idea shifts because I decide that I want to highlight this one little thing, and it tuns into something that I hadn't planned for."
Love refers to this process as intuitive creativity—the process of tapping into the intuition and synergistic relationship with the material that he is working with to create something special and entirely unique.
"With my designs, the material is really the star of the show, and it shows me what can be done with it. And a lot of times that has to happen intuitively and in the moment, and it can result in some really special pieces."
Another defining principle of Ian Love Design is The Singular Tree Concept. Though not entirely exclusive to Love's creative practice, the terminology applies to his dedication to using the entireties of locally sourced fallen wood trees.
"My approach is to source material first," says Love. "The design comes second, upending the hierarchy to reprioritize the resource of wood and to let it determine what can be made of it. Because I'm making use of trees' full remains in this product line, my work ranges from large-scale furniture to smaller objects, and eschews a customary, seasonal collection concept in order to produce according to the materials made available to me by constraints of nature's refuse."
These constraints result in truly unique works, from a charred root chandelier to a Sassafras bench with concrete and ebonized oak legs and resin inlays, and even mixed media wall art including a custom built "16 foot diameter root hanging root". His appreciation of the material's life and perfected and marred forms alike show through in each and every Ian Love Design work.