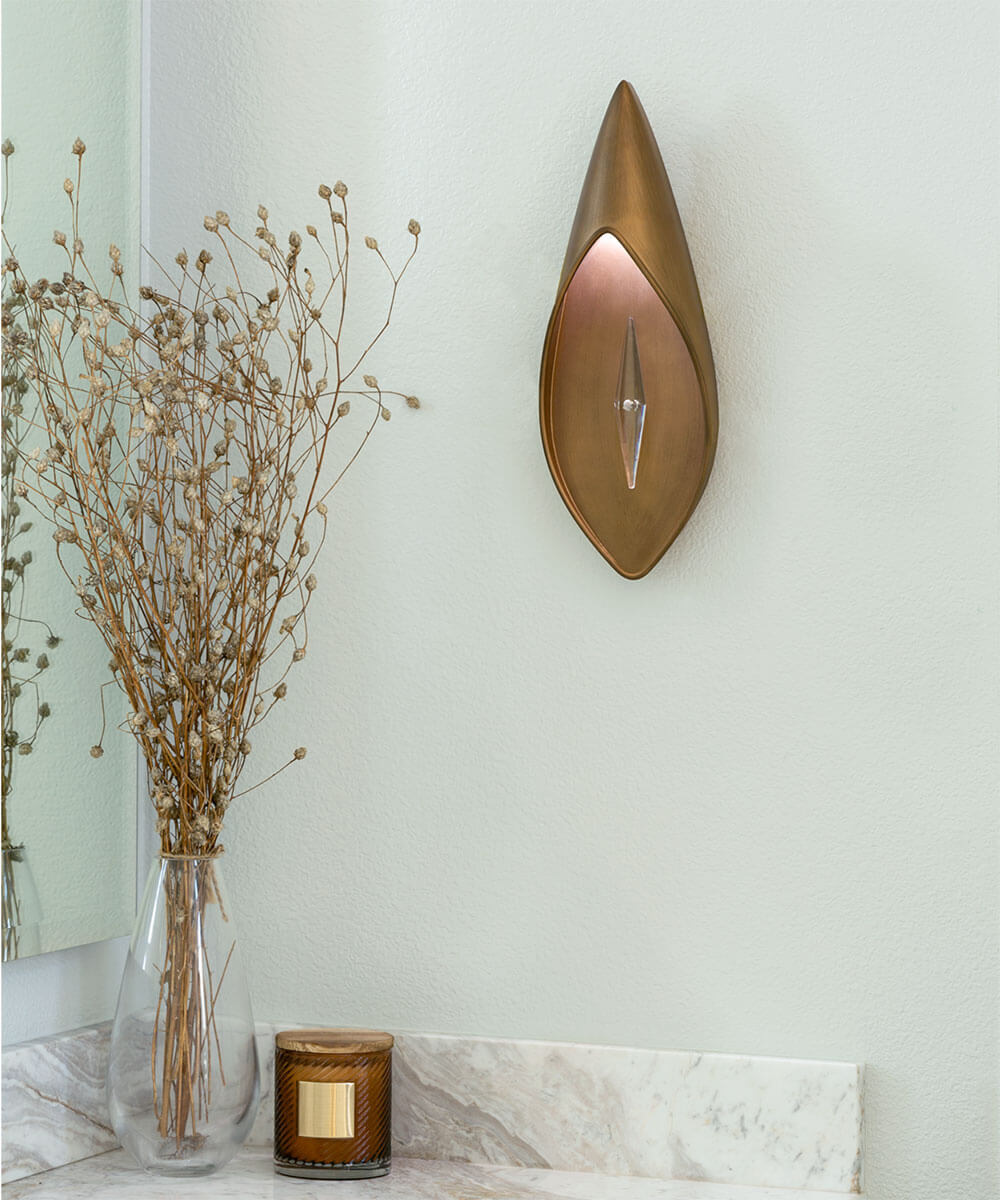 Dainte: Crystal Clear
Founded in 2002, Upstate New York-based home decor and furniture company Dainte has made a name for itself thanks to its statement crystal pieces—from table top decor to a dedicated office collection. Rooted in a broad range of rich materials, each fashion-forward piece provides a space with the feel of a luxury interior. The brand debuted its  first official collection at ICFF 2019, showcasing the piece's ability to carry not just an identity, but also a story.
"In 2002, we were doing customized crystal replicas," says Joseph Stern, founder of Dainte. "For instance, we made a lot of crystal building replicas that were given by big corporations or institutions to their donors or executives. In 2019, we adapted the business to a new reality, combining our expertise in crystal with other complimentary designs and materials."
At ICFF, Dainte debuted their Shell Collection—an unparalleled geometric crystal wrapped in a brass shell, offered in vases, table decor, wall decor, wall lighting; the Office Collection—a line of pen trays, business card holders, and bookends; and their Lighting collection—a line of sconces crafted from crystal and brass.
"As of 2020, we launched the Crystal Acrylic Furniture Line, made of sleek and lustrous crystal mixed with acrylic that has been enhanced with real wooden branches and leafs," says Stern.
By combining crystal, a gem known to have underlying powers, with other complementary materials, Dainte pieces contribute to a refined design experience while engaging the human senses. By following the philosophy that design is so much more than the physical construction of a space or object, but rather a beautiful combination of storytelling, craftsmanship, and feeling, the brand puts exceptional thought and care into each piece they design.
"We're currently working on two new exciting collections called Lilly and Butterfly," says Stern. "The Butterfly collection is elegant, layered, and luxurious, made of textured brass and glass. The collection has translated the lively butterfly into elegant sculptural lighting fixtures. The Lily Collection is minimal and modern. It It embodies the lily flower's pure beauty and the entire lamp's body is modeled after the natural shape of the flower."
Each collection is offered in pendants, wall sconces, desk lighting, and stand lights, while the Lily Collection is also offered in a Chandelier.
"We are extremely proud and excited to bring these two exquisite collections to the market. They truly embody our design philosophy, so much more than the physical construction of a space or object. It's a beautiful combination of storytelling, craftsmanship, and feeling."