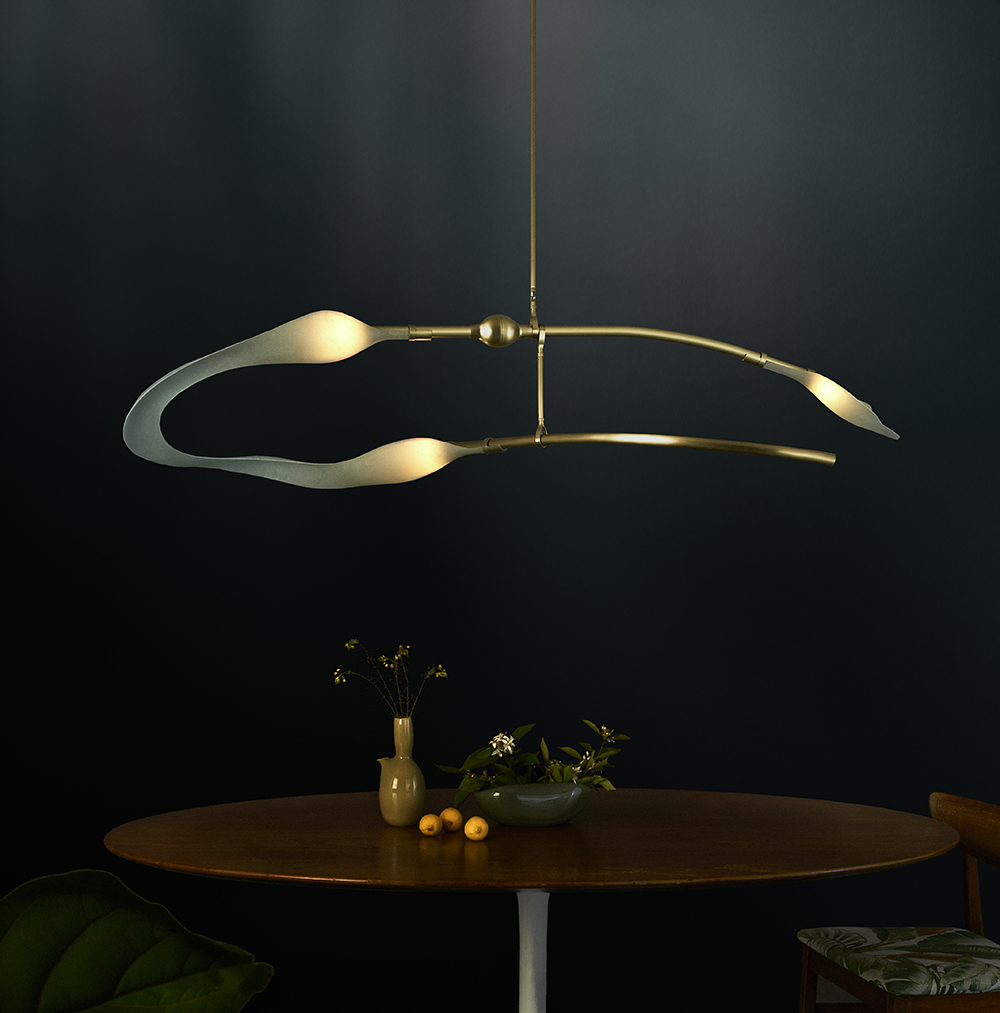 Andrea Claire Studio: The Bright Side
When it comes to crafting her large-scale mobile chandeliers, Andrea Claire focuses just as much energy into the environmental impact of her pieces as she does their beauty. The Los Angeles-based design studio fabricates handmade chandeliers following slow design practices. Claire compares her process to the concepts of the slow food movement, but in the design space.
"For me, slow design means making fewer products per year, but making them with the highest level of craft, using the best quality of materials," says Claire. My team and I infuse all of our fixtures with a love of space and respect for the raw materials they are made from. The goal is to design and produce lighting and other products as sustainably as possible. In contrast to fast design, my studio makes things people want to hold onto and cherish, rather than wear out and throw away. I believe this ethos is good for craftspeople, vendors, employees, clients, and it's good for the planet."
When it comes to her designs, Claire looks to inspiration in materiality, her passion for the ocean and surfing, and sculptors and designers who broke boundaries—a couple of her heroes being Noguchi, Alexander Calder and Eva Hesse.
"I hope my design process follows their lead," says Claire. "I always want to challenge myself and do something that I haven't done before. I approach every project as a unique opportunity, like an art installation. My fixtures exist as sculptures as well as lighting pieces. The goal is to compliment—to literally and figuratively illuminate the space."
Sustainability isn't an afterthought in Andrea Claire Studio's process—it's considered consistently and incorporated into all aspects of the design.
"It's at the core of what I do," says Claire. "I purposely produce a limited number of products. We work by hand, slowly and carefully, working with natural materials such as bamboo and porcelain. My products are meant to last generations, and with the consciousness that they will positively affect people's lives. The studio is also a member of 1% for the Planet, and we're donating one percent of our sales to organizations that support ocean conservation."
Oceans and coastlines have always been an important part of Claire's life. While they inspire much of her passion for sustainability, the ocean also provides her with inspiration for new designs.
"For my latest collection, Pisces, I was inspired by my love for surfing and the shape of kelp floating in the Pacific Ocean," says Claire. "The initial inspiration developed into a more concrete idea once I started working with materials and processes. Often, the materials themselves kind of speak to me once I start working with them. When I begin making something, the ideas start flowing and take me to unknown and challenging places. If I am scared or unsure, it's usually a door worth walking through and the more I make, the more I am inspired."
For the Pisces collection, Claire chose to work with fiberglass because of its ability to take shape and because of its connection to surfboards, even though she had little experience with the material.
"I had worked with brass before, but had never bent it," says Claire. "I wanted to take on that challenge to mimic the curves and waves found in water and kelp. There were a lot of technical challenge with Pisces. It was a process of trial and error, but we kept at it and we were able to create something that I'm very proud of."
While the collections are an important component of Andrea Claire Studio, custom work is the designers favorite part of the business.
"It's extremely satisfying to come up with new ideas of how to use our system," says Claire. "I love to work closely and collaboratively with interior designers to create something that will work perfectly in their projects."