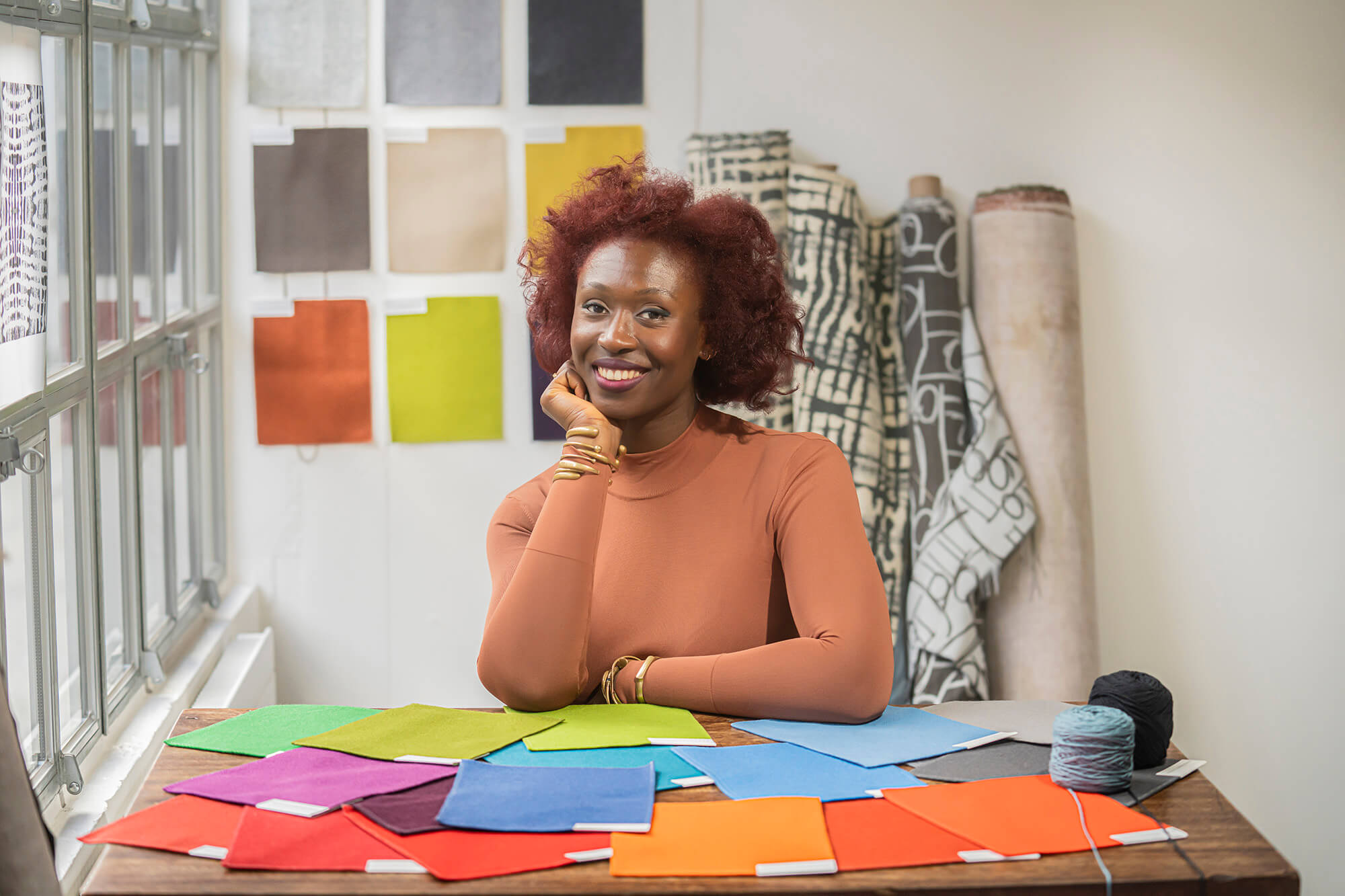 Designer Profile: Chrissa Amuah
The Ghanaian designer Chrissa Amuah grew up in London, but her West African heritage is what has inspired her design practice. Amuah shares how she got into the field of design, as well as some of her favorite things outside of work.  
You live in London but your heritage stems from Ghana. Can you talk a little about growing up through multiple cultures and how your Ghanaian roots have inspired your work?
I'm actually in Ghana right now. My life is lived with a sense of duality. Growing up in the UK, our Ghanaian heritage was always made plain amidst the backdrop of a British context. Coming to Ghana, throughout our childhood also reminded us of our 'Britishness.' I've always taken great pride in my Ghanaian heritage. In developing my own design language, I've drawn inspiration from the Adinkra symbols and proverbs of Ghana. The symbols serve a decorative function, but also convey traditional wisdoms and adages. I'm enamoured with the idea of enhancing beautiful design with empowering meaning in a way that supports our individual and collective wellbeing. My design practice hopefully illustrates a beautiful assimilation of concepts and cultures.
When did you know you wanted to be a textile designer? What nurtured the creative in you? 
I remember my 6th form art teacher, Ms. Stubbs, suggesting to me that I consider becoming a textile designer. At 17/18, I don't think I really understood the scope of what that meant and how I could build a career from it. My passion for design has revealed itself after over a decade of working in other sectors. For a long time, I found myself working in creative spaces, but never being 'the creative.' I say now, 'The dots connect in hindsight.' My previous paths have each paved a way to the junction at which I now find myself. My love for textiles I think mirrors my multi layered curiosity and appreciation for knowledge and life.
A book you would say is an absolute must-read? 
Although I read this book a couple of years ago, the relevance and poignancy of Chinua Achebe's Things Fall Apart could not have resonated more strongly than it did in 2020. The conflict within and eventual tragedy of Okonkwo, the story's protagonist, draws parallels with the inner turmoil and reflections we've all collectively and individually experienced over the past year.
Your favorite things to do in London? Museums, shops, parks, restaurants, etc.? 
To be honest my life is quite full and busy with the many different projects that I'm involved in, so I often relish just being still. But otherwise, and pre-COVID, I took up aerial silks as a hobby and thoroughly enjoyed it. In its practice I saw it as a beautiful metaphor for life: being strong while graceful, being bold in the face of fear (I'm not keen on heights at all) and pushing through pain, with the end goal in sight. Successfully navigating this balance can lead to beautiful results.
Alongside that I love to laugh with friends and back in the good old days, loved live music and concerts.
What advice would you give to yourself 10 years ago?
Listen to your instinct always, because each time you ignored it, you got it wrong. From the big things to the little things. Stop panicking; there is nothing that cannot be overcome or resolved. Texture, color, and pattern make up the beautiful kaleidoscope with which you have chosen to live life. The nuances and multiple layers of your design practice offer the opportunity to make more meaningful human connections; enjoy every moment.
Who have been your strongest influences? Is there someone who had a major impact on you? 
I'm honored to be surrounded by an incredible army of people and take my biggest lessons from those who show what hard work, resilience, and tenacity can achieve. I remember I was 15 or so when a friend at school told me that her father had come to the UK from North Cyprus, at the time about 20 years prior, with just £25 in his pocket. In that time he'd worked hard and become a very successful businessman. I remember thinking, 'Wow it's possible to change your fortune within a generation, so long as you work hard for it.' That has never left me.
What is something you still hope to accomplish? 
Oh there's so much. Time is my biggest obstacle, so we'll have to wait and see.