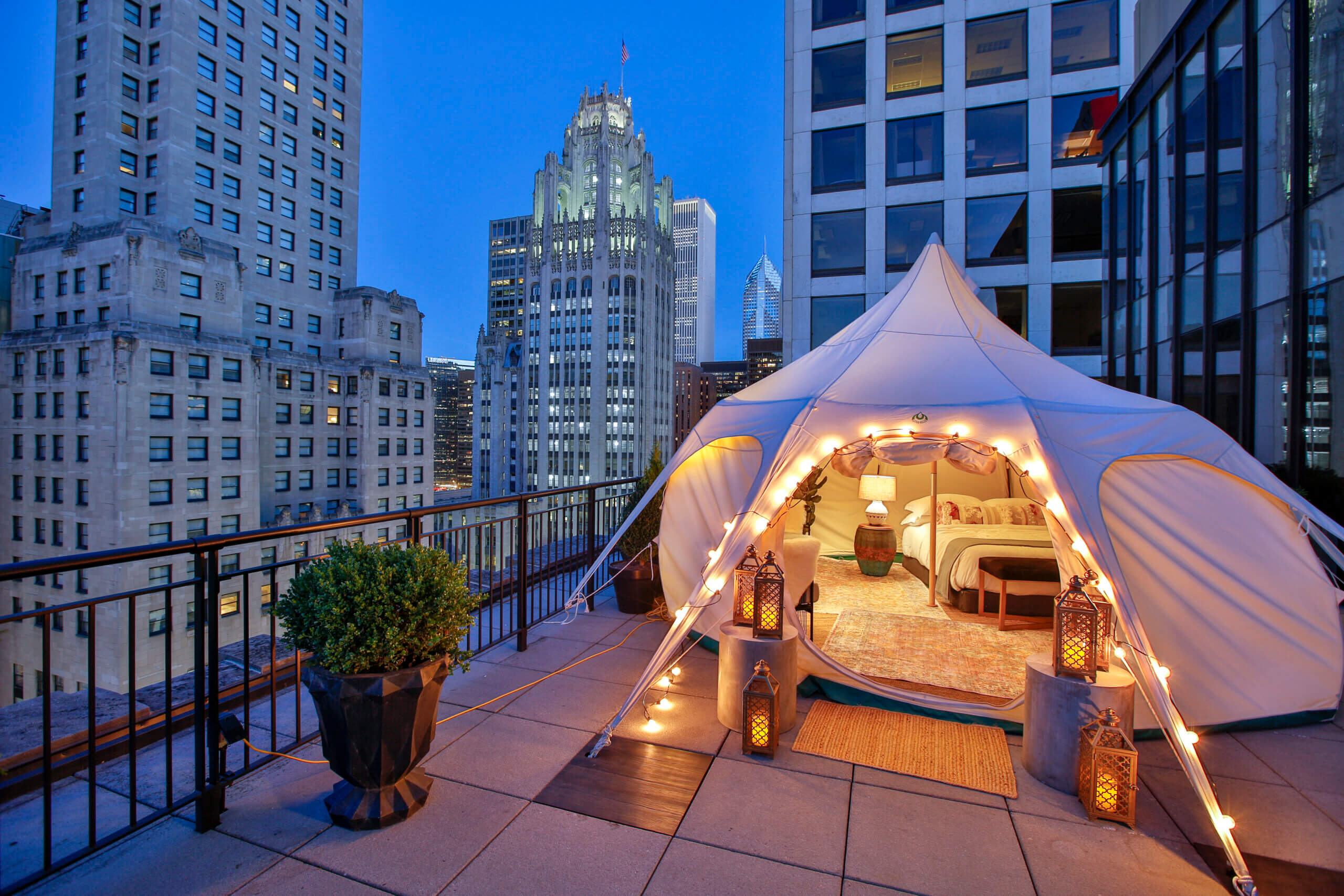 Good Design
7 of the Most Instagrammable Hotels from Across the Globe
No more "Wish You Were Here" postcards needed! From swanky hotel bars, glamping experiences dreams are made of, and on to hotel rooms where everything's for sale, check out this round up of the world's most Instagrammable hotel spaces. There's something eye-popping and interesting for everyone to look at—and share with their social circles—at these must-see places.
Conrad Tulum Riviera Maya
The hotel, located 8 miles north of Tulum in a secluded bay, is designed to offer a deep connection with Tulum's distinctive landscape and to honor its cultural traditions. Wooden doors engraved by local artisans are a nod to ancient Mayan architecture and Tulum's surroundings.
Il Sereno Hotel, Lake Como
Stay and shop! Have you ever seen such a beautiful hotel room that you wanted to purchase the furniture and fixtures? Here, Patricia Urquiola has designed a shoppable penthouse where guests can do just that. Marking Il Sereno's entrance into e-commerce, guests can tap into a digital retail space to purchase curated pieces, from sofas to tables, lighting to rugs, and everything in between.
The Gwen
The Gwen, a Luxury Collection Hotel, is a sculptural masterpiece, exuding the vintage glamour of Chicago's 1930s prime with contemporary elegance. The iconic Art Deco-infused facade was meticulously crafted by pioneering sculptress Gwen Lux—one of the few women in the field at the time. Centrally situated in the historic McGraw-Hill Building, Michigan Mile's dazzling skyline frames The Gwen with unparalleled views and places you in the heart of the excitement that awaits below. Perched on the 16th floor, guests can experience glamping on the private terrace of the Gwen Lux Suite. Spend the night under the stars with spectacular views of the city!
Omni La Mansion Del Rio
Omni hotels strive to be more than just a place you stay, but a place you experience. It all starts with each of the destinations invoking local flavor. Take the Omni La Mansion Del Rio, for example. Nestled along the historic River Walk in downtown San Antonio and blending Spanish colonial architecture and European style, the hotel creates a perfect backdrop for life's most Instagrammable moments.
M Social Times Square New York
M Social Times Square New York merges the energy of Times Square with contemporary design and vibrant art. The hotel is home to bar and lounge Beast & Butterflies, a private oasis perched above Times Square boasting unobstructed views of the city and the perfect vantage point for an iconic Instagram photo of in front of the Times Square ball drop.
Casa de Campo
This tropical playground in the Dominican Republic features a unique array of amenities, including an expansive marina, tennis and polo facilities, a world-class shooting center, three championship golf courses, and more. For those seeking the ultimate Insta pic, check out the 16th century replica Mediterranean village, Altos de Chavón.
Bora Bora One
For travelers seeking resort amenities with a luxury residential feel, Bora Bora One is a private estate that celebrates local artisans and an eco-luxury design. The secluded, 5-bedroom villa is situated on 7.5 idyllic acres surrounded by turquoise blue waters of the French Polynesian island.