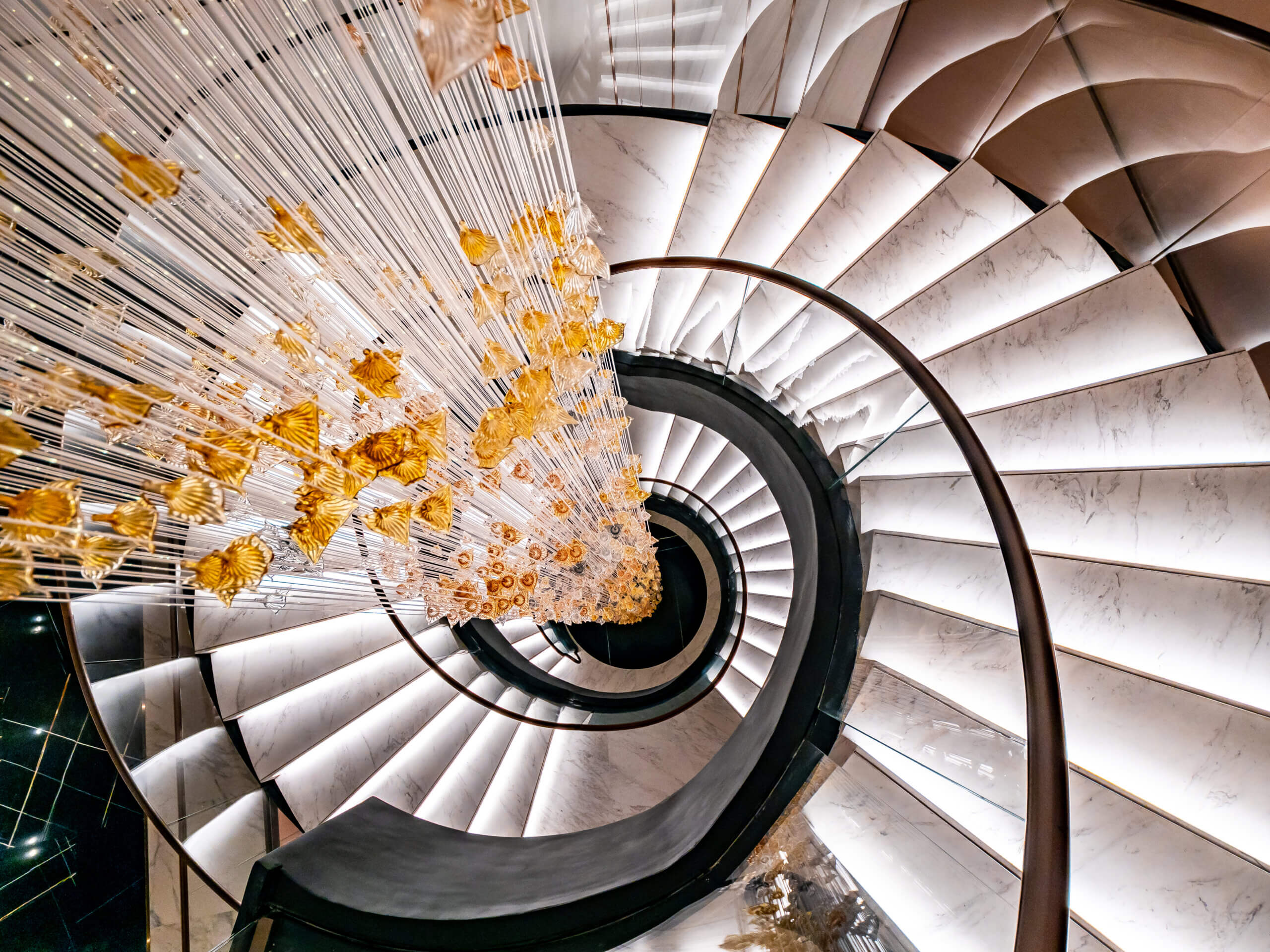 Sharon Marston: Lights Up
Sharon Marston's studio was established in 1997. Since then, the studio has won international acclaim for the range of breathtaking chandeliers, vibrant backdrops, and luxurious room dividers—in addition to pioneering the use of fiber optic technology in bespoke lighting. With each design the studio introduces, the light source through the specialized use of fiber optics filaments. Combine this with color and form, and it gives the work its signature ethereality.
"I originally studied jewelry at Middlesex University in the late 80s and then went on to design for fashion, theatre, and dance with Bella Freud, Paul Smith, Michiko Koshino, and The English National Opera. It was during this time, whilst photographing costume designs that I developed a passion for working with light," says Marston. "The woven nylon that I was working with illuminated beautifully under the camera lights and it was at this moment I felt inspired to explore this area of design further. I have not had the most conventional path into my current specialization, but the experience gained during the work in these various disciplines has undoubtedly influenced my practice."
Marston designs all pieces for the collection and projects. Since opening the studio, she has leaned on a team of highly skilled, trained staff who handcraft the decorative components of the lights customized to the client's exact specifications. "British craftsmanship is at the heart of my approach. The artisans I work with are small cottage industries dotted around the UK, ranging from glassblowers and ceramicists, to our metalwork engineers, and my close relationship with each of these is what brings the intricate detail and quality of my work to life," Marston says.
She has been working with many of the suppliers for over two decades—and the relationships she forms are ones of mutual respect and collaboration. "I will often visit their workshops so that I can explore the processes and understand what is achievable before weaving this into my design," she adds. "Each project is a result of close collaboration, so the British craftsmanship applied to every individual piece created really shines through."
As a result, the work fuses materials sampled from a range of industries and craft disciplines crossing boundaries between art, fashion, product design. It combines traditional processes and techniques with contemporary design. Materials such as fine bone china, hand-blown glass, and woven polymers are commissioned for each project to work in harmony with the fiber optic filaments, creating dramatic ethereal lighting features for any setting.
"To produce our bespoke lighting, we use optical fiber technology which are lit using energy efficient LED projectors. The important aspect of our installations is that there is no maintenance on the actual chandelier itself. The only maintenance is the LED projector being housed remotely having a 40'000 hour lamp life," Marston says.
When it comes to standing out from other lighting companies, Marston says she taps into her sense of style. "I believe that I have a strong sense of style that has developed throughout my collection and bespoke commissions over the last 25 years. It is this style and strive for elegance in the work, whether it is the engineering of the metalwork, the composition of the decorative components or the configuration of the fiber optic filaments themselves, every aspect is carefully and sensitively designed."