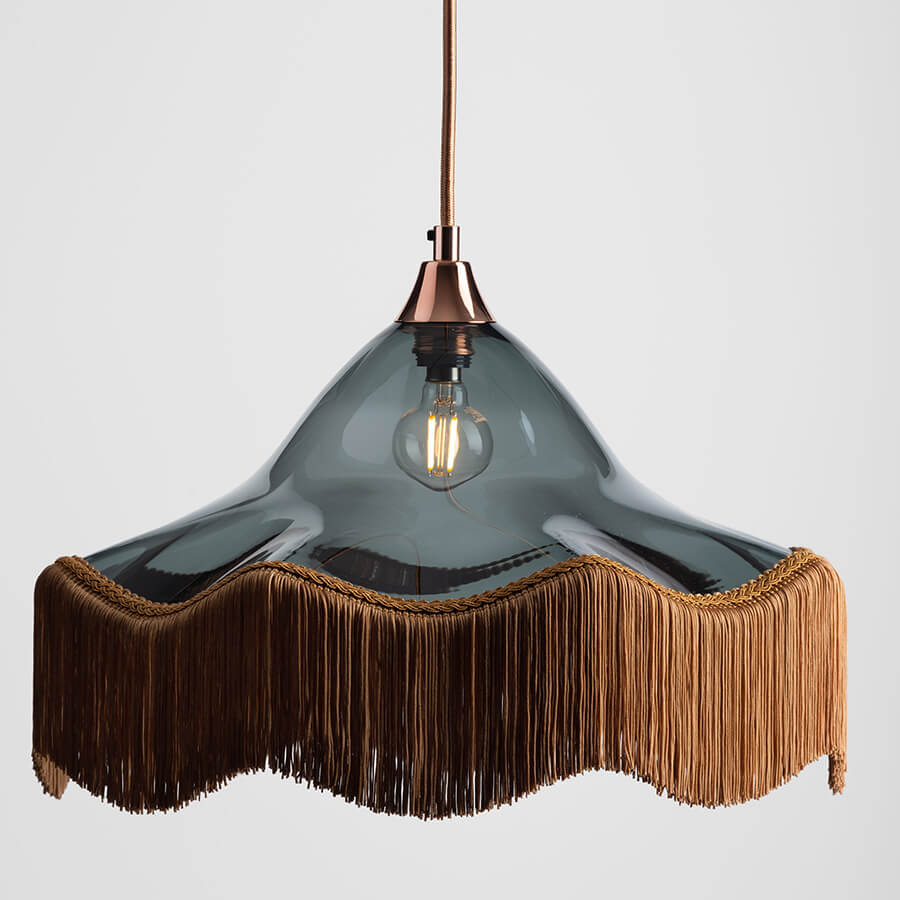 Rothschild & Bickers / BEDG UK: Tailors of Glass
Rothschild & Bickers, a member of the BEDG UK contingent, is a bespoke handblown glass and lighting studio based in the United Kingdom. Founded by Mark Bickers and Vicki Rothschild in 2007, the studio was founded after the pair worked together on lighting commissions for clients such as the fashion brand Ted Baker. Behind the beautiful lighting that adorns hotels, restaurants, and homes across the UK, the studio's main initiative is to keep the spirit and craft of glassblowing alive. Bickers joined us from across the pond to share more about the practice.
Were the founders always interested in glass manufacturing? 
We met whilst studying Ceramics and Glass at the Royal College of Art in 2001. Before this we had both completed degrees in Glass separately in Ireland and the UK and had been working independently in the creative industry. The love of the hand made and the concept of running a small scale production studio drove us to establish Rothschild & Bickers.
What is the ethos of your company? 
A love of making and a respect for the material underpins all Rothschild & Bickers' work. We like to celebrate the differences inherent in the handmade object and utilize the unique qualities of glass to custom-make lighting to suit many interior spaces. To ensure our high production values, every piece of glass is inspected by several members of our experienced team on the way from the hot shop to being meticulously packed for shipment.
How is the studio different from other glass manufacturers?
Everything we do is completely handmade using free blown glass, no moulds are used to create the final shapes. Only the skill and dedication of the crafts people behind the lights ensure that each piece is the shape and size needed. We pride ourselves on our high standards and strive to uphold the same level of 'craft' in everything we do.
What are your most popular products? 
Our Pick-n-Mix range is always very popular, I think due to the fact it suits many different interiors. Currently our Tasseled ranges are having a reassurance, these were some of the original pieces we designed.
Do you do custom work? 
We do! This can range from a small cluster of lights suspended from a 3 drop plate up to large, complex installations that are used in multi level stairwells etc. Our work can be found in high end restaurants, hotels and private residences worldwide. I think this is one of our main strengths, we have a multitude of glass, metal and flex options to choose from. Therefore every order is refined to our clients individual interior scheme.
Tell me about the UL listed versions of your lights that you were hoping to launch at ICFF this year. 
We have made UL listed versions of ten of our Signature Product line. These are initially available in 3 metal finishes and 6 flex choices. Our US based clients have started to use these to great effect and we are keen to expand our work in the USA, previously something we shied away from due to not having a UL offering. I think it is very exciting to finally be able to offer our quintessentially British range over the pond!
How have you been coping with the current times? Has it changed your design philosophy at all? 
I think that creative people are perhaps best placed to deal with the current global situation, after all we are used to problem solving! We plan on continuing to explore and develop the 'handmade' nature of our work and really push our 'non-machine' made sensibilities. These days I think people value products that have soul and a sense of provenance to their making.