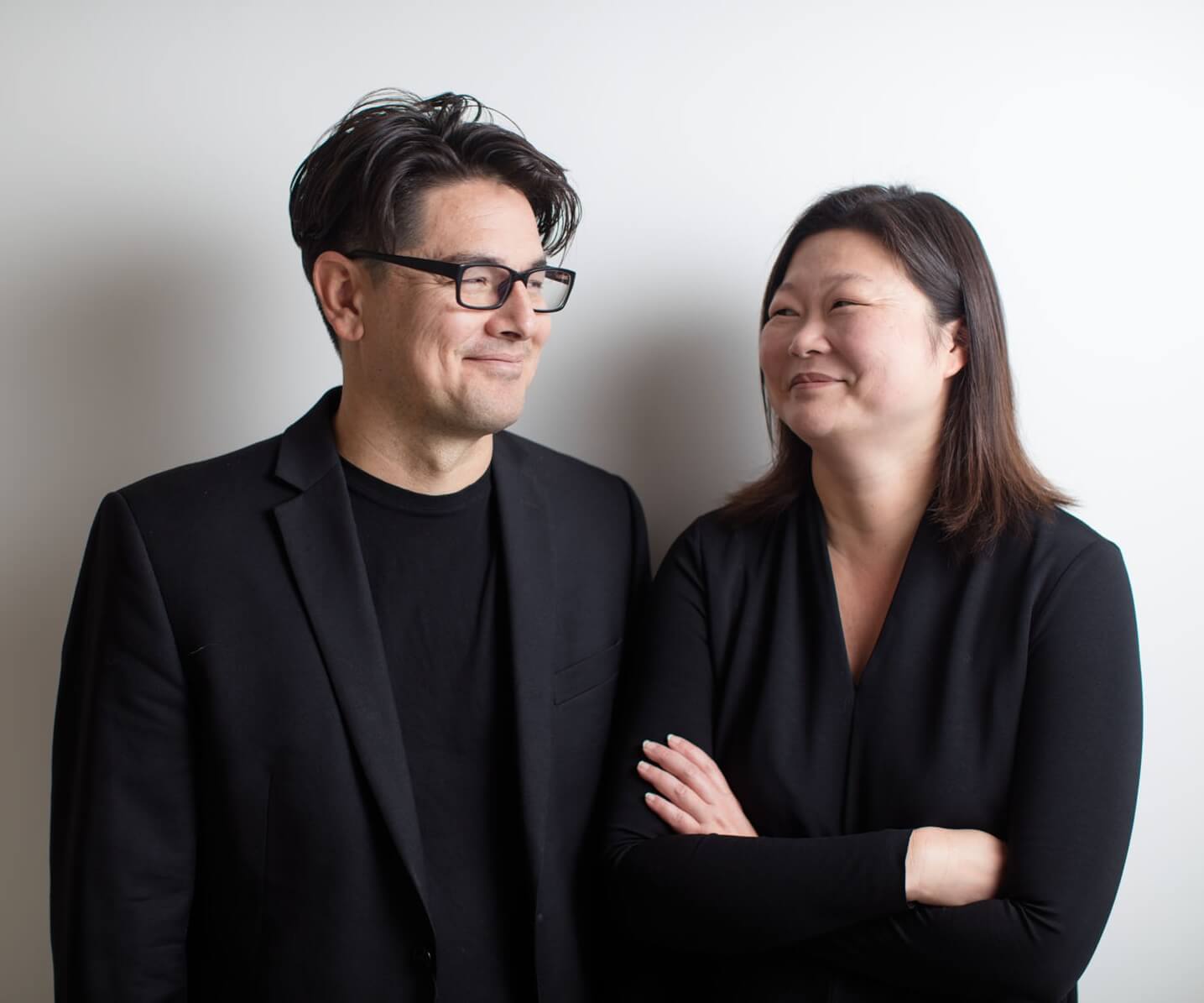 Designer Profiles
ICFF News
News
Power Couple: Eric Höweler + J. Meejin Yoon
Meet the husband-and-wife team behind Höweler + Yoon Architecture. Read on to learn about their beginnings, passion projects, design process, and what's ahead for the firm.

Photo: Coolidge Corner Theatre, Brookline, MA (Courtesy of Höweler + Yoon)
Husband-and-wife design team Eric Höweler and J. Meejin Yoon is no stranger to atypical projects—from interactive landscapes, submersible structures, stone vaulting, and media projects. The pair first met in architecture school in 1990, married in 2002, and first started working together in 2005. Over the last 18 years, Höweler + Yoon has built a reputation for work that is formally and technologically innovative, socially engaged, and conceptually rigorous. What sets the duo apart is that they believe that design is an instrument for imagining and implementing change.
On their Beginnings
"When we started working together, we first started designing a house," Höweler said during the recent Power Couples ICFF + WantedDesign Manhattan Talks conversation during the show in New York in May. "We had to figure it out, and in a way, figuring it out together, I think it was great that we had each other because it's scary starting a design practice and not knowing really what you're going to be doing."
"Before we started Höweler + Yoon, I started a small practice called NY Studio, and it was built off of the first opportunities, which were installations and exhibition design. And it got to the point that the scale was too challenging to do as a one-person operation. And because we hadn't worked together—even though in a way we grew up together as designers and architects through our education—it was a little a leap of faith to have a practice together," Yoon added.
That leap of faith paid off for the duo. Today, Boston-based Höweler + Yoon is a dedicated group of over 20 architects, designers, and researchers. Projects range from cultural and institutional buildings, mixed-use residential and commercial buildings, to public spaces, interactive environments, and research projects.
Passion Projects
Some recent notable projects for the practice include (to name a few): Coolidge Corner Theatre in Brookline, Massachusetts; Moongate Bridge in Shanghai; the Memorial to Enslaved Laborers at UVA in Charlottesville, Virginia; Lithos Wellness Center in Chengdu, China; and Float Lab in Philadelphia.
Höweler called out the Memorial to Enslaved Laborers at UVA a particularly memorable project for the team. "UVA famously was designed by Thomas Jefferson, fantastic arrangement of architecture and landscape. And we learned about it in school," he said. "What we didn't learn in school was that this campus was designed and built by enslaved peoples. And so the architecture of Thomas Jefferson's academic village was designed to produce an ideal society, but also that ideal society was built on the backs of forced labor and an institution of violence."
It was a few years ago, when students created pressure on the university to create a better means of recognizing this history, that Höweler + Yoon was selected to create the memorial. Today, the team is working with the university around a design project that explores the notion of what democracy means today.
"Now we're wondering, how does architecture play a part in democratic process? Not just in terms of imagery, but also in terms of platforms, bringing people together as a site of convening, as a space of debate. And so I think it's a pretty unique architectural brief to say, how do we think about democracy? How do we put democracy into practice every day? And so that's what we're currently obsessed with," Höweler said.
Teaching is also a passion. Höweler is an associate professor in architecture at the Harvard Graduate School of Design, where he has taught since 2008. Yoon is the Gale and Ira Drukier Dean of Cornell University's College of Architecture, Art, and Planning, and was previously Professor and Head of the Department of Architecture at MIT where she began teaching in 2001.
From Concepts to Construction
However, the design process doesn't happen on a linear path. Yoon said the beginning is "both the most scary and also the most fulfilling" as the team works through its many ideas brought to the table.
"And I still enjoy that part of the design process the most, but what I always tell myself and everyone else in the studio is the last 1% is as important as the first 99% of a full design project," she said. "So even though the beginning is maybe most fun and pleasurable, and as the process goes on, there are many more layers that get added to the complexity of a project and delivering a project that still has the core concept in its essence. And that can all go wrong in the last 1% of a project.I still enjoy maybe the first section, but spend most of my energy actually thinking about that last 1%."
Höweler said he loves the conceptualization part of the design process—and asking the important questions. "I like a project with a good bibliography. It's like, 'What do I need to know? What do I need to read to be equipped to talk about this issue?'" he said. "Following through and turning those concepts into construction, I think that's also super exciting. That's when we start thinking about materials and details and constructability and sequencing; sometimes a construction sequence can inform the design."
That means, he said, that detailing isn't small-scale and it isn't technical. "How do you take an idea and all of its inertia and take it into construction? I get goose bumps when I see things built. And then seeing people interacting with things we've designed, that's the biggest thrill."
Looking Ahead
Up next for the two? They're installing a show at the Cooper Hewitt, Smithsonian Design Museum called "Designing Peace," an exhibition exploring the unique role design can play in pursuing peace. The exhibition features design projects from around the world that look at ways to create and sustain more durable peaceful interactions.
"Every project we touch has got some really exciting thing that we couldn't possibly say no to it because it's so, so engaging," Höweler said.