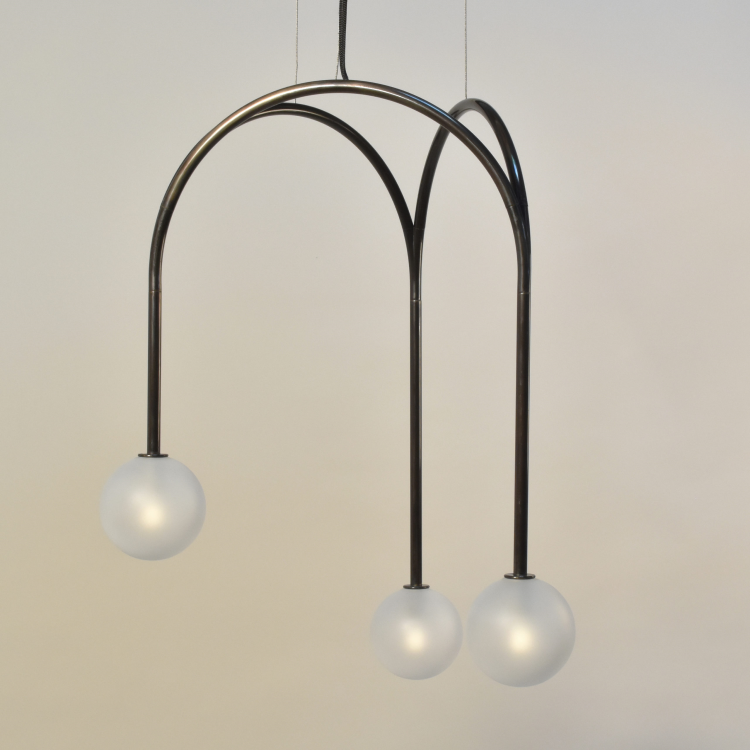 Talbot & Yoon: Following Suit
Talbot & Yoon is a young brand crafting architecture at the scale of furniture  from their Red Hook, Brooklyn Studio. Founded by Mark Talbot and Youngjin Yoon, who first met at an architectural firm, where they were both frustrated by the slow speed of architectural projects and the difficult nature of influencing outcomes where the design process has been institutionalized long before their time. The duo started their own company in conjunction to working at a firm, which allowed them to develop their own ideas and approaches while gaining technical experience and getting licensed to practice architecture. Their end goal—to apply their own approach to design at all scales, from the smallest serving tray up to full scale buildings.
"We see design as both universal and personal in the sense that everyone does it for themselves, even when they don't necessarily consider it 'design'," says Mark. "Especially when we're young. When children assemble forts from couch cushions, turn a rug into a racetrack, or even make up rules for a game, they are designing. Through free experimentation as well as the wisdom of past experiences, they pursue many options before deciding how to move forward. Sometimes it works and sometimes it doesn't, so they learn, adapt, and try again. We see playing like this as a central tenant of design culture and feel that play can also be facilitated by our designs when they are 'complete'. We use scale, character, variation, and reconfigurability as design approaches to provide the adults who purchase our work with the same delight as we experience in the process."
When approaching a design, Mark and Youngjin's architectural backgrounds often lead the process. They see serving trays as miniature components of buildings, light fixtures as cathedral vaults, and jewelry boxes as modern apartment buildings that they have visited when traveling or worked on in the past.
"At other times, we will draw on Youngjin's sculptural background or fashion objects that resonate with he human body, such as lamps and candles that remind us of folds in skin or fingers," says Mark. "Our style is making models of places and things that have and continue to captivate us due to our backgrounds. A lot of these things are quotidian, like the structures of buildings evident in the Vault-Light, Waffle-Slab Tray, and the Soft-Diamond Seat, but when they are reconfigured or made of different materials at different scales, they get transfixed."
Rather than sticking to a common set of materials, Talbot & Yoon keeps to a common language of forms. Their TOON collection uses round, playful geometry, and joyful color to connect the objects of everyday use—from candles to bud vases—with those who use them by promoting positivity and empathy in design.
"The design process is entirely in-house," says Mark. "While the manufacturing of certain components is outsourced, we like to assemble everything in our studio. That being said, we are engaged in licensing some of our work to be made and distributed by others."
Currently, Talbot & Yoon is working on a handful of products to expand their TOON collection of sculptural objects as well as some new furniture pieces which will debut at ICFF on November 14-15, 2021.