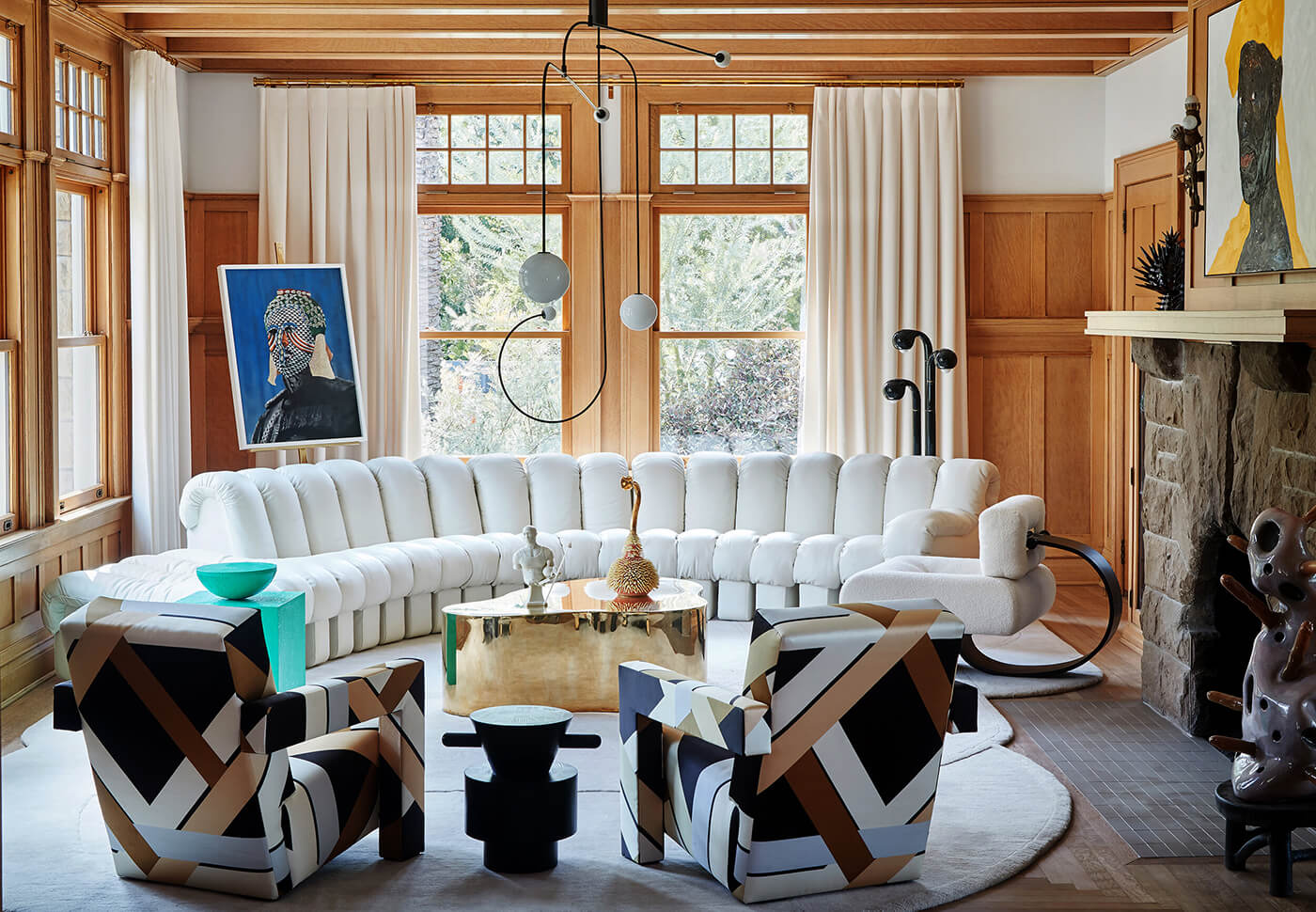 10 Noteworthy Interiors From 2021
Though a year filled with highs and lows, 2021 still produced plenty of great interiors. See 10 of our favorite projects including a post office that doubles as an event space and the colorful Miami loft of street artist Flore.
Spice & Barley by Enter Projects Asia
Enter Projects Asia has crafted a soaring 98-foot-tall installation from rattan for Spice & Barley gastro pub in Bangkok. The free-flowing geometries are inspired by the act of pouring beer into a glass, while the installation serves two purposes–to hide the beer pipes while attracting the attention of passersby.
The Londoner by Yabu Pushelberg
Situated in Leicester Square, London, Yabu Pushelberg designed "super bouqtique hotel" The Londoner as an ode to the city's historic theater district. ""We created layers of programming up into the sky and deep into the earth that emphasize this extraverted, alluring, playful voice," says Yabu Pushelberg co-founder George Yabu.
L.A. Residence by Ghislaine Viñas
Setting out to create a sense of whimsey and playfulness, designer Ghislaine Viñas was inspired by the homeowners personal art collection and the young boys who live in this Los Angeles home.
(project also pictured in feature photo.)
One&Only by John Heah of London based Heah & Co 
Situated on Kea Island, Greece, One&Only encompasses both a beach resort and a collection of private homes. Each villa is individually crafted to frame extraordinary bay views overlooking an infinity swimming pool.
Bund Post Office and Shop by Yatofu Creatives
Set within Ningbo, China's very first post office, Yatofu set out to transform the space into much more than just a place to send mail. After realizing that post officer are most often utilized in times of celebration, the studio incorporated a gift shop and event space that doubles as a children's play area.
Citibank Singapore by Ministry of Design
Ministry of Design crafted a "banking conservatory" for Citibank Singapore, incorporating a wealth of tropical plants and greenery between offices and meeting rooms, completely reimagining the conventional financial institution.
Pangaea by Snøhetta
For this Japanese co-working office, Shøhetta developed a piece of "super furniture" that curves through the entire space, serving various functions from seating areas to working surfaces. "The furniture also prompts its users towards a greater vision through daily interactions with the co-working space and one another," says Shøhetta.
1 Hotel Toronto by Rockwell Group
For Toronto's first "mission-driven" hotel and 1 Hotel's first foray into Canada, Rockwell Group turned to a sustainable and eco-friendly design ethos. "Our vision for the hotel invites guests to celebrate Toronto's ecology through materiality and locally-made artwork," says Rockwell Group founder, David Rockwell.
Six Senses Shaharut by Plesner Architects
Set in the Israeli Desert, Tel Aviv design Practice Plesner Architects designed the 60 suite resort from limestone and flint quarried from the site as well as thatched roofs in order to weave the property into the natural landscape.
Miami Loft by Christopher "Flore" Florentino
For his personal Miami loft by architect Gene Leedy, street artist Christopher Florentino has crafted an art-filled midcentury oasis filled with pieces including a George Nelson Coconut chair, an Eero Saarinen 1970s Tulip side table, and a 1946 LCW molded plywood side chair.