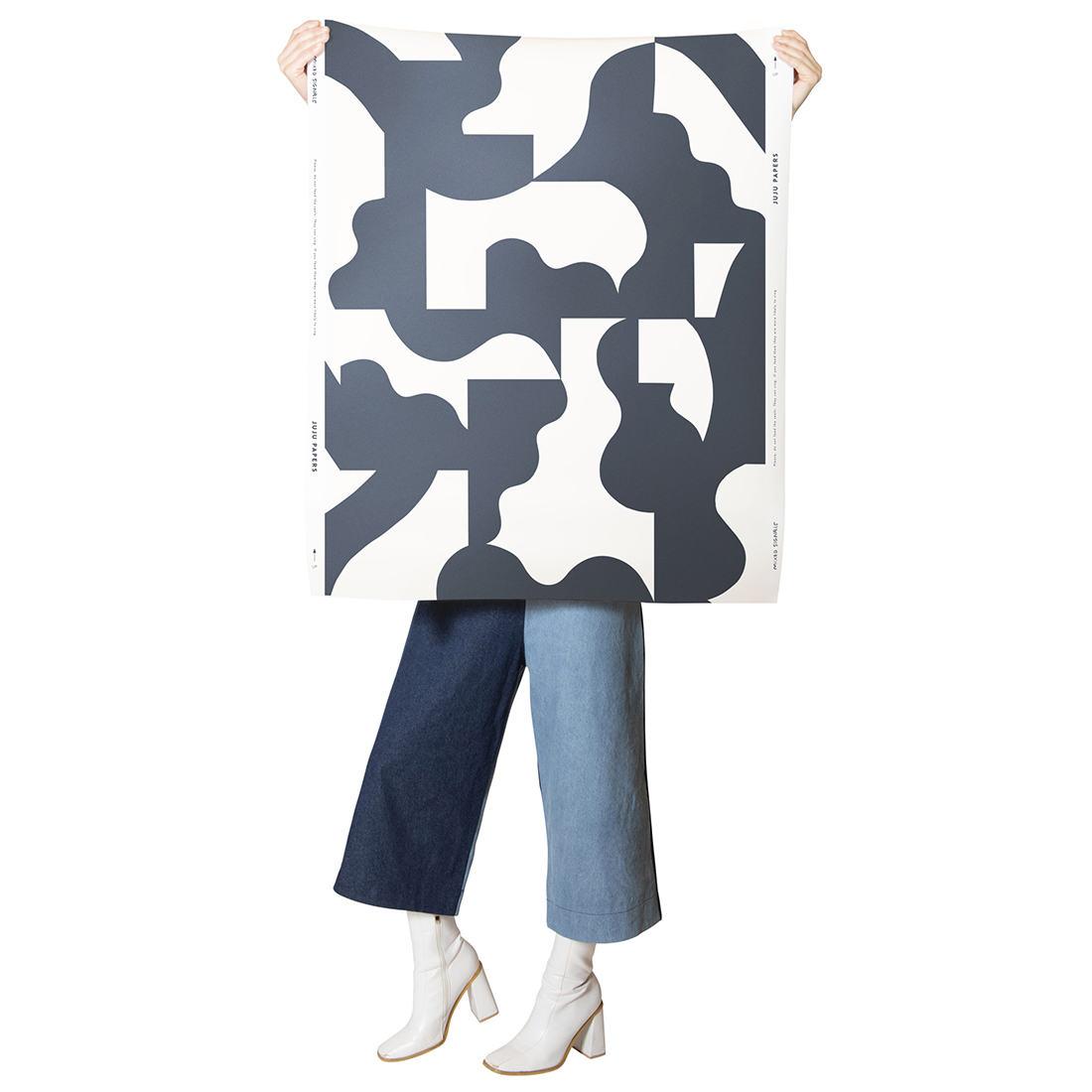 Juju Papers: Paper Perfect
When it comes to wallpapers, Portland, Oregon-based Juju Papers delivers the full package—fun-loving patterns hand-made on creamy, durable paper with as little impact on the environment as possible. Founded by multidisciplinary designer Avery Thatcher in 2010—whose background spans stop motion, theatrical puppets, film, set building, and graphic design—the inspiration for Juju Papers' patterns comes from mark making, folk art, and the passage of time. From winning an award for her OPENWORK pattern in the Best Residential Wallcovering category of this year's NYCxDesign Awards, to designing a line of soft goods to debut in 2021, Thatcher has shown no sign of slowing down anytime soon.
What led you to start Juju Papers? Have you always been interested in design?
I started painting patterns directly onto the walls of all of the various places I lived after finishing art school. It dawned on me in the early 2000s that I should start to look into something along those lines professionally. My background was in the arts—mostly paint and sculpture, I knew very little about design when I started designing and prototyping the wallpaper.
How has your studio changed and grown over the years?
In the beginning, 2010, it was just me in my apartment, with a long table that I used for printing, prototyping, painting, and packaging. In 2012, I hired my first employee, and business really picked up thanks to having two hands on the job. We now have a proper studio in Portland with a staff of four, and a network of manufacturing partners. We very selectively source our partnerships based on sustainability and craftsmanship.
Do you have a most popular pattern? Is there one that you feel really launched your career? 
We started doing really well when we introduced our signature single tone, metallic wallcoverings. It took me a few years to work up the courage to release designs that truly felt like "me", as opposed to what I thought would "sell". As I soon learned, the designs that are truly inspired are always the most successful.
How do you get inspired for new papers? 
Inspiration can come in the form of an old photo, a poem, a fortune cookie, a book, a film, a collection of leaves. Really, anywhere. Often my designs are inspired by things entirely non-visual—more a feeling of wonder or curiosity, and a desire to express that unique wonder visually.
How would you explain your design process? 
I keep notes, journal, and research all year. When it comes time to work on a new pattern, I typically escape to nature and paint, collage, document, and research my sources. Once I have created the original artwork, I work with my team back in Portland to commence on the prototypes. Once the prototypes are designed and printed, we critique them and decide which are the most successful. Next is color selection, another collaborative effort, although we so often stick with our metallic palette.
What were you planning to debut at ICFF? Did you end up releasing these designs on your own? 
I planned to debut a series of wallpapers called Openwork. I did release them, digitally of course. I was pleased to win NYCxDesign for the collection. I watched the ceremony with my two sons while they ate breakfast. It was awesome!
What would you say to someone who is nervous to incorporate wallpaper into their home or office?
I would suggest starting with a small space, such as a powder room or breakfast nook. Wallpaper makes for a great moment of surprise, a "peek-a-boo moment", in these tiny spaces. Once you get used to the idea of wallpaper, you can expand to an accent wall, ceiling, or room. For an office setting, wallpaper is a great way to differentiate and personalize different work areas.
How long ago did you start doing tile? What was the motivation for that?
I released Fruit Salad, our first line of tile in 2018. Believe it or not, prior to starting Juju, I actually worked as a tile installer, so I have always wanted to design tile. When creating Fruit Salad, I wanted the design to feel that it offered endless possibilities and variations, much like mosaic (one of my favorite artforms) but more accessible and easy to install.
I really love your photography. Was there an inspiration for the action shots of models in front of the wallpapers? 
From an art direction perspective, I am better able to tell the story and inspiration of our wallpaper designs by using a model, rather than by posing furniture or props. Plus, necessity was the mother of that invention. When I first started Juju, I wasn't able to afford nice furniture to photograph with my wallpaper, but I could model for free. Now, working with a model is one of my favorite aspects of developing a new line.
Can you talk a little about the new collections? 
The new group, called Openwork, is intended for both residential and commercial spaces. I used a grid as the framework and base motif of the three designs, then experimented with the use of nuanced semi-opaque color, the interplay of positive and negative shapes, and painterly brushstroke variation.