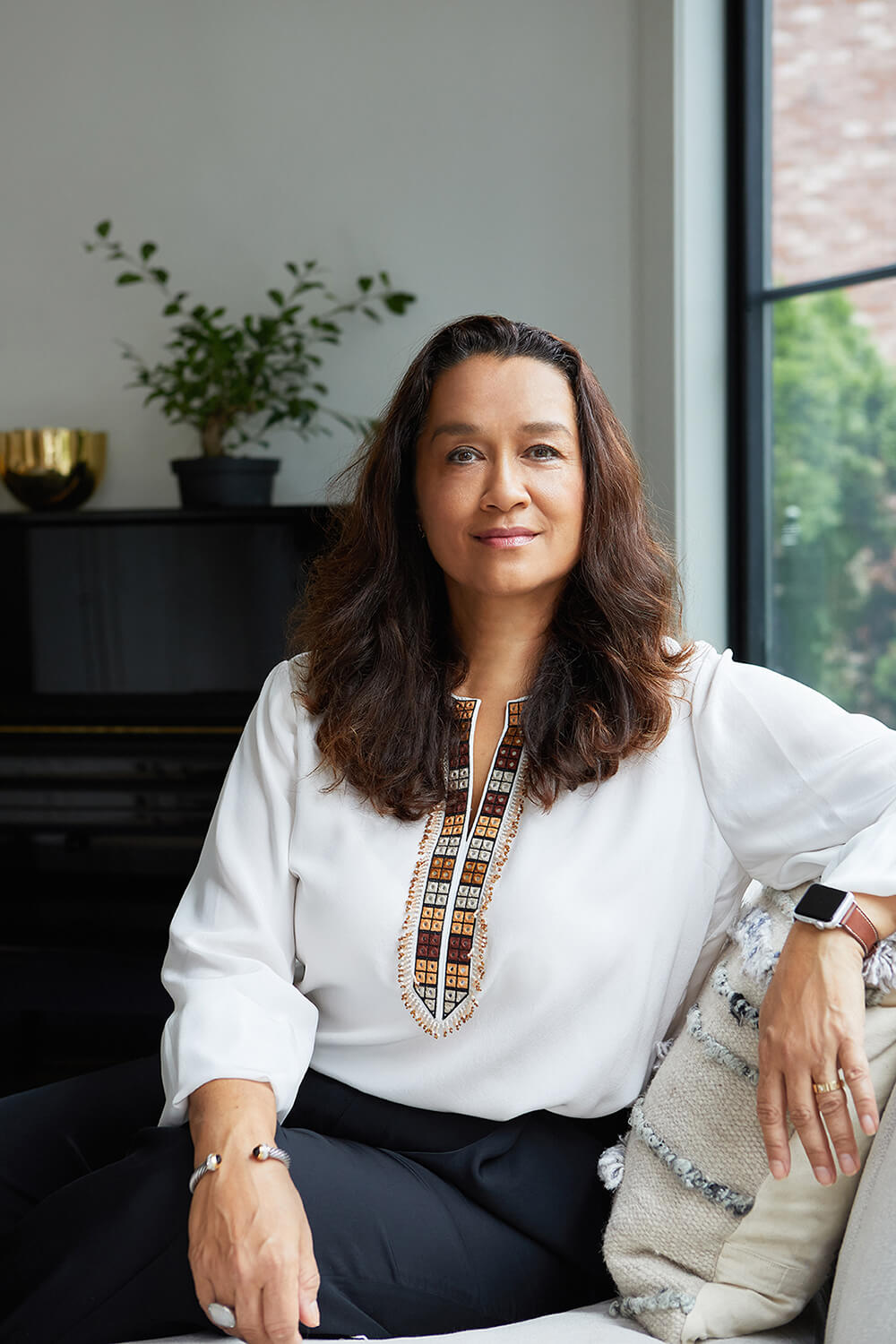 Designer Profile
Designer Profile: Laurence Carr
In the age of designing for wellness, you could say Laurence Carr is one of the experts. The French designer carefully blends principles of wellbeing with ancient techniques, crafting spaces that are true sanctuaries. Carr shares her secret to creativity, the individuals who inspire her most, and a long-term goal that you probably won't predict.
Could you share a bit about yourself and how you got into the field of design? Was this always a career you saw yourself in? 

My approach to work has been shaped by my worldwide experiences and determined sense of exploration.
Raised in France in the world of performing arts, I learned the history and aesthetics of ballet, music, and fashion—imbuing me with a sense of poetry that remains present in everything I do. My journey through performance, from choreography with Merce Cunningham, to stage direction in Europe, taught me how to conceptualize and design for the theater.
I view travel as an inherent part of the creative process and personal growth, so next, I ventured to Australia. Witnessing the stunning raw beauty of its landscapes, and working for the Olympic games gave me confidence to lead any project anywhere. This mindset led me to Asia—to Korea, Japan, and China, where Zen garden landscapes steeped me in ancient wisdom.
Upon moving back to the US, I landed in Chicago—where a passion for modern architecture was ignited, fueling the pathway toward interior architecture and design. I returned to school, graduated from Parsons The New School, and worked alongside the esteemed Mica Ertegun, at her design firm MAC II in New York City.
All these experiences and more inspired me to innovate the foundation of my own design firm with a unique focus on wellness and sustainability, back in 2017.

How would you self-describe your style? What influences do you think shaped your approach to designing interiors?

My style is a combination of essentialist luxury, contemporary and eclectic aethestics, and biodiversity to include our relationship to nature. It is a convergence of my undying love for global art, architecture, and design since various cultures influenced my approach to designing interiors. Being French and embedded in West European culture while growing up, as well as having lived on four continents, embracing  Asian, Australian, New Zealand and North American influences have shaped the way I envision interiors. I call it "Eclecticism in the 21st century."

Specifically, I am quite inspired by French and Italian artists, architects, and designers. I'm a tremendous fan of the work from Bjarke Ingels, Zaha Hadid, Le Courbusier, and Dror Benshedrit, all visionaries.

Is there a person (designer, professor, family member, etc.) that has had a profound influence on your life?

His Holiness the 14th Dalai Lama, the spiritual leader of Tibetan Buddhism, is a major influence for me. I have been meditating since I was a teenanger, and have always felt called to have an intense connection to within. Peggy Guggenheim, the incredible art collector, bohemian, and socialite in the mid 20th century, and Mica Ertegun, MBE, a well-known philanthropist and one of the foremost interior designers of the last 50 years: a grande dame who once was the toast of town in NYC, are both massive influences on my perspective on balancing life and work as well.

What are a handful of artists, filmmakers, designers, or architects that you would suggest for people to check out?

Artists: Ai Wei Wei, Daniel Ashram, and Alberto Biasi (just seen at Art Basel Miami).
Filmmakers: Denis Villeneuve

Documentaries: "Kiss The Ground" and "The Year Earth Changed." 

You're going on vacation tomorrow! Where are you going?

Europe! We're going to a few countries for the holidays. First, skiing in Austria, then visiting Paris and London. It is extra meaningful for me because France is my home. I can't wait to go back to my roots and enjoy the European art de vivre, slow life, cuisine, and culture.
Book/Podcasts you suggest we all read or check out?

Some of my favorite books are: 21 Lessons for the 21st Century by  Yuval Noah Harari, The Moment of Lift by Melinda Gates, and The Big Nine by Amy Webb.
Podcasts I love are "The Mic by NYCXDesign" with host Debbie Millman & "Making Sense" with Sam Harris.

Something you hope to accomplish in life that you have not done yet? Could be small or large, work or personal!

I'm a voracious reader, lifelong student, and education is a passion of mine.  One of my dreams for later in life is to be a faculty member at a University, and share all the knowledge I've accumulated with the new generation. Being around young teenagers, with handheld computers in their palms, teaches us so much about today's world. They are so smart and care for the environment they live in. Being immersed with them helps me stay up to date. I'd also love to write a book as a way to share and memorialize my expertise on sustainability and circularity in the global design industry.