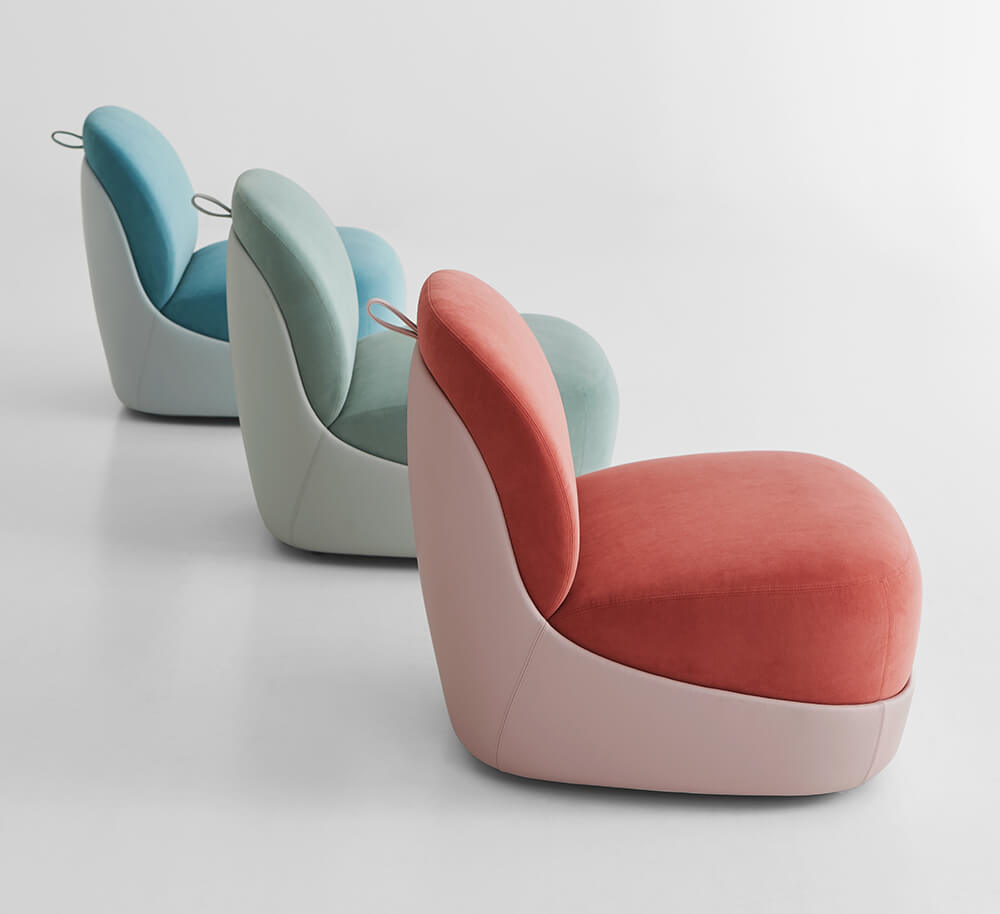 Bernhardt Design: Flexibility First
When multi-disciplinary designer Cory Grosser, one of America's top independent product designers, was setting out to design his fourth seating collection with Bernhardt Design, he took cues from a slightly more unpredictable character—Linus, the philosophical boy in the 20th century cartoon "Peanuts". Coined Automatic, like Linus' blanket, the lightweight chair will go anywhere at anytime.
"Automatic needed to be welcoming, so I started by sketching approachable forms with soft edges," says Grosser. "Next, an integral pull strap and spring-loaded casters were added, enabling it to be moved around as easily as Linus' blanket. To add visual interest, I designed an exterior shell that cradles the soft cushions, allowing combinations of textures and colors on the final product."
Designed specifically with open-spaces in mind, Automatic's lightweight nature and self-locking casters make it easy to drag to a quieter space when the need for privacy arises and conversely, can just as simply be grouped together when collaboration is desired.
"I like that it's so easy to move around and feels engaging and playful," says Grosser. "After what we have all been through over the last couple of years, I wanted to create something optimistic. I tried to create 'happy minimalism'. Automatic should help us feel more comfortable as we transition back to a new normal."
Another cornerstone of the design is the limitless color and fabric combinations that can customized by the client—the molded foam double shell provides the ability to select unique fabric combinations by choosing different textiles for the exterior body, interior cushions, and pull strap. The choice of leathers and fabrics can be complementary or contacting, artfully altering Automatic's appearance.
"The chair provides a personal choice—you can be on a group text or hide alerts."

Jerry Helling, president, Bernhardt Design
"I love the fact that Cory has added some fun to lounge seating even though it is a very serious product," says Jerry Helling, president of Bernhardt Design. "Automatic should resonate as everyone is trying to find a balance between the personal and the public in our lives."
The Automatic lounge chair is available with upholstery options in any Bernhardt Textiles, leather, or customer's own material and is available with self-locking casters or stationary glides. Automatic debuted this past November and was a part of Bernhardt Design's body of work at ICFF 2021—for which they received an ICFF Editors Award.
"It's always a pleasure working with Jerry and I'm very grateful for our collaboration" says Grosser. "The process is often nebulous, but Automatic started with a single sketch that he liked, and it evolved from there. Todd Campbell and his team helped to industrialize the product so that it was light and easy to maneuver while also being solid and durable."