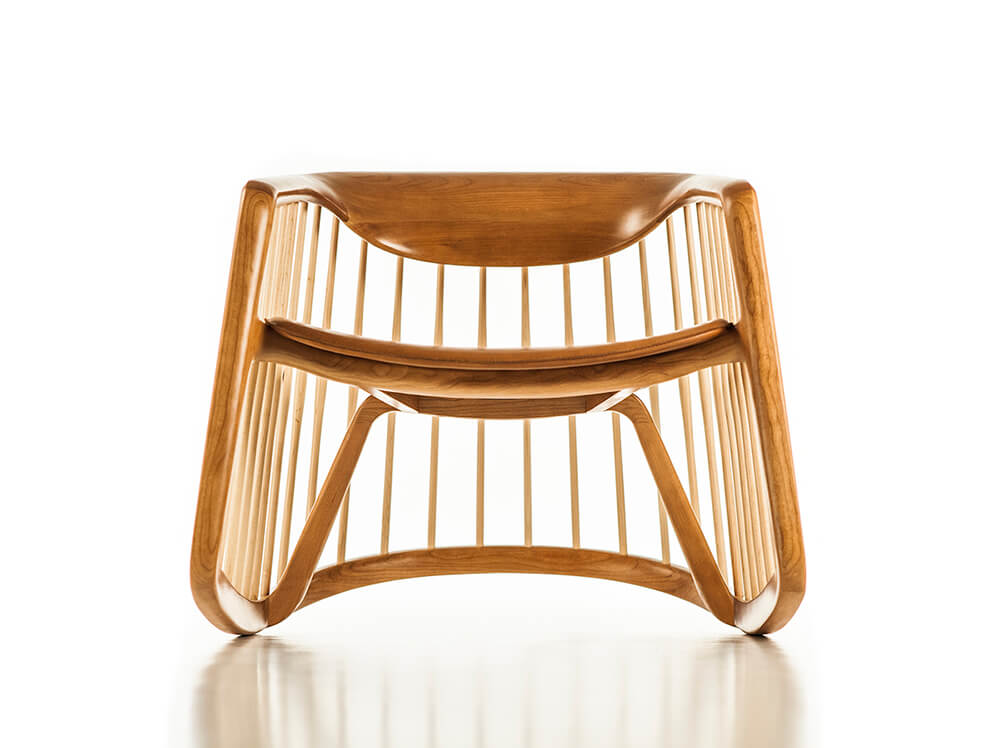 Noé Duchaufour-Lawrence: The French Way
The internationally acclaimed French designer Noé Duchaufour-Lawrence, who has partnered with Bernhardt Design on an impressive 24 different chairs, has a portfolio that would excite the most established designer. To name just a few accomplishments, Duchaufour-Lawrence served as artistic director for the Sketch restaurant in London; received the prestigious Créateur de l'Année award at the 2007 edition of Maison & Objet; created the new visual and architectural identity for the Air France business class lounges in partnership Brand Image; and designed retail concepts for clients such as Yves Saint Laurent and the BSL Gallery in Paris.
Born in the south of France in 1974, Duchaufour-Lawrence's father was a sculptor and his mother, an art professor—instilling in him a love for the arts from a young age. Years later, he received a degree in Metal Sculpture from the École Nationale Supérieure des Arts Appliqués, and after joined the furniture design department at the École des Arts Décoratifs.
"I knew I wanted to create furniture through a sculptural aspect," says Duchaufour-Lawrence. "I had an amazing professor who was really open. At the time, you were usually either an industrial designer or an artist, but there wasn't a lot of crossover like there is today."
While the launch of Duchaufour-Lawrence's career is generally associated with his interiors projects, his furniture design hardly takes a backseat role, often making debuts in his projects. He approaches every design with a very specific approach—the piece must be functional and respond to an absolute need, yet it must be a vehicle for meaning and create an emotional response.
"There's thousands of chairs designed every year," he notes. "I wanted to do something with meaning—something that generates emotion, which is something that I think is often missing. We have the perfect chair for every use. The most comfortable, the most technical. We need something that evokes an emotional response."
Each of Noe's seating designs for Bernhardt Design are meticulously crafted in different shapes and sizes, from conference to lounge, but all have a sculptural effect that speaks the language of simplicity and clean lines—a trademark of the designer.
"Jerry Helling of Bernhardt Design was the one who really helped me understand that I am a designer," says Duchaufour-Lawrance. "He always wanted me to express who I am and my sculptural work—but he also helped me not to go too far. Every time I was beginning to draw too much, he would steer me in the right direction. All of our work together was about discussion."
After moving to Lisbon, Portugal three years ago, following a desire to be in a smaller city near the sea, Duchaufour-Lawrence has been experimenting with something very different from the more technical work still taking place in his Paris studio. Coined "Made in Situ", the project focuses on the actual people, places, craft, and materials behind the products being produced in Portugal.
Made in Situ is currently set to open on September 23, 2020 at Travessa do Rosário, 16 in Lisbon and the project is entirely dedicated to the country of Portugal.
"I can't thank Jerry and other people who have followed me for a long time enough," he says. "Because they have given me the ability to do new things like this."