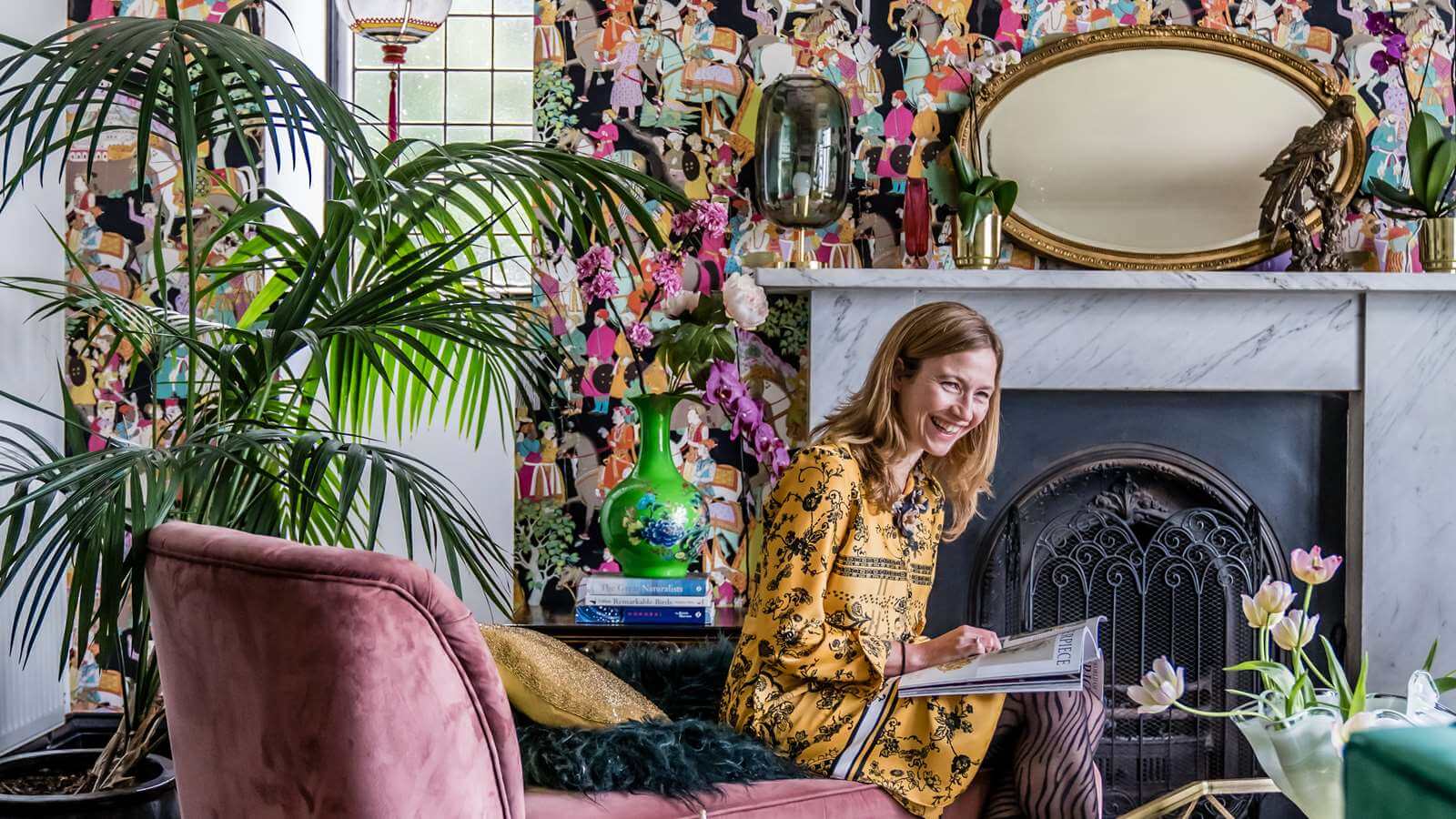 ICFF News
Changing of the Guard: The New Faces of British Design
Colorful and flamboyant may not be the first words that spring to mind when picturing British design but that is precisely what UK brands brought across the pond to ICFF this May. While paying homage to tradition through classical references, designers put an unexpected and decidedly playful twist on things, showing off a penchant for color and surprising materials. Meet the fresh faces of British design that are putting their own twist on tradition.
Wendy Morrison Design
The artisan-crafted rugs, wallpapers, and fabrics of Wendy Morrison Design are a maximalist's dream: Splashes of color shimmer and shift across lush patterns who's motifs have been drawn from nature, woven in silk or hand knotted with velvet.
The namesake behind the brand is Wendy Morrison herself, a Scottish textile designer with a background in fashion who launched the company following a collaboration that found her designing for a rug manufacturer. "It was a turning point," the brand shares, "the perfect match for her love of color and pattern combined with storytelling. It was the start of a design journey."
Wendy Morrison Designs is GoodWeave Certified, ensuring that responsibility remains at the core of their business. Working with artisans across the globe—their hand-tufted rugs are made in India, the hand-knotted rugs in Nepal, and hand-embroidered crewelwork is crafted in Kashmir—the brand aims to create lasting relationships with those who create their goods to ensure quality and harmony.
"One of our passions is to keep traditional crafts alive—to help ensure age-old techniques continue," they share, "We use the highest-quality materials and work with the most skilled weavers, tufters, and embroiderers, supporting small producers, artisan makers, and best working practices."
Coldharbour Lights
Coldharbour Lights dreams up and produces original feather light shades and chandeliers in their London studio. Lottie Davies, the creative force behind the company, found inspiration for the line in her background as a performer and reflects elements of drama, theater, movement, and play in her work.
Committed to being a carbon-conscious company, the decorative lighting design house handcrafts each piece to order, using sustainably sourced hen and goose feathers from poultry farms that are hand-dyed in the UK.
Abigail Edwards
The hand-drawn patterns from surface designer Abigail Edwards that grace her line of wallpapers, fabrics, and home accessories draw their inspiration from a love of nature and the dreamlike world of fairy tales.
"In this time of maximum connection and communication, life can be overwhelming and it can seem like pattern will add to the effect of noise and overload on our lives," the artist shares, "But when chosen carefully, pattern can be as functional as it is decorative. My aim is for my designs to contribute to an environment that will enhance wellbeing and enable relaxation. I look to the soothing colors of nature, or to transportive worlds, to take us away from the strife of modern life."
Rothschild & Bickers
Fellow glassblowers Victoria Rothschild and Mark Bickers found they shared an admiration for heritage craft and the decorative arts while training together at the Royal College of Art in London. They went on to found their studio, Rothschild & Bickers, in 2003 following graduation with their sights set on reinvigorating classical techniques and creating a sustainable production of contemporary glass lighting in the UK.
"We want to showcase skill and design that stimulate the imagination, celebrating the function of decoration and transforming the everyday object into an art form," explains Rothschild. And those designs are being crafted by their team of glassblowers who spend years training to hone their skills.
Coolicon
Nearly a century ago, a simple overhead work lamp was patented and produced by a company in Britain that would light factories and workshops across the country. The iconic Coolicon lampshade offered an innovative design created in enameled metal with vents at the top to allow heat to escape from the 100W bulbs. The vents also allow light to escape through the top of the fixture, reaching up toward the ceiling and reflecting back to create ambient light. This additional benefit of increased illumination created safer working conditions and improved both moods and productivity.
Today, Coolicon creates a range of lighting that builds on the design of the 1933 original. "Following tradition, Coolicon Lighting specializes in batch production craft processes to create some of the finest contemporary lighting hand made in the UK," the brand shares, "Every product we create is unique; true to the nature of craftsmanship, and with every lampshade comes a unique story to be told."
Donald Baugh
Donald Baugh is a designer and maker creating bespoke furniture and carved vessels. A talented woodworker, his pieces are bold yet simple contemporary creations that allow the beauty of the wood to shine. Baugh works with sustainable woods to create made-to-order items and collectable art pieces.