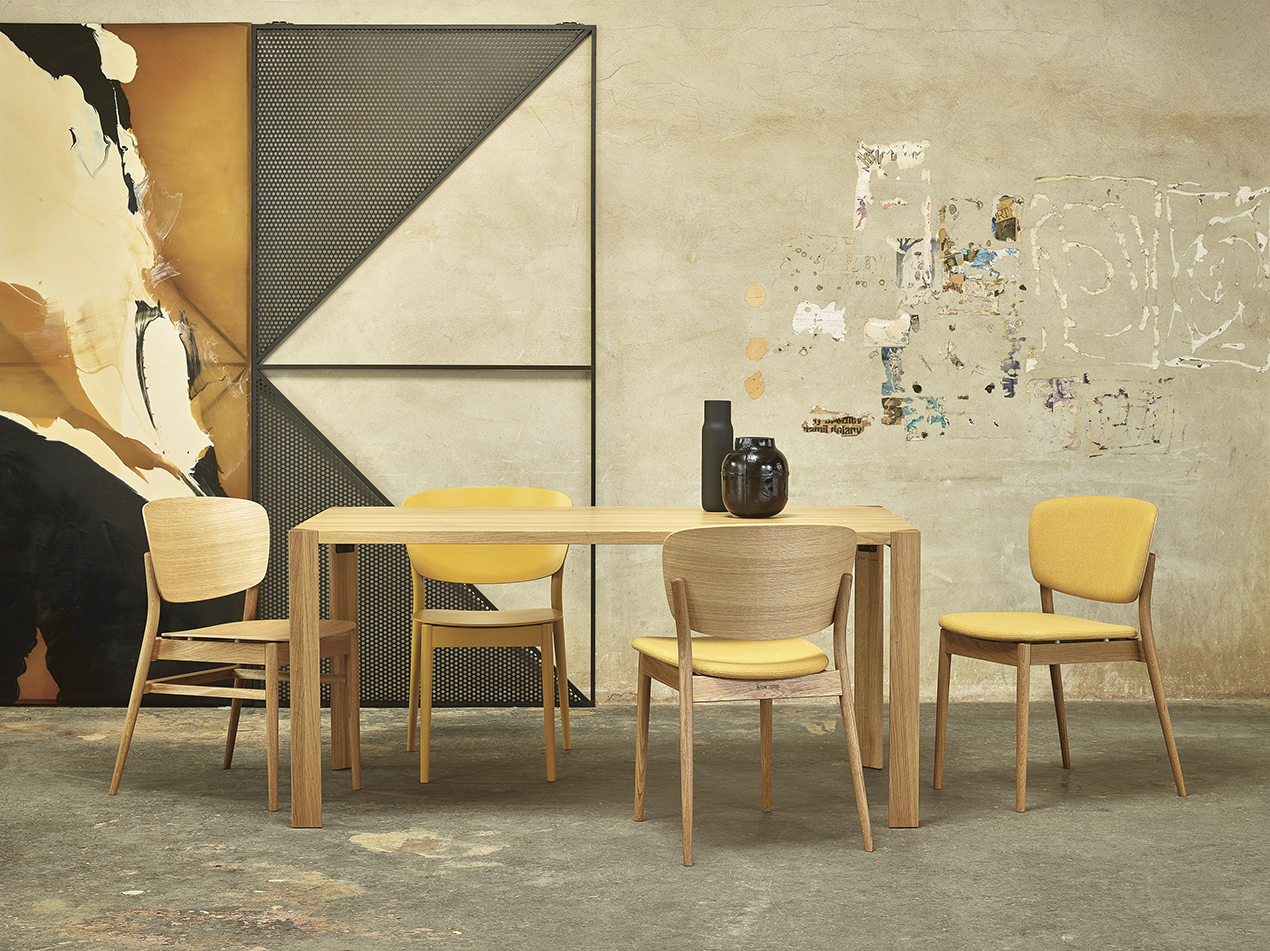 TON: Forward Bend
The long flourishing Czech design scene is rooted in craftsmanship, and although it's synonymous with such glass and lighting powerhouses as Lasvit, Preciosa, Bomma, and Brokis, it's TON that stands out for functional, sustainable, ergonomic wood furniture that deftly meshes tradition and innovation.
Michael Thonet, the German-Austrian joiner best known for developing the iconic bentwood chair that was a fixture at 19th century Viennese cafes, opened an eponymous factory surrounded by the beech forests of Bystřice pod Hostýnem, in the present-day Czech Republic, in 1861. After it was nationalized post-World War II, in the 1950s the plant was renamed TON, an acronym for TovárnaOhýbaného Nábytku, which simply translates to bent furniture factory. Now a full-fledged company that continues to honor Thonet's pioneering steam-bending technique, it produces a vast slate ofchairs, tables, benches, barstools, and accessories from those same storied workshops some three hours southeast of Prague.
Popular collections like the nature-inspired Leaf; pocket spring-upholstered Alba; and minimalist plywood Merano devoid of screws and metal are comfortably at home in any contemporary setting. Still, it's hard to shy away from TON's nearly 160 years of heritage. "On the other hand, we had a chance to move on due to modern technologies," says Jan Juza, TON's chief marketing officer, who describes the brand's past-meets-future approach to production as "serial handcraft."
TON's ethos, he continues, is derived from respecting the time-honored and very specific manual wood bending process, and then applying it to the creation of "timeless products. What is always important is a designer`s visit to the factory. He or she can discover all the possibilities—and also some limits."
To Juza, even wood-bending's limitations offer an opportunity for designers to showcase creative complexity. Consider TON's Split collection by the Paris-based Israeli artist and industrial designer Arik Levy, who elevated the revered practice by boldly splitting and bending wood in two different directions.
At ICFF, TON was eager to unveil Grand Slam, a collection of chairs and barstools by long-time collaborator Alex Gufler, a Vienna-based product designer, that marry signature curved backrests with lightweight plywood seats. Easy to affix to walls, the whimsical Logs coat hanger, spun from wood offcuts and reminiscent of a snowflake, was also ready to make its debut at the show.
Instead, like other designers and manufacturers, TON's current priority is navigating the COVID-19 crisis as ably as possible. Fortunately, because TON directly transforms a tree's wood into parts for its furniture, first aging the wood for a minimum of six months, it is "in stock and in perfect quality," points out Juza.
With in-person meetings, trainings, and events all canceled, TON is using this time to bolster its digital presence, establishing e-shops in some countries, for example, that allow customers to configure products according to their tastes. An optimistic Juza believes that when the dark days are past, though, clients will once again partake of brick-and-mortar shopping rituals. "Online could be king now," he says, "but honestly, I personally think the world will turn; I think you`ll always want to sit on a chair before you buy it."