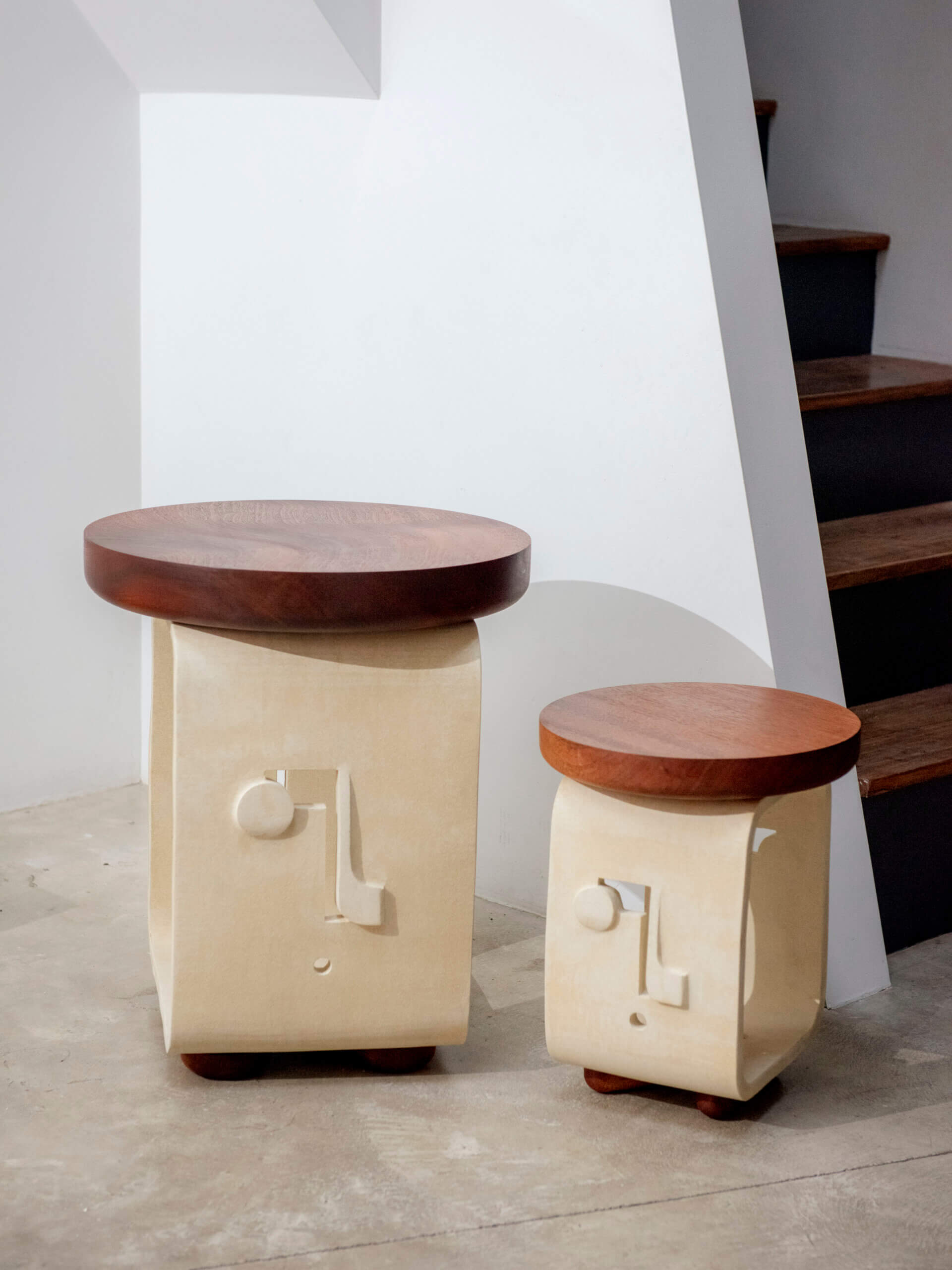 ICFF News
Meet the Winners of the ICFF Editors Awards 2022 – Part 2
"We are honored to continue the tradition of the Editors Awards, which seek out the best in creativity and innovative thinking in the industry and are decided by influential editors from top design publications. This year's winners all reflect the Fairs' commitment to original and sustainable design."

PHIL ROBINSON, ICFF SHOW DIRECTOR
ICFF has announced its annual ICFF Editors Awards, recognizing the best and most innovative approaches to design among a roster of global exhibitors.
The ICFF Editors Awards are one of the design industry's premier accolades. Entries are judged by editors from invited design media, who tour the trade fair floor and deliberate to determine the best of the best of the year's product launches.
With nearly 400 exhibitors participating in both the ICFF and the co-located WantedDesign Manhattan, winners in 13 categories were named by a panel of judges from the following publications: AD Pro, Architect's Newspaper, Azure, Darc Magazine, Dezeen, Gray Magazine, Hospitality Design, IFDM, Interior Design, Kitchen + Bath Business, Luxe Interiors + Design, and Surface.
Scroll down to view some of this year's winners. Click here for Part 1.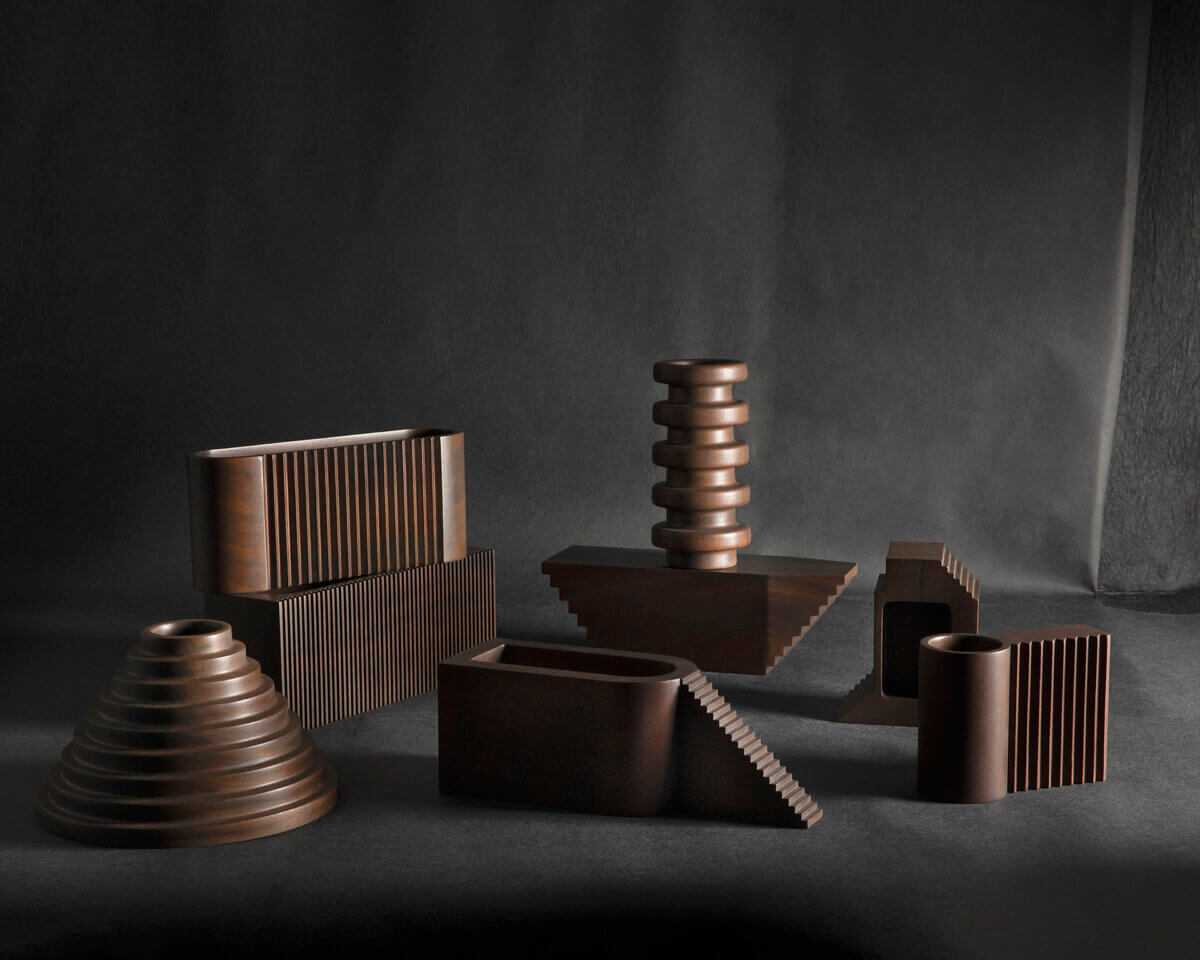 Accessories: Ethnicraft  
Known for outstanding craftsmanship, 25-year-old design brand Ethnicraft and its Objects collection won the Accessories category. Sculptural, decorative, and artistic interpretations, the new Objects collection features the masterful works of Ethnicraft's skilled artisans. The collection came to life in one of Ethnicraft's specialized woodworking ateliers, where Indonesian craftsmen had the unique knowledge of producing small items from local wood, such as mahogany. Each Object can stand alone to serve as a meaningful decorative function or a utilitarian purpose.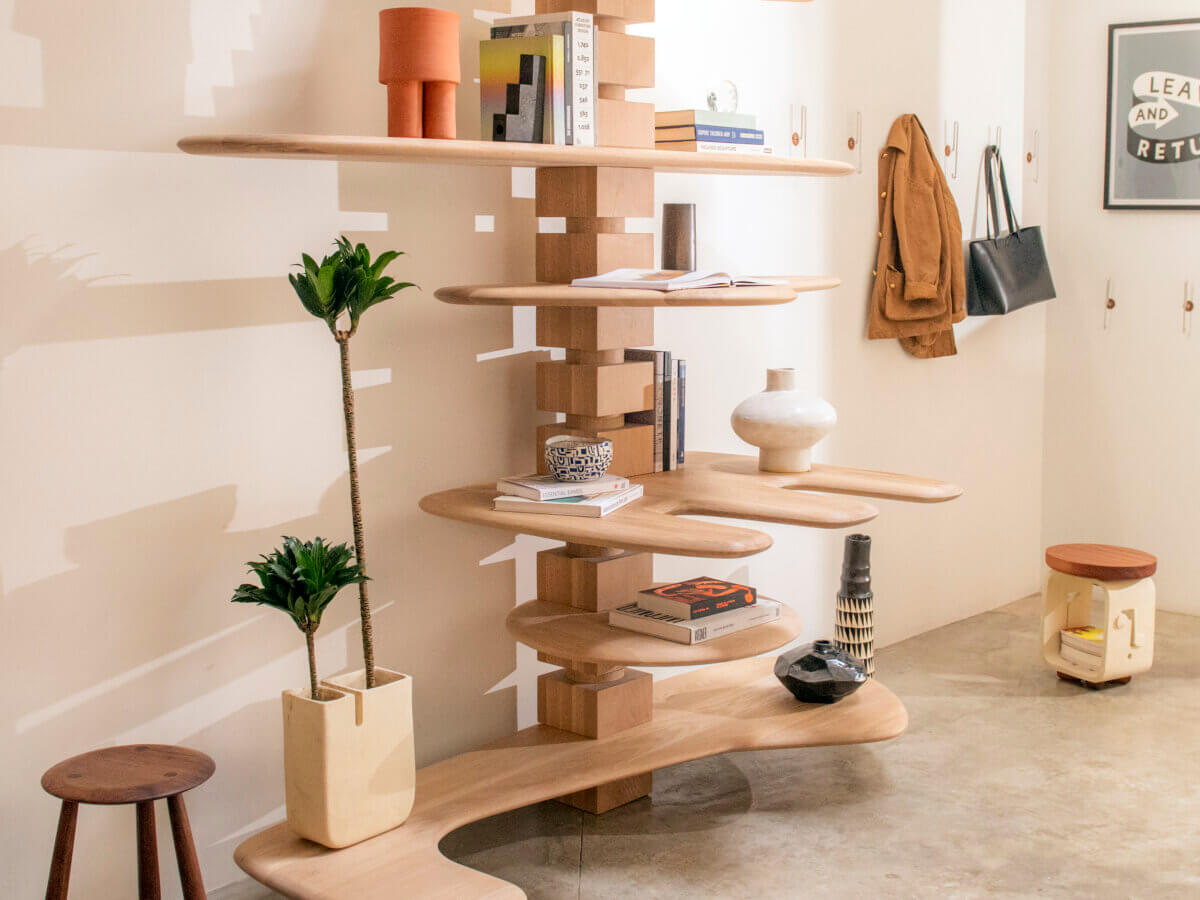 Best in Show: Piscina 
Piscina's standout piece was the Ledoux Shelving, which was designed around a seven-foot spine-like column with grooves informed by the columns of the Royal Saltworks in Arc-et-Senans, France, designed by neoclassical architect Claude Nicolas Ledoux. In the gaps between the cubes various symmetrical and asymmetrical forms can be inserted to act as sculptural shelving. The design walks the fine line between maximalism and minimalism and is noteworthy for the high level of variation as ten different forms can be inserted into the column as shelves.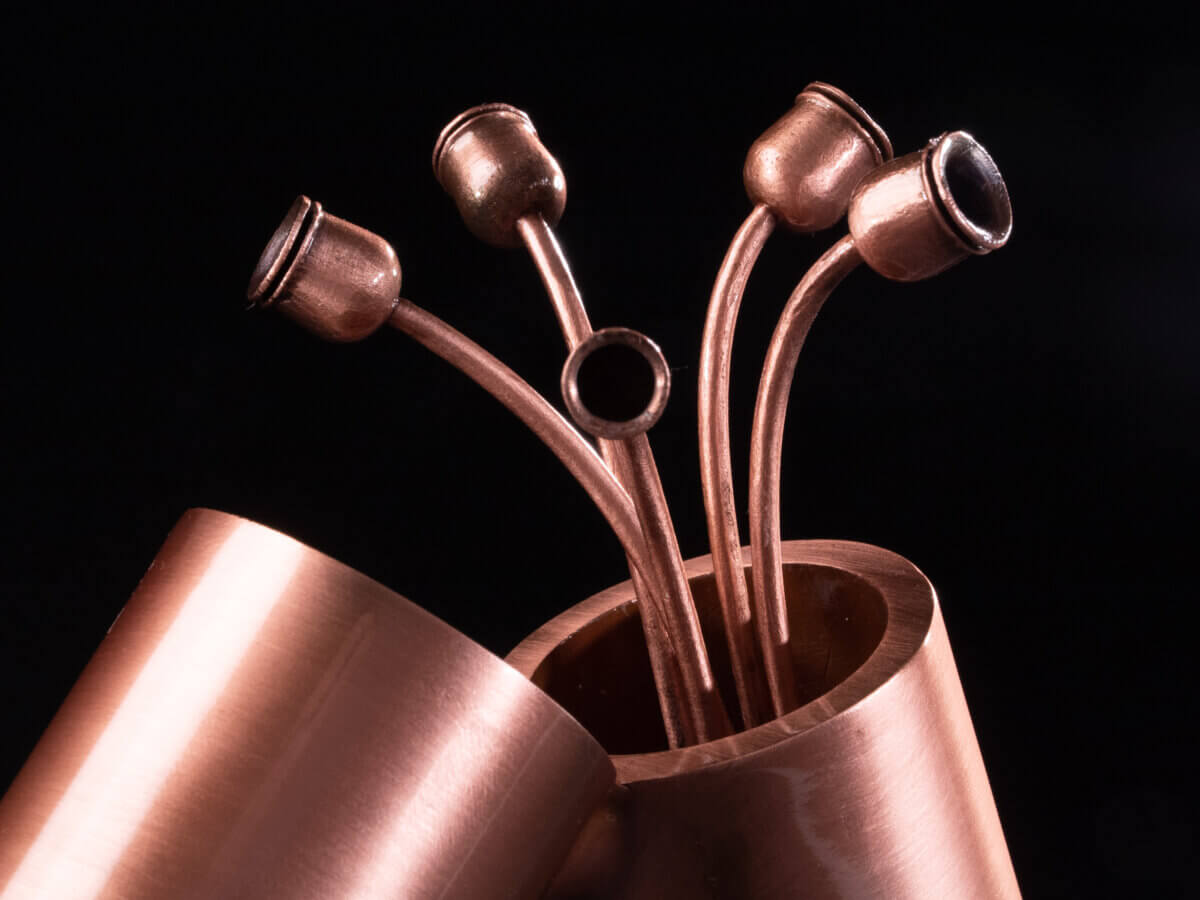 Kitchen & Bath: Uniq-E 
UNIQ∙Ǝ! was founded in 2016 as the first company in the sanitary fittings industry to offer architects and designers freedom of design, allowing them to create themed faucets and exclusive solutions for their customers who require particular attention and a dedicated production. UNIQ∙Ǝ! creates innovative and original 3D printed faucets through the application of Additive Manufacturing.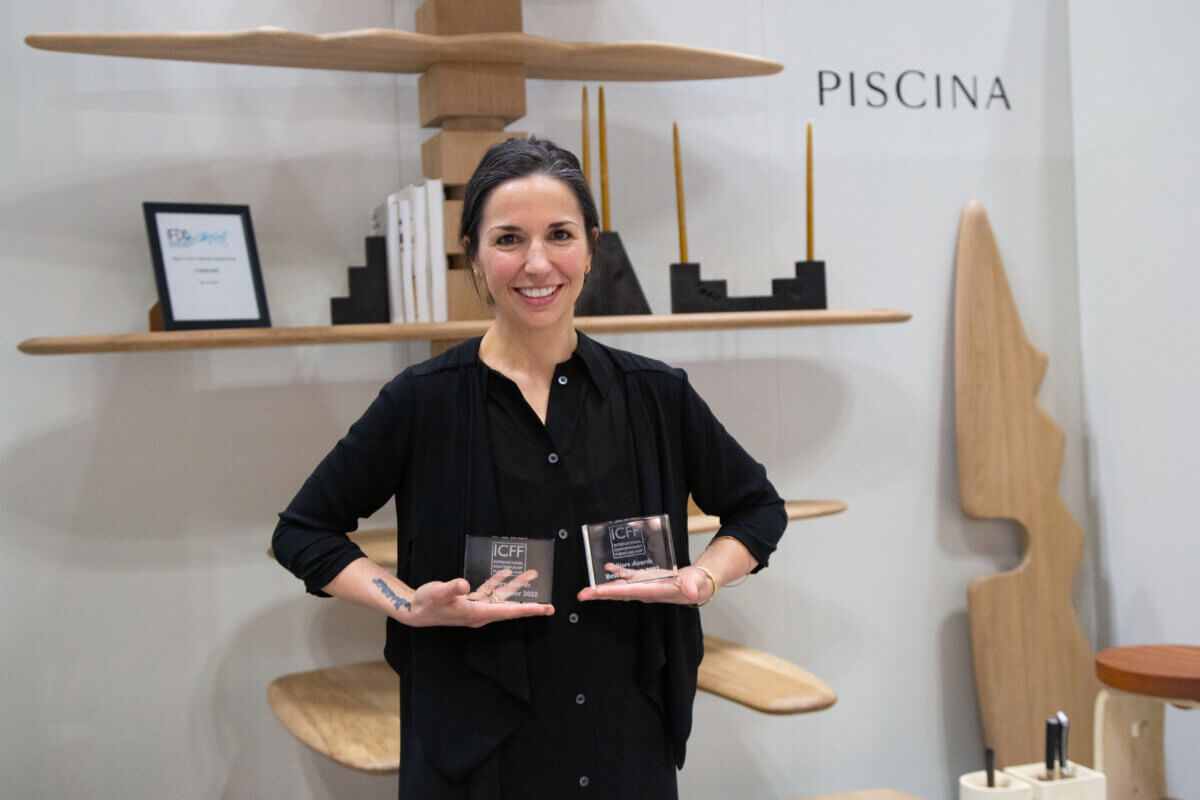 New Designer: Piscina
Design studio Piscina is led by Natalie Shook, who exhibited side tables, shelving, candle holders, and a knife block as part of her first collection under the Piscina label at ICFF. Piscina also won Best in Show (see above).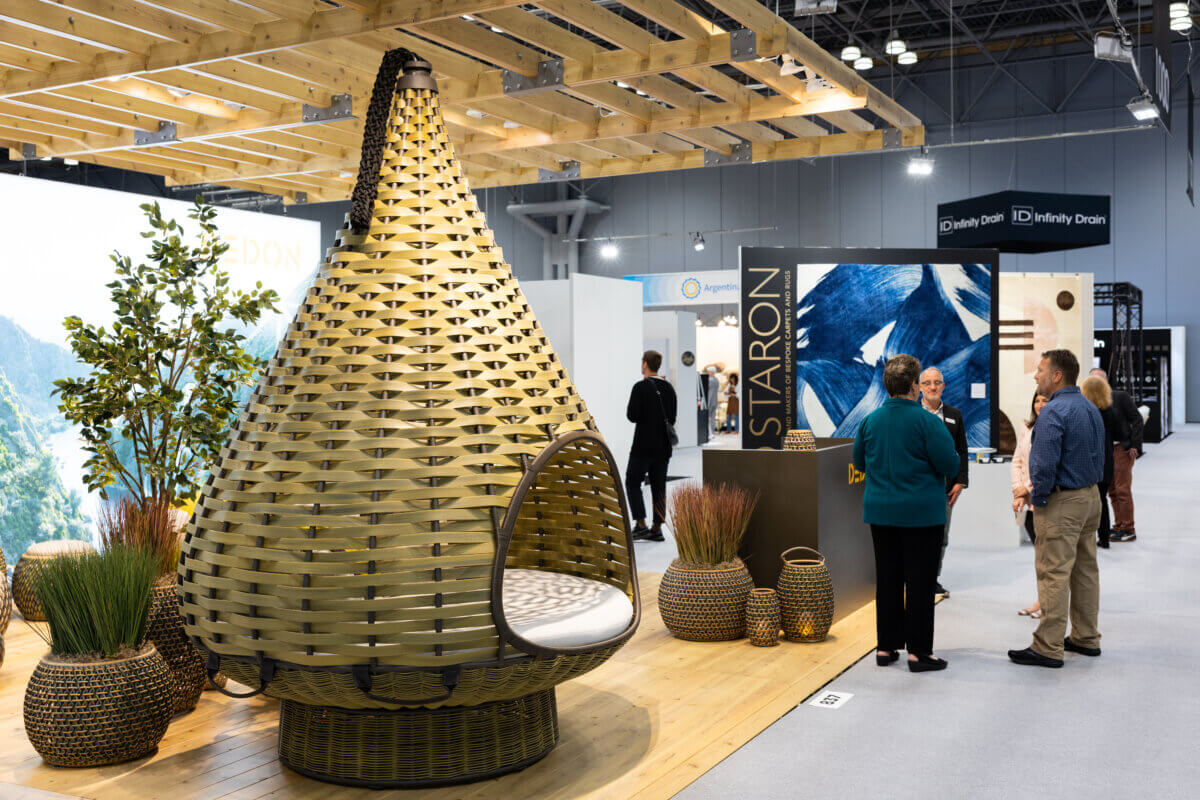 Outdoor Furniture: Dedon
Thanks to its cozy, protective, organic structure, NESTREST transforms your typical garden sofa into a small architectural piece, one that offers you a secluded, suspended sanctuary as it gently rocks you and puts you at ease like a warm embrace. It's the perfect place for relaxation, meditation and open-air conversations. Created by Fred Frety & Daniel Pouzet, two longtime collaborators of DEDON design partner Jean-Marie Massaud, NESTREST was inspired by the shapes, textures and colors found in nature, and by the sophisticated design of certain bird nests.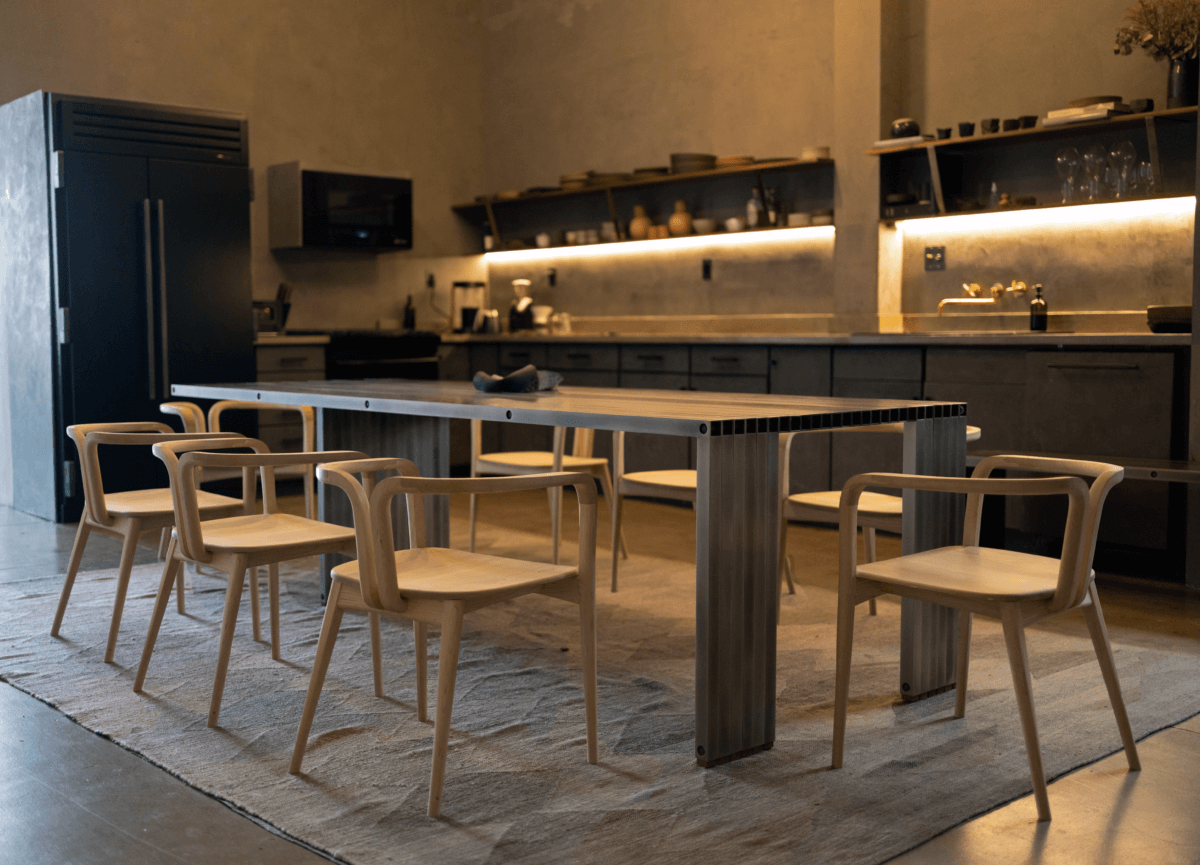 Seating: Tomoki Design
Born and raised in Tokyo, Tomoki Nomura is a furniture and lighting designer based in Los Angeles. His peripatetic background heavily influences his design process and enables him to find unique perspectives and approaches. By combining his wide and deep understanding of cultural variances with his technical skills, Tomoki creates forward-thinking designs that appeal to a global market. Each of his furniture and lighting designs represents his intense dedication to the refinement of form and materials. Tomoki will graduate in spring 2023 from ArtCenter College of Design's MS Furniture and Fixtures program.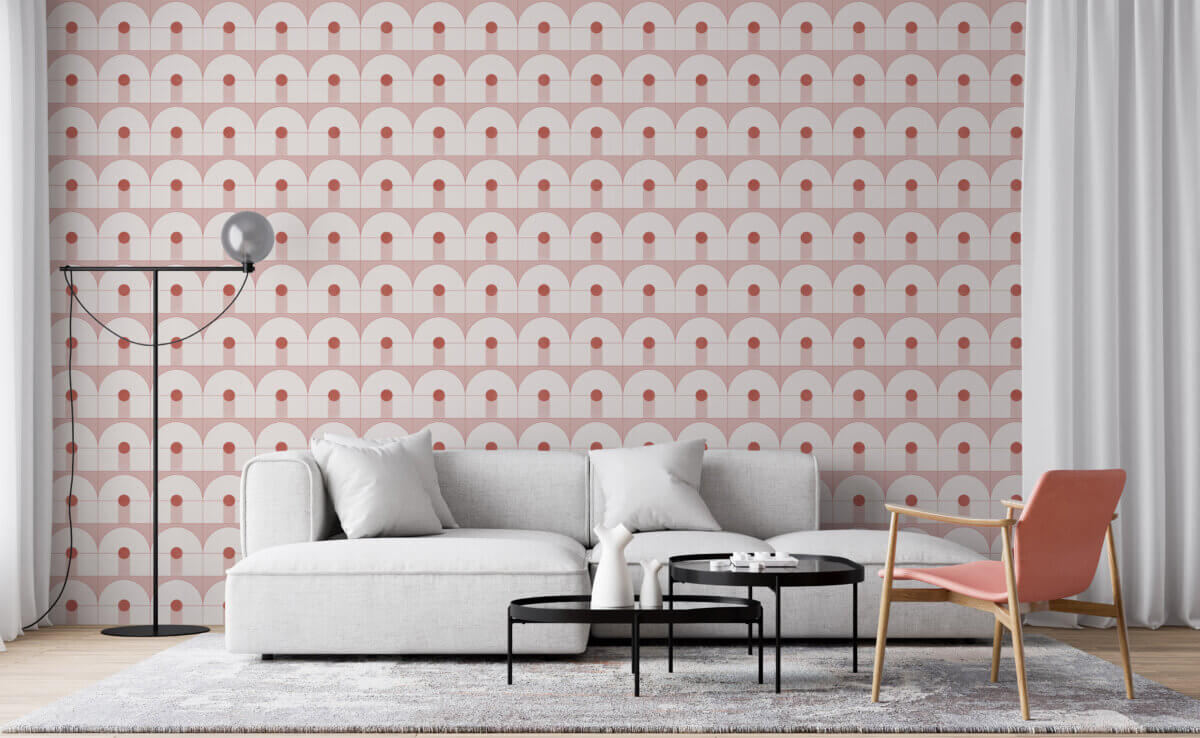 Wallcovering: Astek
Inspired by the colors and silhouettes of Miami's art deco architecture, Italian artist Elisa Passino transforms these iconic structures into a series of unique wallcovering designs for Astek. Her signature use of clean lines, contemporary pattern, and pleasing hues pays homage to the pastel palette and curvature of Miami Beach's historic district. The designs are enhanced with touches of risograph printed texture throughout creating an interplay between precise geometry and handmade texture. Each design is offered in both small and large scales to create varying levels of impact on the wall.