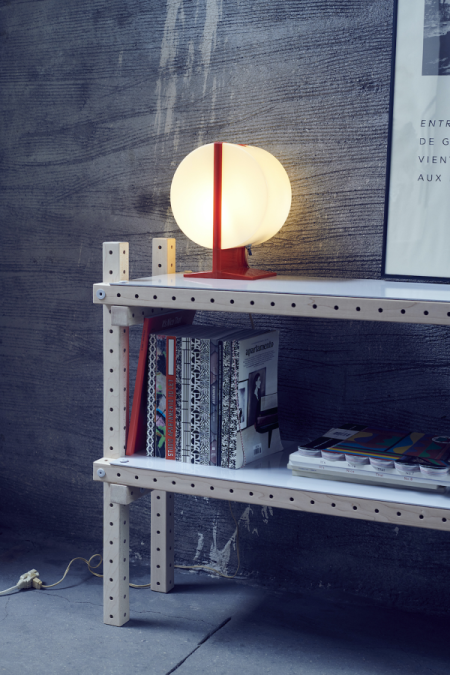 Brand Spotlight
Loose Parts: In Flux
Serious design for playful people. That's how Jennifer June, founder of Loose Parts describes her Los Angeles-based furniture line. Founded entirely around the notion of flexibility, June is working hard to encourage assembly, disassembly, and reassembly, effectively lengthening her furniture's life span, creating less waste, and saving users time and money while giving them the ability to reconfigure their system with total flexibility.
"Loose Parts is a furniture system made up of hardwood rails, aluminum panels and steel fasteners, designed to be assembled, disassembled, and reassembled into multiple configurations," says June. "I launched Loose Parts in November of 2017 in Brooklyn, New York with a collection of tables, chairs, and shelving. This past year, I decided to move New York and move to Los Angeles. This move west was prompted out of a desire to be near family on the West coast, but also a desire to have more space and to take on the manufacturing of the wood rails that are the foundational support system of my furniture."
The component-based system is sold either as modular self assembly kits or as individual furniture pieces. Loose Parts gives full creative agency to the user, to change and build again in limitless iterations. Made up of three components—hardwood rails, which make up the structural support of the system, fasteners, which bind the parts together, and panels, which make up the shelves.
"We offer the rails in a natural maple and a red oak that we then finish with a black stain and lacker," says June. "They come to us in this form and then we drill the pieces in-house with our trustee line-boring machine. It was really important to me to source hardwoods for the rails because of their natural beauty. The wood that I source is from the Appalachia's. It's a North Carolina hardwood from a family-run mill that have their own privately run forest. What that means is they can selectively cut and they really support the understory and the biodiversity of their forest, and they really offer truly beautiful and sustainable products."
The second part of Loose Parts is the fasteners. The hardware is available in black oxide or white.
"The choice for using fasteners was because I didn't want Loose Parts to have any adhesives in it, to be able to support this reuse, reinvention, and refastening," says June. "So all of the connections are made through hard connections or fasteners—something that you can unscrew and screw back together. By doing that, it encourages the life span of the furniture."
The panels are offered in a powder coated finish or aluminum, and can be matched to any Pantone colorway for ultimate flexibility. Alternatively, the panels are also available in a smoked glass and transparent glass version, or you can specify your own material such as marble, terrazzo, or different stones.
Recently, June introduced a new product to the line called Óptimo—a shelving system that can grow horizontally and vertically. It can be freestanding, acting as a room divider, or it can also be wall-mounted with floating back legs.
"The line was inspired by the ability to have agency in your home and really suit your needs within whatever environment you find yourself in," says June. "It was really inspired by the pandemic. Normally when I design a piece I look outside of myself, to art, design, theater, but this year was really about looking inward and thinking about our home in particular and how we look at it as a really multifunctional space."