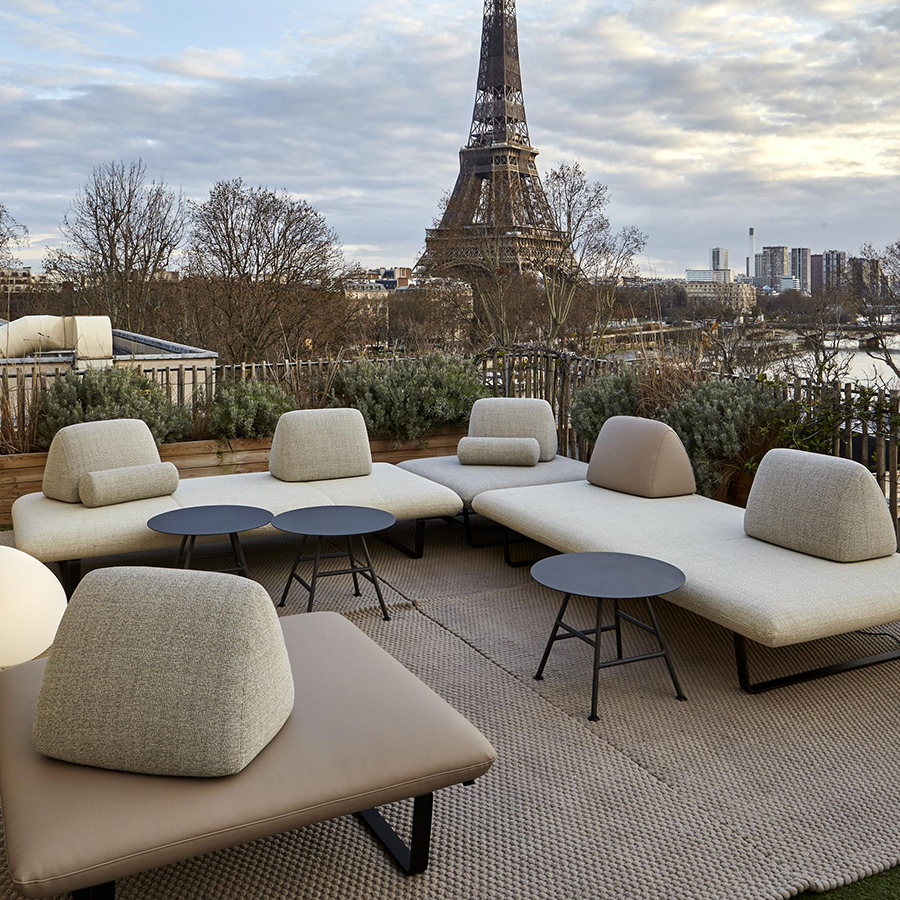 Ligne Roset: In The DNA
A brand with a storied history, in which time it has designed artful contemporary furniture with both established and up-and-coming designers, Ligne Roset is still managing to introduce innovative product lines to its collection 150 years later. Originally founded by Antoine Roset as a wood processing factory in Montagnieu, in the Ain province of France, the company would go on to produce wooden umbrellas, walking sticks, and chair frames with the help of Roset's son Emile. In the 50s, his grandson Jean shifted the focus of the company (now at 50 employees) to contract furniture and by 1973, the first Ligne Roset store opened alongside the launch of Michael Ducaroy's Togo chair—iconic to the brand.
With over 750 retail distributors worldwide and a presence in dozens of countries, today Ligne Rosset develops their product in their Briord, France factory. Working with designers from a broad spectrum of cultures and backgrounds, the brand continues to release new designs that answer to new challenges of the future. Even with the COVID-19 pandemic, Ligne Roset has launched a number of exciting collections in 2021, including Grand Angle, designed by Marie Christine Dorner; Murtoli, designed by Christian Werner; and Soufflot, designed by Jean-Philippe Nuel.
"Grand Angle is a very special modular sofa system that allows for a range of compositions," says Simone Vingerhoets-Ziesmann, executive Vice President, Roset USA. "You have an articulating backrest that allows you to either sit up formally or rest your head against it, while the sofa also allows for many different body shapes and sizes."
Grand Angle was designed to become in international classic—featuring an inverted chain system what allows a high headrest in the vertical position, a rolled-up one in combination with a lumbar cushion, or a less-deep position. The sofa's armrest is also designed to be sat on.
"We can link Grand Angle to the pandemic and the transition to both living and working at home," says Vingerhoets-Ziesmann. "So it's really a very special piece in its genre due to the comfort and the modularity."
Christian Werner's Murtoli is a large outdoor settee featuring a seat platform made from fiberglass slats and ultra-flexible foam, mounted to a Matt black aluminum based and covered in a water-repellant cover.
"Murtoli is a really wonderful beach in the south of corsica, and that's where the name stems from," says Vingerhoets-Ziesmann. "It's an outdoor piece and we basically took all of our indoor expertise and put it into the collection. So continuing to bring the inside comfort that you see in our seating elements to the outdoors, because why should it be different?"
The Soufflot chair was originally designed by Jean-Philippe Nuel as a custom collection for the old Hôtel-Dieu de Lyon (originally designed by renowed architect Jean-Germain Soufflot) in the South of France, which Philippe Nuel was tapped to design.
"We had to create seating for the bar, which is located directly below a 104-foot-tall dome," says Philippe Nuel. "Most furniture was too small for this area. So we drew inspiration from the architecture of the dome, being such a special element. If you stare up at the dome, it's a square, but in space, it's a circle. It's exactly the same for the chair—the base is a square, but it's also a rounded, smooth shape."
Soufflot is a contemporary evocation of the space in which it was born, marrying the dialogue between the monastic and the precious and its plain covering offering contrast to the architecturally significant dome.
"Philippe Nuel stems from a large family of architects and we've worked with him on a large variety of hospitality projects over the years, so he's very dear to the brand as a designer," says Vingerhoets-Ziesmann. "So, it was about time he bring a product into the collection."
While Ligne Roset has made due sharing their designs with the world following the cancelations of major trade shows across the world, they encourage visiting one of their over 40 showrooms across the Americas to view, test, and feel the collections in real life.