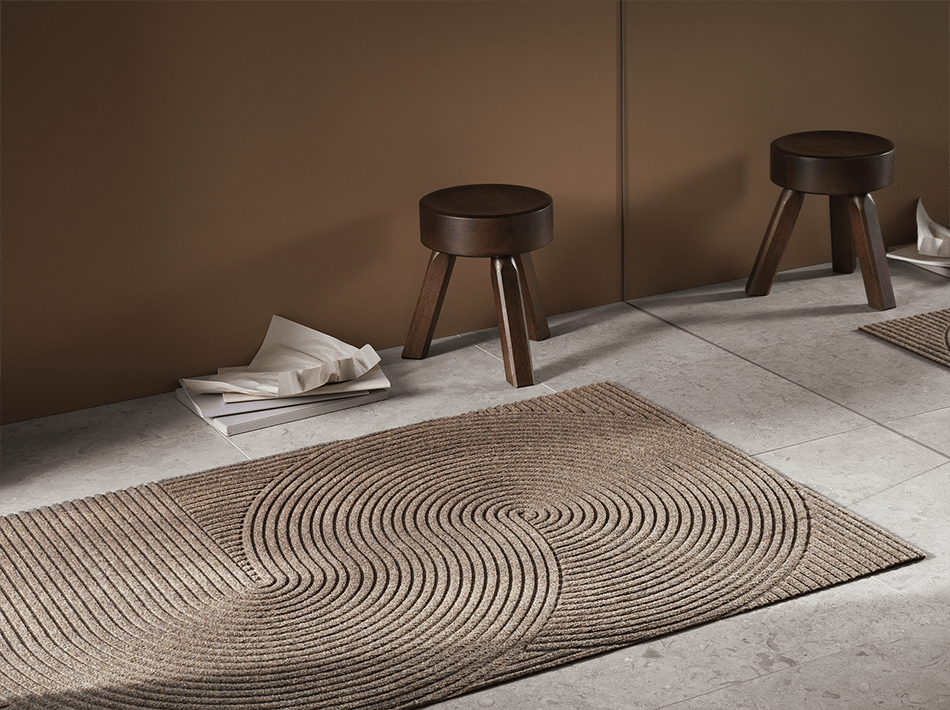 Heymat: No Shoes, Please
It's in the harsh weather of beautiful Northern Norway that husband-and-wife partners Sonja Djønne and Thoralf Lian started their family business of high-quality, industrial doormats that are equal parts effective and beautiful. Thoralf is the third generation in a family of launderers, which has given him an in-depth knowledge of what is required of an efficient doormat, while Sonja has a passion and eye for interior design. It was in this meeting that the idea of Heymat was born. The company's debut collection launched in 2016 and the brand has since launched many collection in collaboration with some of Norway's most talented designers.
Our company ethos relates to being original, true, and premium," says Lian. "We consider design, functionality, sustainability, and maintenance. We find it to be very inspiring to work with talented designers and together find the best solutions in our products. We also draw great inspiration from the beautiful nature that surrounds us here in the Northern parts of Norway."
An overarching value of the country of Norway, Heymat takes great pride in their focus on sustainability and environmental responsibility.
"At Heymat we take our responsibility seriously and know that the climate can't wait," says Lian. "Ever since our startup in 2015 we have focused on reducing our environmental footprint and we are constantly working to find the best and most sustainable solutions to our services. We started producing our mats with fifty-percent recycled PET textiles. Thanks to targeted innovation we are now proud to use one-hundred-percent. Reusing plastic in long lasting products such as ours is a good sustainable solution as it both reduces the use of non-renewable raw materials and also prolong the lives of already used materials."
The PET textile is well-suited for use in a doormat, as it has excellent absorption properties, dries quickly, and is an extremely hard-wearing material.
"With a general idea of the product, we pick designers we believe can match this concept well," says Lian. "We are also lucky to be contacted by designers wanting to work for us and have for the last couple of years increased our network of talented designers. Good design is the starting point for everything we do. With a general idea of what we want our product to provide for the end user we search designers who can fulfill this, but also has the capacity of taking our thoughts one step further. We always work closely with selected designers when developing new collections."
Haymat's most popular products include their Haymat+ collection designed by Kristine Five Melær.
"We believe this is both because of their beautiful design and the unique 3D pattern," says Lian. "As for all our products they are also produced using 100-percent recycled PET in the pile, and we've received a lot of attention especially for this collection because of that."
They have also seen great success with their new Mix Teklan collection. The mat was originally designed by Kristine Five Melvær in 2016 is now being presented in a new version, colored by the Swedish Tekla Evelina Severin.
"After a harsh 2020, it seems that people are ready for the happy feeling that the mat brings in both design and color," says Lian.
While like everyone else, the young brand faced challenges throughout the course of 2020, they are more excited than ever for what's to come in the future.
"Even though the first half of 2020 was quite rough, we feel that we've been very lucky with the overall situation," says Lian. "We feel blessed living in the upper north of Norway close to nature, and happy to have products offering a warm and welcoming home to people all over the world. It sure seems to matter to people as we experienced a very good growth throughout the year. At Heymat we learn every day. If we were to highlight something that we've learned for the past year, it would be that crisis brings opportunities."