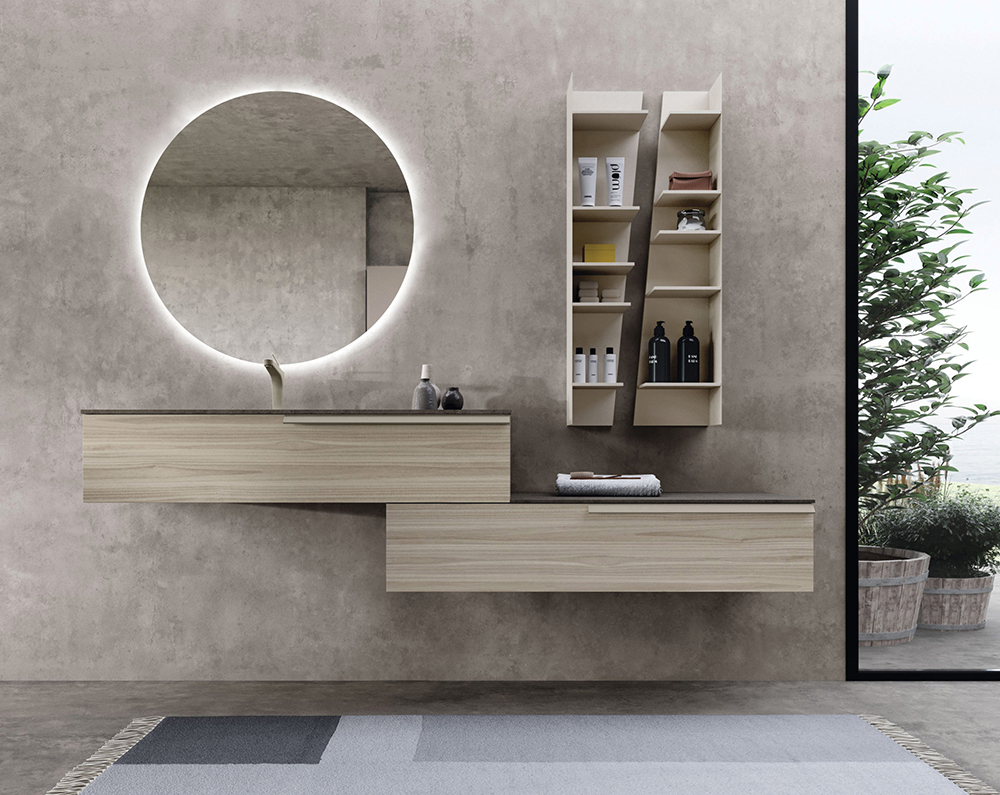 Hastings Tile: The European Effect
When Hastings was founded in 1885, concrete and asphalt were the materials of choice, yielding such impressive large-scale installations as the hexagonal pavers blanketing the perimeters of New York's Central Park. Buoyed by eye-catching European designs—and the American public's response to their allure—almost a century later the manufacturer began to shift its attention from solely the great outdoors to the possibilities inside by establishing a high-end collection of tile and bath products imported from Italy in the 1970s. The expansion was a fruitful one.
With its headquarters now in Ronkonkoma, New York, about an hour's drive from its Hastings-on-Hudson origins, Hastings Tile & Bath as the company has been rechristened—the paving business was divested in 2000—continues to put sourced-from-Europe offerings front and center. "Even as customer needs changed, we never wavered from taking chances on contemporary concepts, colors, and styles with the intention of setting the trends that others follow," says Bob Gifford, director of business development.
Today, the tile choices are plentiful, available in a range of glass, porcelain, ceramic, mosaic, and even 3D-relief varieties, as are the options for vanities, tubs, mirrors, and bathroom basins and countertops. Even more than this selection, it's the long, important relationships Hastings has nurtured with factories over the decades that makes an impression on clients. CeramicaBardelli, in Italy's Lombardy region, for one, has partnered with Hastings on exclusive designs for more than 50 years. Additionally, Hastings found immediate success with "our glass vessel sinks and countertops; we were the first to bring these to market here in the U.S. and have been working with the same factory since the '70s," says Gifford.
VOLA is another pivotal brand in the portfolio. Hastings first began exclusively importing and distributing the Danish faucet line conceived by Verner Overgaard and realized by the celebrated Functionalist architect and designer Arne Jacobsen in 2000. Debuting at the National Bank of Denmark in 1968, the modernist mixed VOLA faucets exhibited a then groundbreaking design that concealed all of the contraption's mechanical components, revealing only the user-friendly spout and handle. It's a timeless, oft-imitated look—one that holds special relevance in an era where interest in Scandinavian design is high—and Hastings provides its customers with numerous VOLA possibilities that only continue to grow.  "We have a huge responsibility to make sure that architects know they can work with us on specifications that include VOLA, as it remains their go-to faucet brand," says Gifford.
In fact, at ICFF Hastings would have unveiled a new, welcome-to-the-touch silky, flat, matte white finish for VOLA, chosen for "its extraordinary design versatility and its ability to be at once serene and commanding," Gifford points out.
Urban would have also been introduced to the market. This vast collection of floor and wall-mounted vanities, pedestal and vessel sinks, mirrors, and open and closed storage cabinets in various sizes, finishes, and configurations creates infinite, customized layouts.
All those years ago, just before sophisticated European-inspired alternatives started to catch fire in the States, the American bathroom was basic, bolstered by bright pastels or circa-1970s pops of gold. These days its role is more prominent, as thoughtfully assembled, say, as a centerpiece kitchen or living room.
"Large counter spaces with storage is a must now as well as soaking tubs and spacious showers," says Gifford. "The bath has evolved from a simple space to a luxury retreat within the home.