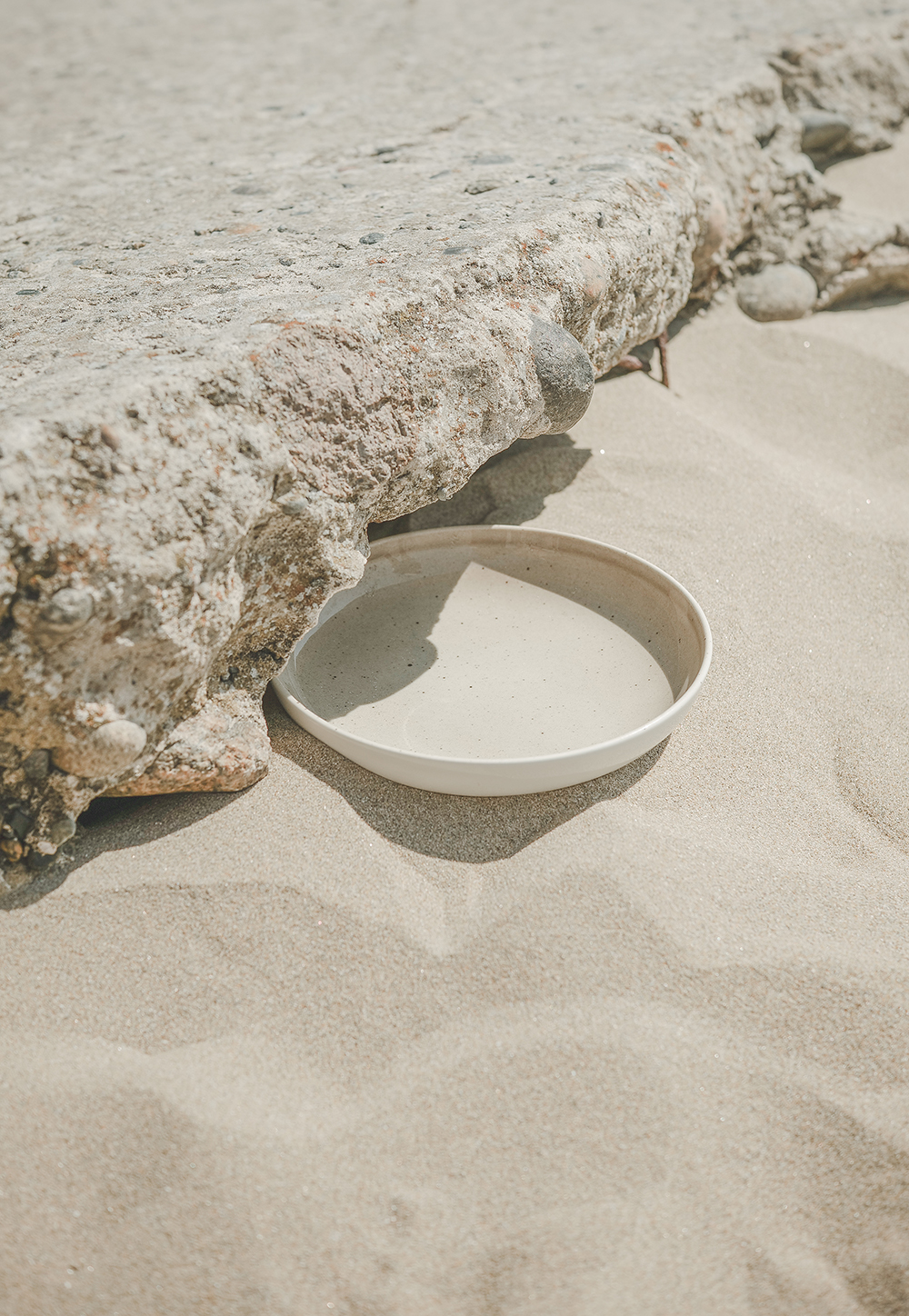 Figgjo: Full Circle
The sole remaining porcelain manufacturer in the Nordics, Figgjo has been crafting the highest quality tableware since 1941 from their scenic riverbend factory in the western Norway city of Sandnes. Founded by two locals, the Figgjo factory, which still produces their porcelain today, was built upon an old power station. In the early years, the factory was energy self-sufficient and the clay was sourced from the hills behind it. While the buildings have been upgraded and the machinery is now state of the art, the brand's extensive history has transcended generations.
"We still believe that crafting our porcelain right here, at Figgjo, makes for a better product," says Anne Kristine Rugland, CEO Figgjo. "We have everything in place to make beautiful, functional, durable porcelain, and yet, what matters most are the Figgjo people. Here, we have generations of expertise to draw from. We can work closely with our craftsmen and deliver products quick and effective to market."
A cornerstone of the Figgjo is the brand's collaboration with professional chefs, who help drive the design process. Both in-house and external designers craft the Figgjo collections—all of which stand proudly in Scandinavian design tradition.
Function is always paramount," says Rugland. "Every detail is cared for to help each piece fulfill its intended purpose. The clean lines and understated elegance of our products are a result of form following function. If the piece is decorated, this should serve to enhance the aesthetic qualities of the original design."
While Figgjo's roots date back decades, the manufacturing process is a mix between ancient craft and hi-tech production. The largest oven has been in use continually since the factory opened, yet today Figgjo also possesses a great deal of advanced computerised machinery.
"We do everything in-house, right here at Figgo," says Rugland. "So first, you'll see how the raw materials are tested. Then they're blended to make clay. Now, the real fun starts. The clay is formed. It is then dried before firing. After that, it is glazed—pink to show contrast and make sure we have sufficient glaze all over the product—and then fired again.
It's at the printing facility where decals for logos and patterns are added.
"We mix our own colors for hand painted decors. When decor is applied, we fire a third time.
And finally, we have our canvas ready for the chef—shiny, white vitreous porcelain. Sometimes with a touch of decor as well."
With an intense focus on sustainability, Figgjo has incorporated circular economy into everything they do. By taking responsibility for their products, the Figgjo team carefully thinks through each step of the process to ensure there is no waste or end of life to their products.
"Sustainability is the backbone of our company philosophy," says Rugland. "In everything we do, we consider sustainability—from choosing raw materials, to waste elimination and energy consumption in production process, and how we take care of the people that work here. Most importantly—when you produce products that last for generations you contribute against the 'use and throw mentality' in the world."
Figgjo uses no harmful materials. The little pink "lake" outside of the factory is flushing water from the glazing process. When that water has passed through the on-site treatment plant, the pink glaze particles filtered out are put back into production.
"We recycle all materials not ending up as a finished product," says Rugland. "There are no toxic emissions of any kind. Not only is this crucial for keeping our environment clean—zero waste is also very good for business. It means we can do more with less. It is truly a win-win."
At ICFF 2021, Figgjo will reveal their brand new ELA plate collection. The Japandi-inspired decor comes in soft shades of green, brown, and pink, inspired by the forest, sand, and the pink evening sky.