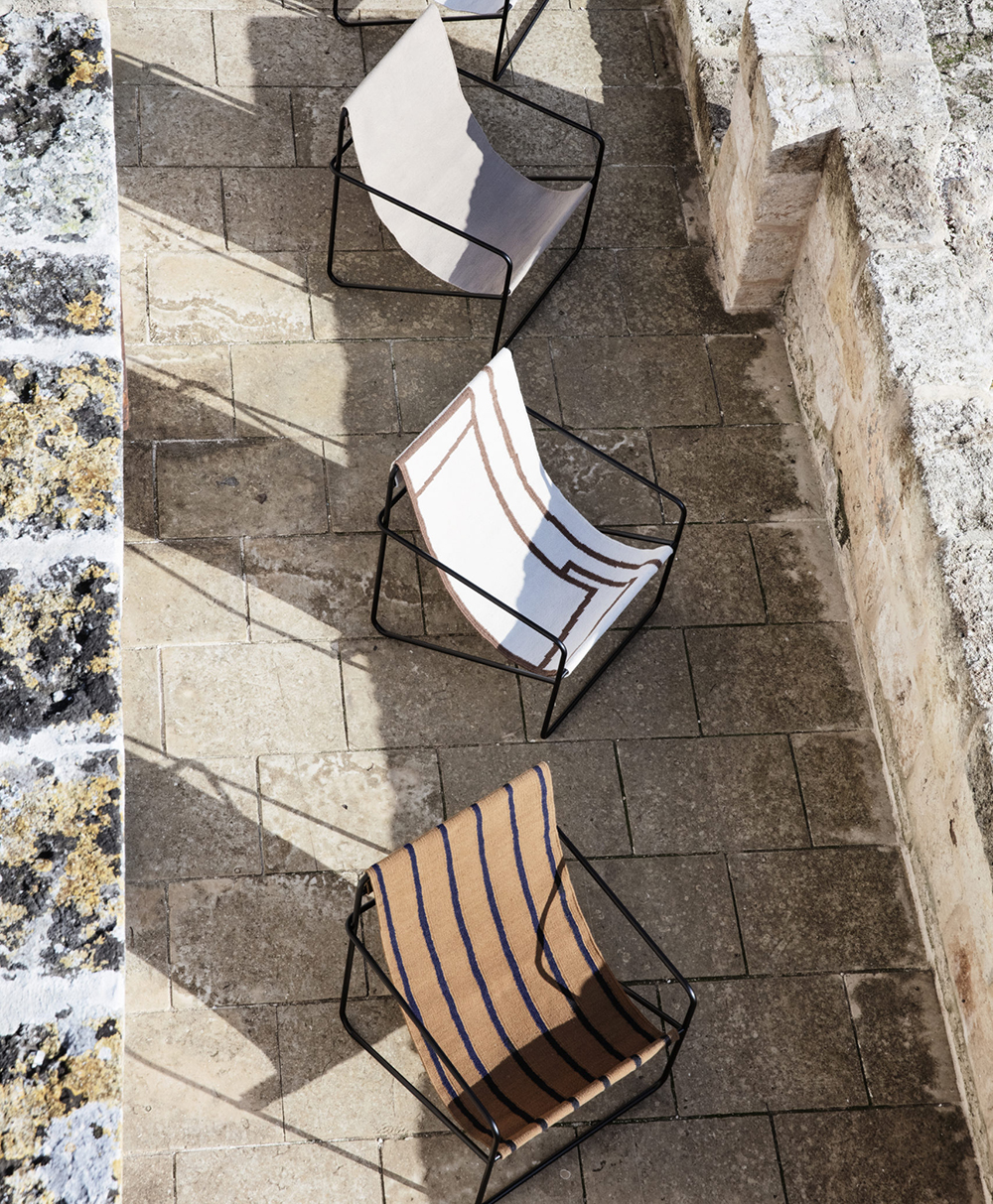 ferm LIVING: Feels Like Home
Wired glass Haze Sideboards, linen beanbag-like Catena sofas, and modernist Desert Lounge Chairs, their seats crafted from recycled plastic bottles, are among the products ferm LIVING was slated to unveil at ICFF as part of its SS20 collection.
There is also Flow, a semi-matte glazed trove of tableware bearing the alluringly imperfect imprint of wabi-sabi; the sculptural opal glass Vuelta lamp; and deep Plant Box containers fashioned from metal that are perfect for dressing up barren hallways. Additionally, the show would have been a platform for the Danish brand to plump up recognition in the States, a market that is still just discovering its soothing, functional collections of furniture, accessories, and lighting for every room. Here, ferm LIVING founder Trine Andersen invites us into her world of serene-yet-bold designs.
What led you to dream up ferm LIVING?
In 2005, I had just moved into a house with my husband, and I couldn't find a wallpaper that fit both our taste and our budget, despite having combed through both of Denmark's largest cities, Copenhagen and Aarhus. I therefore decided to make my own, which resulted in 10 different wallpaper designs. I was working as a graphic designer at the time, and was inspired by Scandinavian nature, clean lines, and simple aesthetics. I applied to exhibit the designs at a trade fair in Denmark, but couldn't afford to manufacture all 10 of them. So, with just one wallpaper and a handful of printouts, ferm LIVING was born.
The brand has grown considerably since its 2006 debut. What has been ferm LIVING's compass all these years?
Our mission has always been to help our customers to create a space where they can feel comfortably themselves—in moments of joy as well as chaos. We embrace the contrasts of life. You can feel a graphic nerve running through our collections, with soft forms and sculptural lines. We fuse our Scandinavian design aesthetic with more unexpected, artistic touches, while working with honest materials that are no more, and no less, than what they appear to be. We are constantly evolving at an ambitious but manageable pace. We present two new collections annually, and over the years our product portfolio has expanded to include new categories and materials, while always staying true to our core design principles.
Since the early days of ferm LIVING, interest in Scandinavian design has surged. What do you think it is about this style that appeals to so many?
In Scandinavia, we have a proud design tradition that stretches back to the 1950s and '60s and includes many iconic designers. The midentury modern design aesthetic has become popular overseas as well, and we think it has something to do with the simple nature of these designs: good, solid materials that will stand the test of time and classic silhouettes that won't go out of fashion. As the world gets busier and more chaotic, people want to create a calm and balanced sanctuary at home, something we've been good at doing here in Scandinavia for many years.
The COVID-19 pandemic has undoubtedly manifested in unforeseen obstacles for the industry. How has ferm LIVING navigated this strange, tricky time?
We were forced to be agile and think creatively. Almost overnight we had the whole company running remotely and we've had to either cancel or find alternatives for much of what we had planned for the spring and summer season, like with ICFF. We have had some manufacturing challenges, particularly in Italy and India, and we've postponed our AW20 collection launch until September. At the same time, it has also given us the possibility to slow down a little bit, to focus on the here and now and evaluate what is most important.
What are you most looking forward to?
We have recently moved into 'the Home' of ferm LIVING, a historic building in the heart of Copenhagen, with more than 20,000 square feet that have undergone a total renovation in preparation. In addition to housing ferm LIVING's offices, we are opening our very first boutique and showroom on the ground floor. It is a huge milestone for us; the almost 5,000-square-foot space will be our universe of all things ferm LIVING, and we are excited for a socially distanced soft opening in June and for the big celebrations in September.