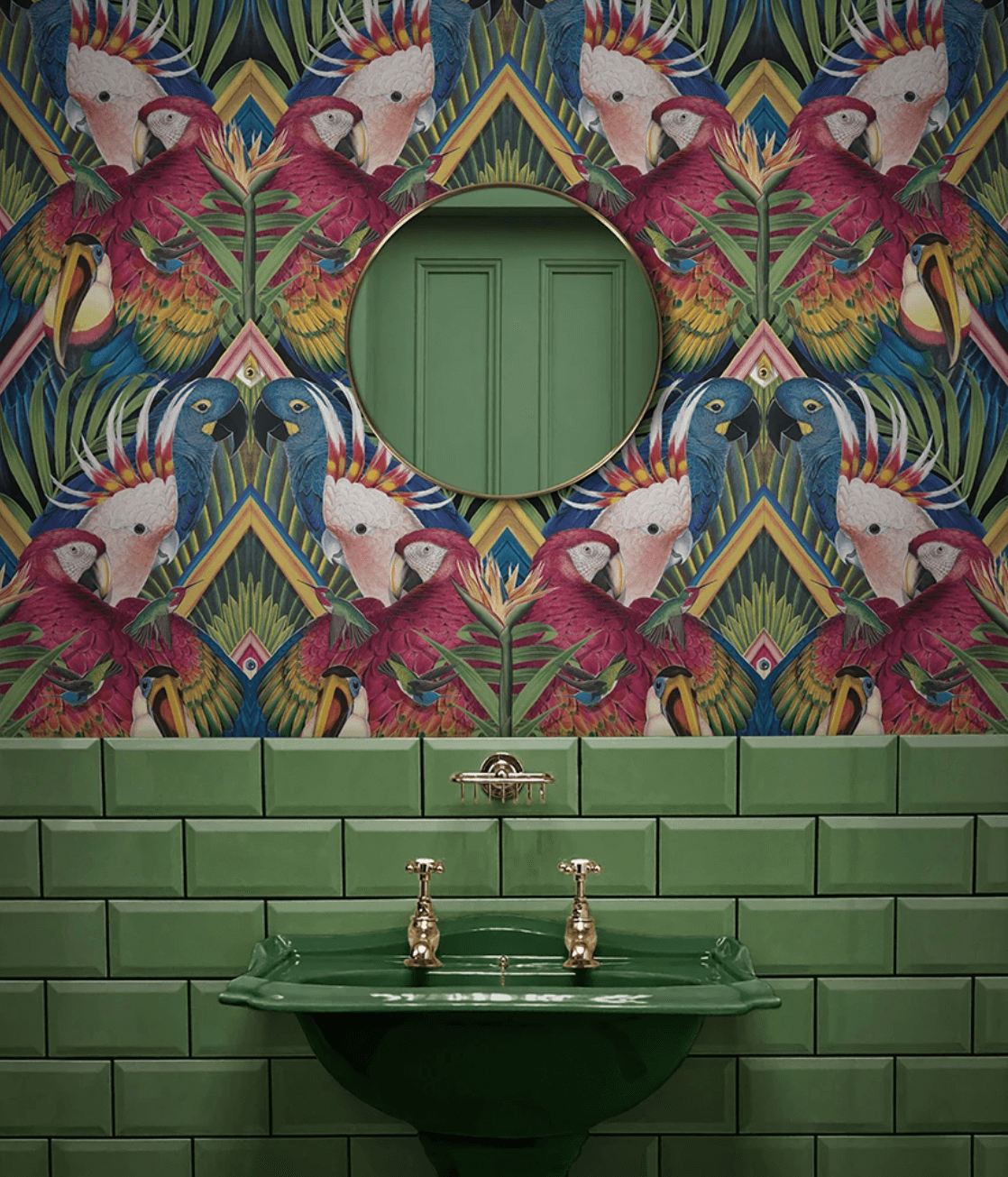 Divine Savages / BEDG UK: Risk and Reward
Husband and wife duo Jamie Watkins and Tom Kennedy started their South London-based studio Design Savages, a member of the BEDG UK contingent, in 2017 out of a love for treasures that inject a splash of wonder into the home. Producer of glamorous wallpapers, fabrics, home accessories, gifts, and limited edition prints, Design Savages is not your everyday wallpaper and objects brand. Inspired by history, culture, fashion, and the natural world, Watkins and Kennedy encourage a braver use of color and pattern in any setting—a reflection of their own passion for daring design that walks the line of both "design" and "savagery".
Please tell me a little about your company? How did the company get its start?
Divine Savages is run by us—husbands Jamie Watkins and Tom Kennedy. We've always had a shared passion for interiors and home décor and after starting to decorate our first home, with Tom designing some patterns and prints, we started to think about creating our own brand. We hoped to encourage bolder interior design, with pattern, color, and print, with a goal of injecting more fun and personality into homes. We wanted to share our bolder interior choices, with patterns reflecting both the divine and the savage.
Were you always interested in design?
Jamie: I grew up in homes decorated by my mum with bold, flamboyant wallpapers and fabrics. Once a house was fully decorated, we'd move on and do it all again, so whilst I haven't come from a design background, interiors have always been a big part of my life.
Tom: I studied graphic design and illustration at university and then followed a career in fashion and branding, working across some amazing projects for brands, musicians, and fashion labels. I'd always wanted to create my own brand though, so after going freelance for a while I finally had the time to evolve this and interiors was a space that just really felt right.
What is the ethos of your company?
We create luxury wallpapers and fabrics with a divine and savage twist. We love designing detail-rich prints that encourage you to look closer, as well as prints with a daring edge, often infused with our cheeky sense of humor.
Where does inspiration for new wallpaper prints come from?
We find inspiration from all around us, particularly the natural world which is full of vibrant color and pattern. We also love many styles, from the glamour of Art Deco through to more traditional Toile. Divine Savages embraces quintessential Maximalism; we want to encourage people to douse their home in color, print, and pattern, to embrace the 'more is more' ethos and to unashamedly allow personal style to shine throughout homes. There are no rules in interiors as far as we're concerned—why can't we fuse modern design with the classic, combine different periods and styles and clash pattern? Our key rule when designing anything is that we'd love to have it in our own home too.
How are you different from other wallpaper companies?
We always say why be divine or savage when you can be both, and that creates our signature twist across all our designs. For example, our Deco Martini which takes inspiration from the classic fan-motif but incorporates our favorite tipple, or our Forbidden Bloom print which, when you look closer at the vines, you realize they are in fact serpents. We like to create intricate designs that invite you to keep looking and discover new things each time.
Do you manufacture all of your products in house?
We work with a selected team of manufacturers here in the UK, drawing on our shared passion for quality, craftsmanship and heritage. We design everything in house and work closely with our partners to create our collections in small batches, delivering desirable pieces for your home that will last a lifetime.
Do you do custom work? 
We certainly do! We offer clients and customers our bespoke service where we can help with anything from creating a unique colorway on our wallpapers, offering different materials like grass cloth or silk wallcoverings, reworking the scale of a pattern or print, through to a brand new, original design for the ultimate in individuality.
What would you say to someone who is nervous to incorporate wallpaper into their home or workspace?
Take the leap! It's so important to surround yourself with interiors that make you happy and wallpaper is such a powerful tool as it can transform a space so quickly with pattern and print. If you're a newbie and not quite ready to commit to whole room, then look at adding it in smaller doses. One of our favorite ways to do this is an extended 'feature wall'—much more interesting. Wallpaper two walls and take it around the corner, it adds depth and detail rather than just the one flat wall. An alternative is to use wooden panelling on the lower half of the room and wallpaper above, this works particularly well in hallways and bathrooms.
What other products do you make?
We have a coveted collection of beautiful cushions in our sumptuously soft velvets and crisp cotton linens which are perfect for refreshing your favorite chair or sofa—you can never have too many in our opinion! We are also just working on relaunching our fringed velvet lampshades that will bring a decadently vintage feel to your home. Alongside these we also feature a collection of tableware and limited edition art prints, allowing you to bring a piece of Divine Savages into every room of your home.
What were you planning to launch at ICFF this year? Did you launch on your own?
We were planning to launch our latest Metallics collection at ICFF, working with traditional British manufacturing processes and skilled craftsmanship to reinvigorate some of our iconic designs with luxurious golds and copper. We would have loved to launch this in NYC as we have had a really great response from the American market, however we decided to continue our plans and launched on our own focusing on Instagram which has always been a great platform for us, and we're happy to say the collection has been a huge success with some lines already sold out!
How have you been coping with the current times? Has it changed your design philosophy at all?
For us, the current times haven't actually changed the way we work day to day. We're lucky that we have always worked together from home so it's been business as usual in that sense. We have seen a sharp increase in wallpaper sales and enquiries, which has been great to see; people are investing more in their homes, wanting to create a happy, vibrant space that reflects their personality, and Divine Savages is very happy to help! As we look forward to new designs, we'll be thinking about more color, and more fun – more of the divine and savage twists of which we've become renowned for.
What are you working on now?
We are working on our new collection which we hope to be able to launch in Spring 2021 and bring to ICFF next year! We're really excited to show these new designs! We also have some exciting plans we want to put into action including extending into new areas like furniture, working with selected artisans to create beautiful bespoke pieces with our Divine Savages twist—we're always thinking of new ways we can grow the brand and continue to offer exceptional quality and unique design.