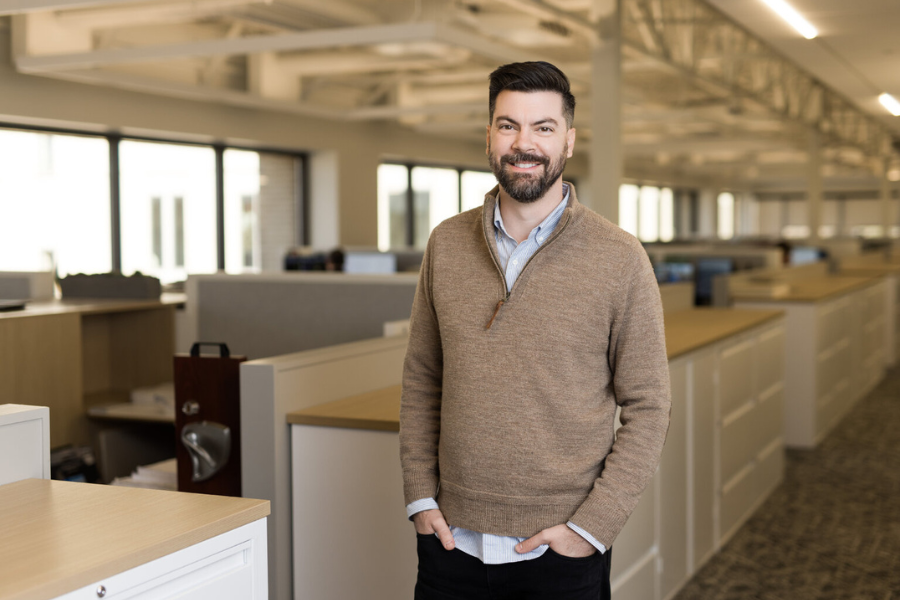 Designer Profile
Collin Fleck, Bockus Payne
Oklahoma City native Collin Fleck always knew he would find himself in a career that allowed him to build and create. Now a partner at architecture and design firm Bockus Payne, Collin keeps himself busy working on almost every project the firm completes—from adaptive reuse conversions of historic buildings to educational campuses to workplace interiors. Propelled by his belief that architecture is a reflection of human relationships, the times they live in, and how they work together to solve complex problems, he channels his passion into the integration of architecture and interior design, maintaining local culture, and designing educational spaces that aim to delight.
Find out more about the architect, and the sage advice he has received through his career path, in our conversation below.
Could you share a bit about how you got into the architecture? Was this always a career you saw yourself in?
It was a natural progression. I always knew I wanted to be in a design or engineering field—I took wood shop, drafting, art classes, and I liked math. When I was in high school, I won first place at the state woodworking competition in the small furniture category. It just made too much sense to pursue architecture!
Was there anyone along your journey to architecture that had a profound influence on you?
When I was just out of school and starting out at Bockus Payne, I had a mentor named Bill Bates, who was in his 80s at the time. He was old school and did everything by hand, but he taught me a lot of the basics of the architecture business. Even though we were from such dramatically different generations, I thought he was hilarious and he helped guide me to becoming a better architect. His outlook on architecture was so positive—in his 80s, he still said that he learned something new every day. I try to carry that outlook with me.
What other advice have you picked up along the way?
It took me some time in architecture school to find my way. At one point, I had a moment of panic and almost switched majors halfway through! One of my favorite professors at the University of Oklahoma, Jay Yowell, saw that I was in distress and talked me through it. He was incredibly encouraging and positive. Most importantly, he was more interested in me as a person than me as an architect. We need more people who lift others up.
Now to turn the tables—what advice would you give to your younger self? 
Make a decision! I was always indecisive growing up. I had an architecture professor yell at me about being decisive (he was a former drill sergeant) and it changed the way that I work. Architecture is a series of decisions. The more good ones you can string together the better a designer you will be.
What is your favorite part of your job? 
I love getting to work on projects in my own back yard with the people that I grew up with. One of my high school football coaches is now an administrator at a local tech school—one of our long-standing clients—and I love that I'm still meeting with him on a completely different level now.
When I was 16, my first job was at KickingBird Golf Club. Now I'm part of the team responsible for completely redesigning the club. Having these connections to the community means so much to me.
Where do you start when you approach a new project? We'd love to hear what your design process is like.
For any new project, I listen and observe—context is critical. What does the site or existing building give you? What is the client's vision? From there, it's like a big puzzle to figure out how to marry the two.
What are some of your favorite projects that you have had the opportunity to work on?
Growing up, I remember that the Liberty Tower—now the BancFirst Tower—was the tallest building in Oklahoma City. I never thought I would one day get to help reimagine it. When BancFirst called us to meet with them and discuss revitalizing the building, it was a truly surreal experience—everyone in the city knows this building. What I love most is seeing people in their 60s and 70s, who watched it being built and then eventually fall into decline, now get to experience the transformation. I love seeing their reactions when they walk inside and see how it has changed.
Are there any other projects in your portfolio that stand out to you as especially memorable?
Winning the design competition for the University of Oklahoma College of Medicine—it turned out to be a big turning point for me and for our office. We competed against some of the best local firms, many of whom were partnered with national firms, and it was satisfying to beat out all the big players. It really put our firm on a new trajectory and helped us become known for high-end design.
What nurtures you creatively?   
Traveling and getting outside of my own small world expanded my mind and opened me up to new ideas. I'm inspired by seeing the classics in Greece or Rome, but I'm also inspired by newer work in London, San Francisco, or Oklahoma City.
Speaking of Oklahoma City, what do you love most about where you live?
I love that I can walk down the street in this big city and almost always see someone I know.
Where can we find you on a Saturday afternoon?
Chasing three crazy kids around my neighborhood! Family is my passion in life right now.