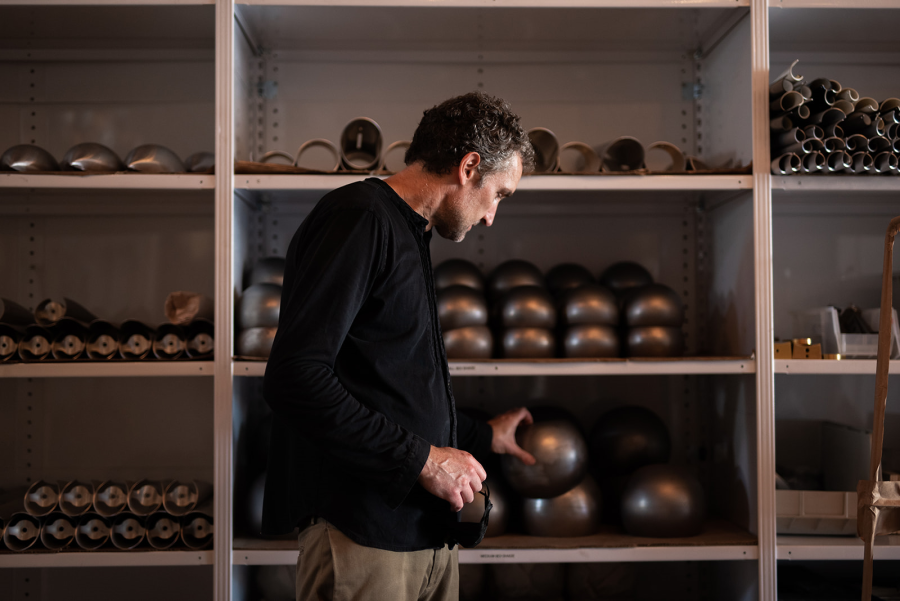 Brand Spotlight
David Weeks Studio: Sky's the Limit
New York designer David Weeks founded his studio in 1996 as a way to encapsulate his boundless set of interests, which range from metal fabrication to contemporary toy culture. Most famously known for his iconic lighting fixtures, Weeks' product line has evolved over the past two decades into a broad collection of furniture, accessories, sculptural objects, all of which prioritize material and detail. We caught up with Weeks, who shares his inspirations, thoughts, and how his early years have helped define his style.
Tell me about your studio. What led you to start your company?
We're a multidisciplinary design studio based in Brooklyn and founded in 1996. David Weeks Studio started with a staff of two (me and my dog Tallulah), slowly grew into a small crew in Dumbo, and has settled into our current team of ten multitalented artists. We design and produce the collection in our own building in Bedford Stuyvesant, Brooklyn, where we've had the opportunity to build out the studio in a way that allows for manufacturing and design to coexist.
What's an interesting fact about your studio that people may not know?
Every piece is made to order, by hand, in our shop. Our entire collection is fully modifiable and we do custom materials and site-specific pieces. Our design team regularly works with architects, designers, and clients to determine the best fit for their space.
What is your company ethos?
We approach design as a process of formal discovery, of pushing materials to their brink and allowing them to disclose their own potential. Form isn't imposed on raw material—it's gently coaxed from within. We aim to cross pollenate the shapes of seductive forms, the ingenuity of structure, and the output of light. There's an honesty to it. Honesty in our choice of materials, the mechanisms that allow the design to function. Honesty in the light itself.
You do both residential and commercial work—do you do more of one or the other?
We predominantly do residential projects, often working with designers and clients on custom pieces that bring singular definition to a space. Every piece can be modified to meet the distinct parameters of its ultimate surroundings. We're conscious that our designs don't just occupy space, they form a perceptual experience. There's a clear dialogue between the object and the intimacy of its surroundings.
How would you describe your style?
We're formally rigorous and materially fixated, but there's counterbalance in everything we do, from concept to construction. Our designs mediate between hard and soft, scale and simplicity, object and abstraction. Everything is technically complex, but nothing is visually complicated. Contradiction is part of it.
Where do you find inspiration?
I come from a small town in the South where potters were the artists with bragging rights. There were any number of studios whose pots were known for the complexity of their glazes. I started working at a studio when I was thirteen and the idea that visual identity can be built on subtlety and nuance stayed with me. I moved to Brooklyn when I was 22, at a time when old-school, second-generation shops were tucked away in anonymous metal buildings between Morgan Ave and Humboldt St. If you needed something powder coated, you'd go here. Anodizing? Across the street. For plating, you had to go to Queens. The first vendor I met was Juan Usetch, a metal spinner near the Pulaski Bridge. He would let me pick from his library of forms. I'd take five of one form, six of another back to the Dumbo shop and cut them by hand with metal sheers. Those first pieces became the original collection of mobile-like chandeliers that are the signature of our studio today. Spending time with, and talking to, these shop owners was endlessly inspiring, and I'd constantly challenge myself to utilize the skills of everyone I met. I still feel that way. The studio often collaborates with local artisans and peers. I'm inspired by materials, and the people who come to master them.
What materials do you utilize most often? Where do you source materials?
We're known for our metalwork. Early in my career, I had the opportunity to work with Ted Muehling for five years, which was a phenomenal experience. My time working at his first atelier on Greene Street as one of just four fabricators formed a lasting blueprint and an affinity for precision metalwork. The refinement of raw material; burning, melting, machining, carving, cutting, and shaping fuel the process. The inherent transmutability of metals allows for some vital improvisation along the way. Surprises are hidden in the transformation of what is into what might be.
What sets your brand apart from others in the same space?
We've been in the lighting space long enough to have established a distinct visual language. We have a reputation for unusual, beautiful forms married with a technical aptitude that brings with it an almost forensic level of attention to detail. Despite this experience, we continue to approach design with open-ended curiosity. By holding space for the unexpected, our designs haven't become formulaic. I've been at this for over 25 years, and I've got so much more I want to do.
What is your most popular product and why do you think that?
The three-tiered Sarus Mobile and the Cubebot. Both are reflective of the conceptual agility of the studio. There's a levity to both designs.