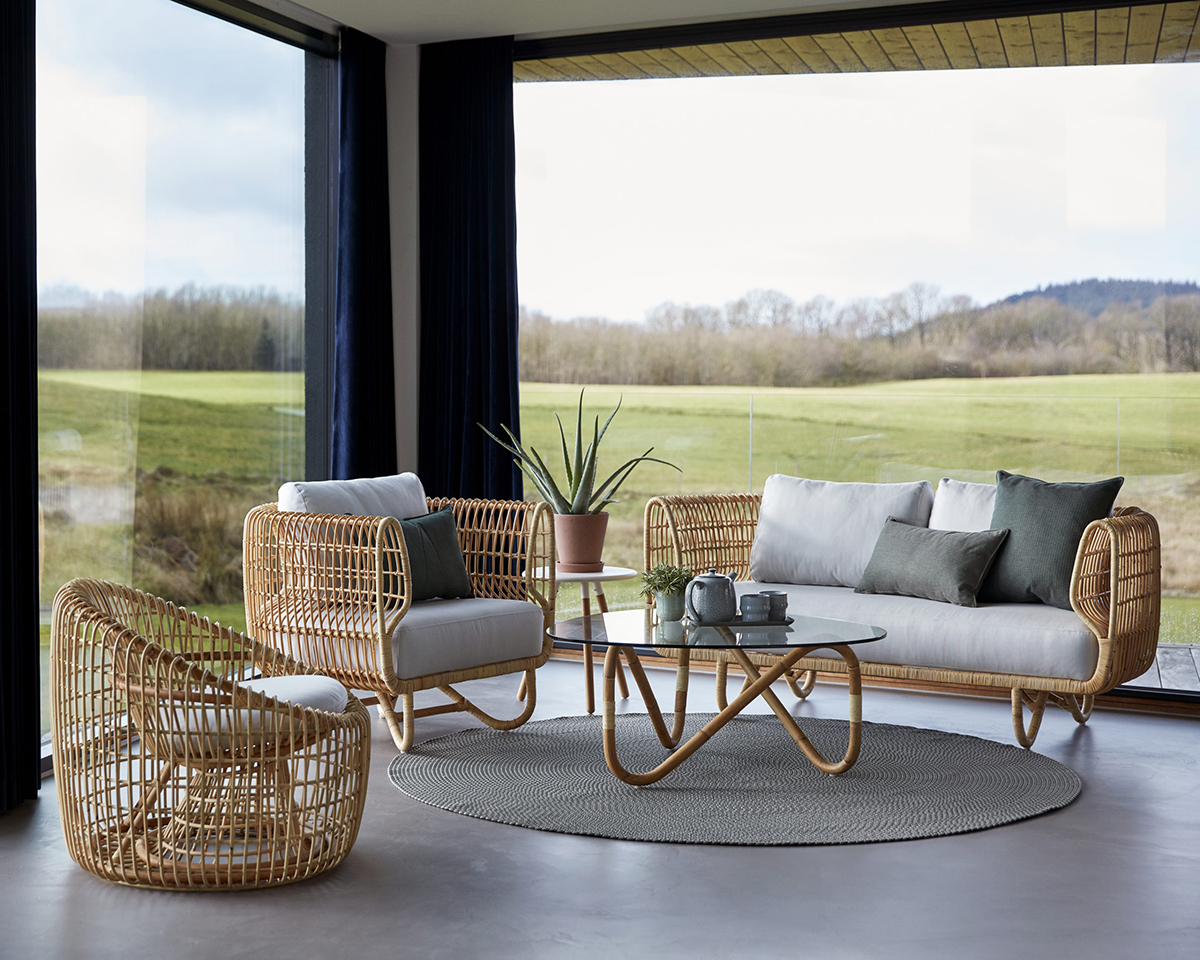 Cane-line: Keep it Comfy
Cane-line has been designing and manufacturing comfortable, high-end furniture for more than 30 years. The journey started in 1987, when the Danish design brand began producing furniture from rattan material. Since then, they have transformed into an international company offering unique collections of both outdoor and indoor design furniture. While rattan continues to be a big part of their indoor collection, the material has also inspired the development of outdoor collections, thanks to its durable nature and ability to withstand even the harshest climates. Cane-line's Head of Marketing and E-Com Sofie Grøndal shares how the brand seeks to bring comfort and ease to any space.
What is your company ethos?
All over the world, our mission is to make life comfortable and add value to life and the places where people unwind and relax. We are constantly focusing on quality, technology, and comfort in both products and life to ensure that our furniture is made with the greatest care for the environment and the well-being of people.
For those that don't know, what are some interesting facts about your brand?
At Cane-line, social responsibility and care for the environment are important parts of our DNA and core value. Therefore, we do also actively support UN's Sustainable Goals, in particular goal no. 8 and 12, as we have a desire to create a sustainable business that minimizes our societal and environmental impact.
SDG no. 8 is about creating decent jobs and sustainable economic growth. Here, we focus on creating job opportunities, particularly for employment for young people and decent jobs with good working conditions at our production facilities in Indonesia. This means among others that no child labour is allowed and that wage levels are higher and in accordance with local legislation.
SDG no. 12 seeks to ensure more responsible consumption and production methods. Many don't not know that we have been sorting our waste for years at our head office in Denmark, and that our heat is excess heat from a district heating plant right next door.
What materials do you utilize most often? Where do you source materials?
For our outdoor collection, we love to work with different materials to achieve different expressions but still keep the high level of quality and comfort. For instance, we have developed our fibre, Cane-line Weave, made from highly durable solution dyed polyethylene (PE). A material that is ideal for outdoor use, as it can withstand moisture, large variations in temperature, is UV-resistant, and requires minimal maintenance.
Cane-line Weave is a material that we work and play with, as the possibilities are endless. The fibre can be shaped differently and can be colored in any way we desire. For example, we have currently are developing a color that gives our products a natural look that is similar to rattan furniture.
To give outdoor furniture a softer touch, we use soft textiles, such as Cane-line AirTouch, Cane-line Natté, and Cane-line SoftTouch. All these materials give outdoor furniture a softer touch, which you know from indoor furniture. However, it can still withstand any climatic conditions, has a long lifespan, and requires minimal maintenance.
Lastly, for our outdoor collection we do also highly value the natural material teak. A hardwood that is ideal for outdoor use due to its high oil content. At Cane-line, we only use Grade A teak, meaning it is the best quality and is characterized by close grain and the warm honey-brown color.
Our indoor collection is mainly defined by the use of the material rattan. A sustainable material grown in Indonesia, close to our own production facilities. Rattan may resemble bamboo but is more solid and much more durable. We use the core of the rattan stems which are both pliable and exceptionally strong. Due to its high flexibility, it is possible to create unique pieces of furniture and accessories with organics and beautiful expressions.
What sets your brand apart from others in the same space?
Our high level of innovation sets our brand apart from others. The way we design without compromising quality and comfort. We use countless hours on developing and choosing the right designs, technology and materials that match our high demands of quality. This results in high quality furniture that requires low maintenance and have a long lifespan. Cane-line designs can be used all over the world and under any climatic conditions. The strong frames, UV-resistant materials and quick drying cushions can stay out in glaring sun, pouring rain or frost.
How many employees do you have? Who designs and manufactures your furniture?
At our head office in Denmark, we are 85 employees, and at our production facilities in Indonesia, there are around 550 employees. We design ourselves, but we also collaborate with leading designers from Denmark. Designers with whom we have a long-term cooperation, and thereby have a similar understanding of Scandinavian design principles, and clearly understand our design DNA.
All our products are manufactured at our own production facilities in Indonesia. As we own the production site, we do have full control over working and living conditions for employees.
What is your most popular product and why do you think that is?
Our Breeze series is a popular choice by our customers even 10 years after the first launch. Breeze is an elegant series that has a broad product line, which includes dining chair, sofa, lounge chair, side table, etc. We believe that the Breeze series continues to be popular due to its minimalist design and high-quality material. Breeze has an elegant and timeless design that is suitable for almost any home. It is designed in classic colors, meaning it does not go out of style. Lastly, it is developed in the durable weatherproof Cane-line Weave, making it ideal for outdoor use, as it is UV-resistant, still only requires minimal maintenance, and has a long lifespan.
Another popular series is Peacock. The Peacock series started as a lounge chair but has since expanded its product line to include dining chairs, sofas, side tables, and bar chairs. Peacock is a popular choice due to its soft material and expression. It is developed in Cane-line Soft Rope, which is a weaved Selected PE fibre. The material has a soft surface makes it feel like a fabric and gives the series a very soft expression that you normally do not see in outdoor furniture. However, it is still a durable material that is ideal for outdoor use, as it is UV-resistant and be used in any climatic conditions. It is a series that is easy to maintain and can be cleaned with ordinary household cleaners.
What is a common goal that your products share?
The common goal for all Cane-line's products is comfort. Comfort for us is how well you sit or lay, how smooth our furniture functions, the low maintenance, innovative technologies, and the long-lasting materials. Our mission "life made comfortable" is in every aspect of our furniture. Therefore, we are constantly focusing on quality, innovative technologies and comfort through the design and product process of our furniture.