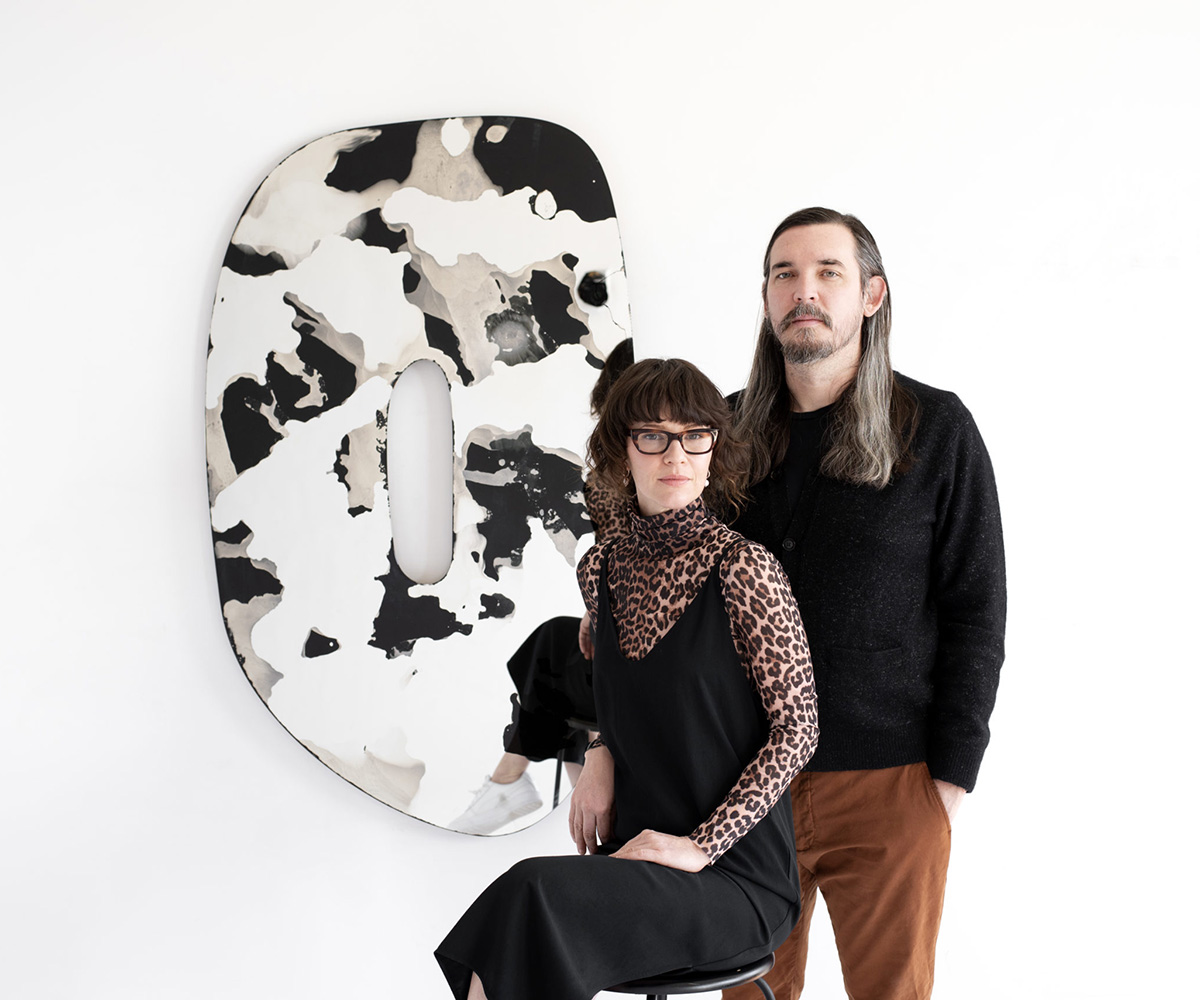 Ben & Aja: Artistic Minimalism
A party, hosted by Rhode Island School of Design's furniture design department, is where Ben and Aja Blanc met for the first time. The now-married couple founded their eponymous Providence design studio in 2015, crafting contemporary mirrors, lighting, furniture, and objects with a fine-arts sensibility, but they were graduate students at the school back then; Ben on the furniture design and manufacturing track, Aja pursuing museum studies.
Ben was making his own furniture and Aja was working at the Yale University Art Gallery in Connecticut when "behind the scenes," Ben points out, the two started informally collaborating on design ideas. Returning to Providence, where Ben teaches part-time at his alma mater, five years ago the Blancs decided to "move past the work we had been doing independently and wipe the slate clean. We started sketching, and together our designs were more impactful. We began completely from scratch with a new collection," recalls Ben.
Until they officially embarked on their design partnership, Ben and Aja didn't know what they wanted to accomplish. "It's hard enough to create something from nothing alone, and then you add another person and it's a challenging process. You're never on the additive or reductive page at the same time," explains Aja.
But their objectives soon became clear. Whether it's the monolithic Ellipse table, fashioned from blackened steel, or the half-moon shaped mirror of the same name, balanced with a fringe of hand-spun, hand-painted silk fiber, "we are first and foremost obsessed with beauty and form and the materials that support that," says Ben. "Our objects are made almost exclusively in-house and at some point our hands are in the work. While process is significant, it disappears unless the formal qualities take center stage."
The Blancs are best known for their mirrors, pieces that fuse the sculptural and functional and showcase clear glass and mirror, materials, says Aja, "that never disappoint." Their studio is able to expand the traditional bounds of these objects. Some are simple, round, and silver, yet juxtaposed with unexpected materials. The Aries, for instance, is reimagined with silk, mohair, and wool.
Then there's the limited-edition One of a Kind series, a range of layered pieces that drive the mirror category to the edge by highlighting abstract painterly references that ask "Is it a mirror or a painting? What gets us excited is pushing it in those opposite directions and seeing the full breadth of the material," says Ben.
At ICFF, Ben and Aja planned to unveil Float, a minimalist series of frameless mirrors available in small, medium, and floor-length sizes, that appear to have a floating effect on the wall. They would have been shown in tandem with a yet-to-be-named complementary lighting collection, the disparate pieces conversing with one another in a gallery-like setting. "It was going to be an amazing interplay of lights and mirrors. We understand mirrors and are in love with them," says Aja. "I'm not surprised that lighting is next on the horizon for us since so much of mirrors are how they reflect light. Pairing mirrors and lighting feels right."
Right now, as Ben and Aja spend most of their days in the house, balancing work with homeschooling their two young daughters during the pandemic, they are fortunately also in the midst of a fruitful, creative period. Unburdened by the constraints of hard deadlines, they are filling their sketchbooks with fresh ideas. "Would we never do something, or would we do a version of it? It gets you out of the rules only you make as a creative person," says Aja. Adds Ben, "Our studio is ready to explode with new products."