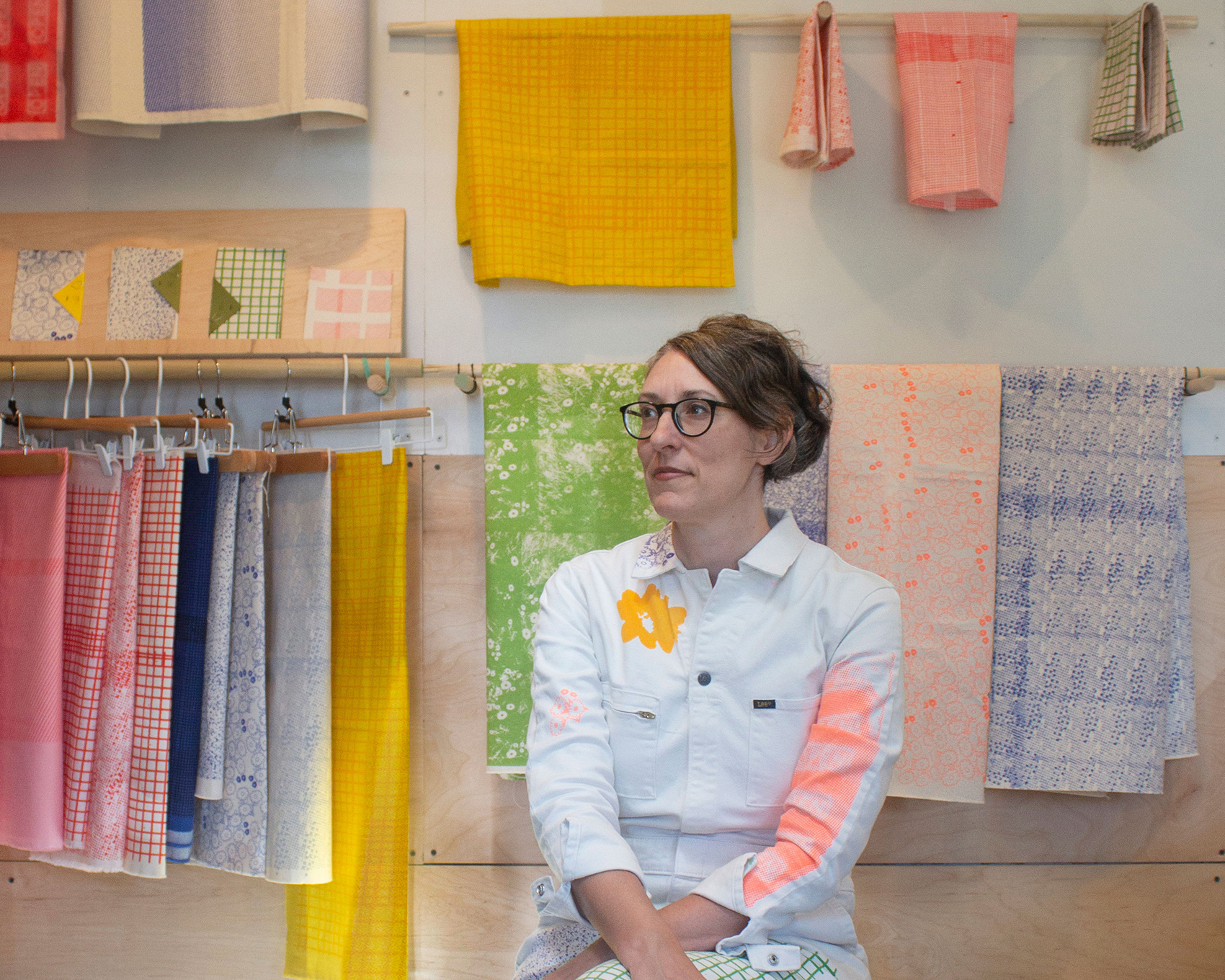 Urbs Studio: Hand Print
The original goal behind Austin, Texas-bases Urbs Studio was simple—create works that had no client boundaries and would allow husband-and-wife duo Matt and Alyson Beaton to play. Come 2019 Urbs Studio officially launched as a project-based interdisciplinary design studio and consultancy who specialize in storytelling through design. The studio creates urban interventions, objects, and prints that are inspired by urban life, employing local production, shared resources, and sustainable materials in everything they do. But it's the textile collection, designed and produced by Alyson that caught the eyes of so many at ICFF 2021 and landed her an ICFF Editors Award in the Textile category.
"After returning to Texas in 2015 I had just completed a children's textile collection with Windham fabrics that was based on my children's product line, Lille Huset," says Alyson. "I loved working on the designs but I also wanted to start to think about textiles for the home. Having a background in printmaking and feeling the need to make with my own hands again, I rented a studio space in east Austin and joined a printmaking co-op that allowed me to start printing. I immediately fell in love with printing on fabric, dusted off my sewing machine and also started sewing them into different products."
At just about the same time, the couple was working on their own home renovation in central Austin, and Alyson wanted to use textiles to make the home as unique as possible.
"Textiles have the power to say something about the people and the place they were created, and I wanted what I made to connect with the people using them in a special way," says Alyson. "There are so many beautiful textiles on the market but I wanted to create some that really spoke to urban life, which to me is unexpected and constantly changing."
When she began, Alyson was designing and printing for table top, but knew that she wanted to push herself into larger-scale pieces that would transform a space.
"As I began working at the larger scale, I really loved how the designs came alive," says Alyson. "I began printing on natural cotton canvas, which is super durable and a great fabric for the process I use. As a business I wanted to establish our textiles as bespoke and work with designers in this way. I also wanted to introduce fabrics that are circular as well as inks that are eco-friendly."
When first launching Urbs Studio, the Beatons weren't sure what direction it would go. Urbs is latin for City, which felt like a natural fit and perfect identifier for their open-ended and somewhat free-form approach to collaborating on projects that excite them about urban space.
"I think of what we do as projects, mainly because we are so new and small," says Alyson. "We are truly very interdisciplinary and are constantly seeking answers to questions about how design is a part of the world in a very real way. Matt works full time in an architecture office doing affordable housing projects and I work in the studio on largely self directed works but am focusing on the textiles/design."
When it comes to crafting the textile patters, Alyson works on a computer only in black since that's how she will print the transparencies for screen printing. It isn't until she is done making the screens and placing ink in the press that that she will know if the print is visually successful.
"I spend a lot of time experimenting with colors of fabric and inks," says Alyson. "I also mix all of the inks myself and I obsess over the colors and how to get the right shade based on the fabric I'm printing on. A lot of prints don't work and when this happens, I was up the screen and start again."
There's a lot of trial and error that goes into the process. Another important part of the process to Alyson is making sure prints work well together.
"At the end of every printing session, I stack y prints and snap a photo," says Alyson. "This is my favorite part of printing—seeing the final outcome. In my studio, I hang the work up so I can be in constant back-and-forth about what to do next. As you can imagine my space is incredibly messy but also insanely colorful! I love showing people the work in person because it really comes to life this way—you need to touch it and get lost in all the possibilities."
Urbs Studio received their Editors Award for Alyson's collection of 15 designs in six colorways. The names of the prints are based on different aspects of urban life—Patina, Encounter, Resilient, Grit, Open, with Open being one of her most recent prints.
"The collection I showed at ICFF is my most edited body of work," says Alyson. "All of the prints represent the evidence of human existence in a place or time. This year specifically, ICFF was incredibly emotional. I created this line throughout the pandemic and it had not seen the light of day. I was so eager for feedback and I had no idea how it would be received. I decided to take this incredible leap during a year when it was almost impossible to start a business. ICFF for me was the launch of my brand. All of that being said, it was such an amazing experience, and one I did not know we would have the opportunity to do given the ongoing pandemic."
As the Urbs Studio textile collection is brand new, currently you can find them through at urbsdesign.com. While she plans to keep the collection hand-printed and bespoke, Alyson plans to work larger and collaborate with manufactures on bringing aspects of the collection to a larger audience.
"My favorite part of ICFF was the morning of the first day of the show when all of the booths are assembled and everything looks so amazing, says Alyson. "That moment makes me feel like I am part of something really special. I love design and events like ICFF bring designers together from all over to connect and share their work, which makes all of us better designers."