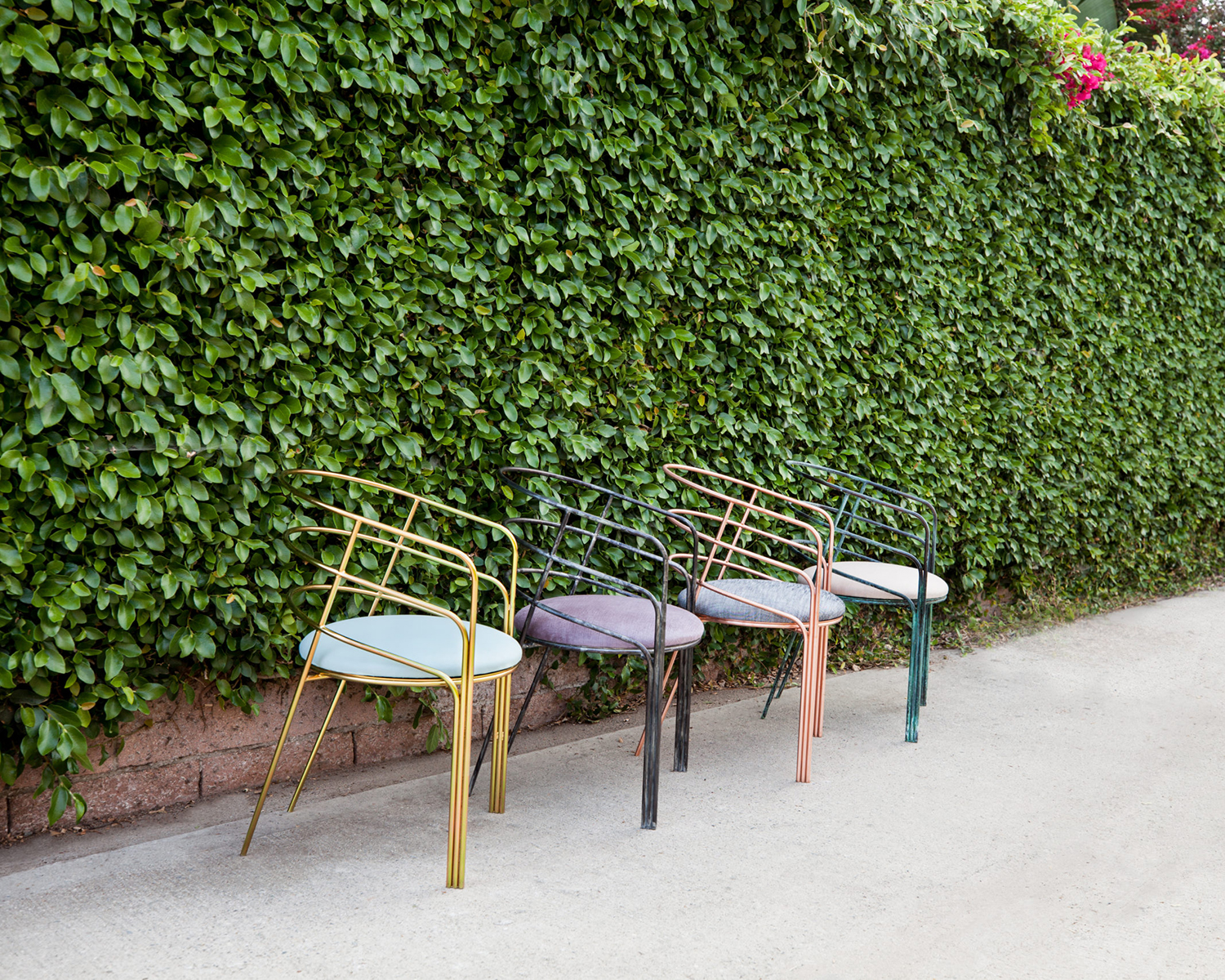 Brand Spotlight
Laun: L.A. Garden Party
Rachel Bullock and Molly Purnell first met as architecture graduate students at the University of Texas at Austin. As they pursued their careers in architecture and branding in Los Angeles, a mutual frustration over the lack of available indoor/outdoor furniture selections motivated the friends to learn welding and start LAUN, their own venture, in 2017. An ode to L.A., LAUN's collection of contemporary outdoor furniture draws on local influences, like the architecture of downtown's Cathedral of Our Lady of the Angels (the Chord Daybed), playful midcentury pools (Confetti Table and Planter), and the Streamline Moderne buildings of the Hollywood Regency era (the DeMille Lounge Chair, Dining Chair, and Sofa).
At ICFF, Bullock and Purnell would have introduced a chair and small daybed for LAUN's Bobbin suite, currently starring a cinematic bench reminiscent of the Pacific Ocean's rolling waves. Here, as the duo ramp up for summer season, they talk about the rise of LAUN and the instrumental role L.A. has played in shaping their designs.
How would you describe LAUN's ethos?
Molly Purnell: We think that objects designed for the outdoors should be as thoughtful as objects designed for the indoors. If you are going to invest in something, it should be beautiful and something that you will want to keep forever. We love to watch materials patina as they live outside. It adds real depth and beauty as the furniture evolves over time. Our dream is that our clients will keep their LAUN pieces as heirlooms.
What is your approach to materiality?
Rachel Bullock: Since everything we design is made to live outdoors, we have a much more limited palette of materials at our disposal, but we like to challenge ourselves in taking these common materials in new directions. Clearly, we love metal tube, since 90 percent of our products employ it. We both started our furniture design forays as woodworkers, but immediately fell in love with the additive way you work with metal versus the subtractive way you work with wood. The strength and flexibility of metal appeals to us and gives us a lot of freedom in the way we design. We're also fans of using stone and other materials with mass. The great thing about them is that even in sheets they have a weightiness that can help pieces feel grounded.
Your pieces are all informed by Los Angeles. Why does the city have such special meaning to LAUN?
MP: L.A. is an outdoor city, even though everyone thinks we sit in our cars all day. It was L.A. that made us want to focus on outdoor furniture in the first place. We love that you can be outside almost year-round here. Everything revolves around that California sunshine. It bleaches everything, but it also allows some truly Dr. Seuss-like plants to thrive here. We like to have sketching sessions at the Huntington Gardens. Formally, we're inspired by both the crazy architecture and the natural environment. There's a bit of a chase your dreams, anything goes-attitude aesthetically that we find both joyful and liberating. On one street you will have a Spanish mansion next to a midcentury house next to a storybook bungalow.
Why do you think outdoor furniture is enjoying such a boom now?
RB: We think the way people use their outdoor spaces has shifted toward a focus on furniture again. So many spaces were hermetic for so long, I think they are starting to appreciate a strong connection between indoors and outdoors. We're curious to see what happens post-pandemic, but I think there is a renewed understanding of the importance of community and people are going to want to create comfortable places to get together with friends.
What has been getting you through these last few months of isolation?
MP: We've slowed down a bit, so we've been taking the time to sketch and ideate. As stressful as things are it's nice to have time to dream. We're interested in lighting, so you can expect to see some down the road. We also just moved into a new office right before L.A.'s Safer at Home order. So we are scraping old paint off and trying to get the showroom ready for when we can all gather again.