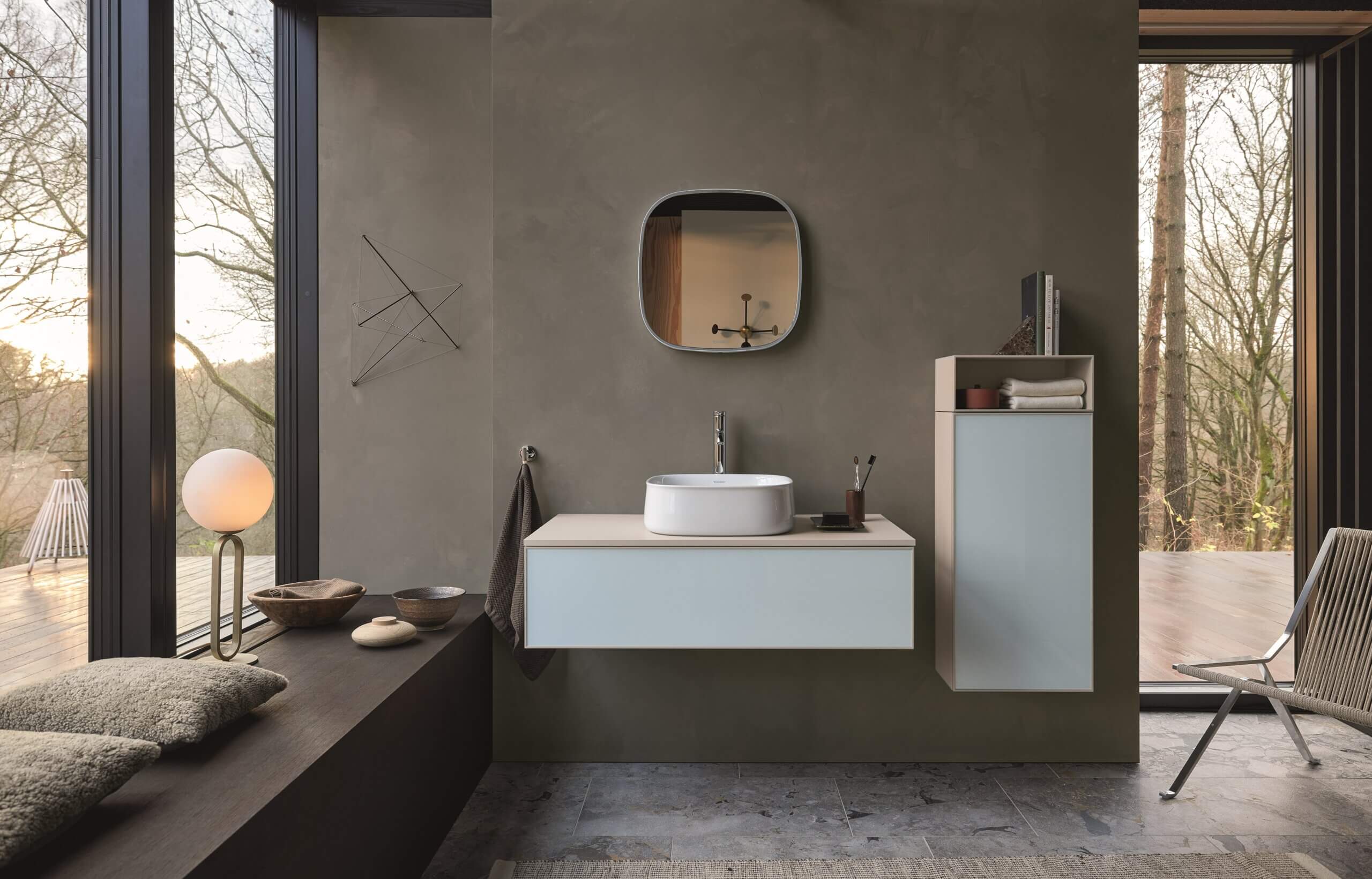 Duravit: Upgrading Your Everyday
Duravit is guided by four pillars: Design, Excellence, Responsibility, and Wellbeing. Each of these brand values guides the company's operations, product research and development, and overall company culture. Duravit's foundation, rooted in tradition and craftsmanship, continues to propel it forward. "With these guiding principles and practices in place, we're able to explore new technology and material science innovations without sacrificing the quality that we're celebrated for," says Bob Downie, President – Americas.
The Duravit team sees the bathroom as being the true centerpiece of the home. "It's our ambition to make people's everyday lives better – by offering outstanding bathroom design and a luxury brand experience. The idea of 'upgrading your everyday' really focuses on two important areas that are vital to delivering our brand promise: first, our careful attention to the interplay of design, excellence, responsibility, and wellbeing and secondly, our desire to create a best-in-class brand experience that spans across each and every brand and product touchpoint," says Bob Downie, President – Americas.
Duravit AG has an extensive portfolio of design partners, including several high-profile, international designers such as Philippe Starck, sieger design, Kurt Merki Jr., Christian Werner, Matteo Thun, and Cecilie Manz. Over the years, these special collaborations have produced award-winning design solutions, including sinks, products for the toilet area, showers, bathtubs as well as bathroom furniture and accessories.
Today, Duravit AG operates internationally with 11 production facilities with a workforce of more than 7,000 employees worldwide. The company's story, however, began in Hornberg, Germany, in 1817 when Georg Friedrich Horn built an earthenware factory initially focused solely on the manufacture of crockery. In 1956, production evolved from earthenware to porcelain, extending the product range to include sanitary ceramics. This provided a platform for future success and also introduced the sanitary world to a new name: Duravit.
"At Duravit, we take pride in the materials we work with and have incredibly high standards – even the word 'durability' can be found in our name," Downie says.
The company's sanitary ceramic is derived from natural raw materials including clay, kaolin, quartz, and feldspar and is inherently hygienic, naturally inhibiting bacterial growth. Quartz, chalk, feldspar, and the mineral stone dolomite and other key materials are mixed to make the glaze. The extreme high temperature resistance allows a firing temperature of approximately 1280°C. This results in a high level of hardness, which is particularly advantageous in public sanitary facilities. The hygienically smooth surface glaze is wear and scratch-resistant, easy to clean, and ideal for use in the health sector.
Wood is another common material used in Duravit's product design. "Not only are wood tones becoming increasingly more popular in the bathroom, but wood is also comfortable, elegant and easy to clean. With vanity units and wooden panels, the sinks and bathtub themselves become pieces of furniture. They can be complemented by wall cabinets, wall-mounted shelves and mobile storage units," Downie says.
Duravit offers a variety of real-wood veneers as well as lacquer and décor finishes. Bathroom furniture is manufactured specifically for the use in moist environments and is resistant to splash water and increased humidity. The edges are PVC-free and water resistant, while the surfaces are sealed diligently, making them water-repellent.
Lastly, some Duravit products feature acrylic – a warm, pore-free, and smooth surface. "It is pleasant to the touch and the user immediately feels at ease," Downie adds. "With its white shimmering gleam, the material harmonizes with all of the other ceramic objects in the bathroom and ensures continuity of design."
Bathtubs can be combined with a furniture panel, thus forming a link with the bathroom furniture. The user can rest assured knowing that the acrylic bathtub will retain its color throughout its lifetime. The material is colored throughout, UV-stable, and colorfast.
Duravit also has made preserving the environment for future generations a clear goal and continues to design bathroom products and collections with this goal at the forefront.
"First because we believe our society as a whole needs to bear responsibility in this respect. This means we have a role as well," Downie says. "Secondly because sustainability is a key factor for current and future generations. We are working purposefully to keep resource and raw-material consumption and emissions to a minimum."
For example, the production facility in Hornberg exclusively uses renewable energy. Today, the company already treats and reuses water from its production processes. Leaders are also working on a sustainability strategy that will enable the company to be a climate-neutral business by 2045, using CO2 offsetting as little as possible.
"It's a long road ahead because the production of our basic material – ceramic – is energy-intensive. New innovations and technologies will help us create lasting solutions. The challenges that we face in terms of sustainable production are therefore huge, but we want to achieve it anyway. We are confident that these ambitious efforts, along with our other mentioned strategic pillars, will create lasting differentiation for Duravit," Downie says.