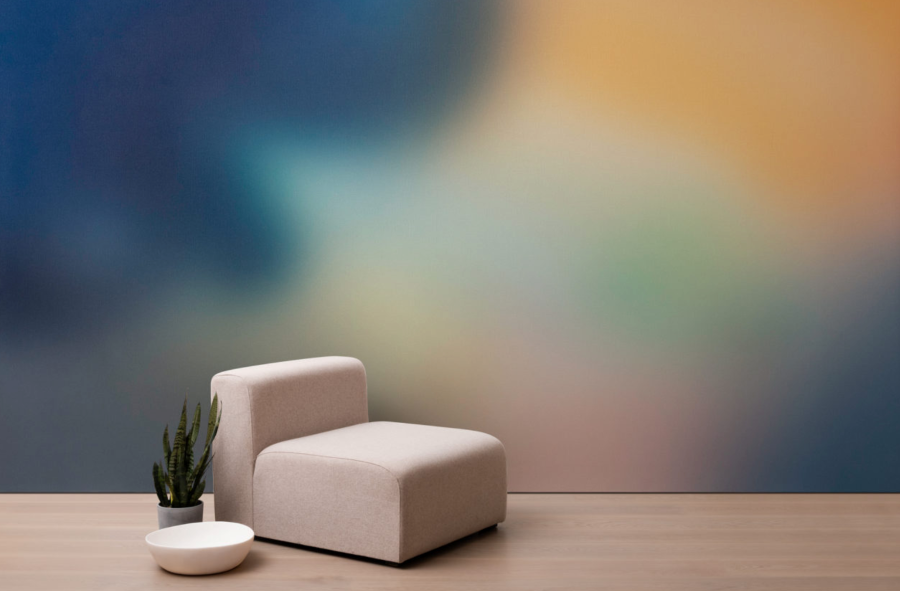 Calico Wallpaper: Happy Walls
Co-founders and life partners Nicholas and Rachel Cope started Calico Wallpaper out of their Red Hook, Brooklyn home in 2013 after their neighborhood was badly damaged during Hurricane Sandy. With both of their jobs on hold due to the storm (Rachel was an art therapist at NYU Langone and Nicholas was in design and construction), the couple began experimenting with their own marbling techniques after discovering marbled papers at an antique shop.
"We quickly realized that we had something interesting on our hands and decided to translate the handmade designs into large-scale graphics that could be used for interiors," says Nicholas.
The couple now has offices in their home waterfront shipping and port neighborhood of Red Hook, which has become increasingly popular among artists and designers in recent years thanks to large, light-filled studio spaces.
"We began designing wallpaper to move art beyond the frame and incorporate its elements into everyday interior spaces," says Rachel. "When coming up with our designs, we like to experiment with different art processes and materials, creating patterns that are rooted in history but entirely new. Our clients understand wallpaper's ability to elevate the overall design of a room and view it as an exciting way to incorporate something contemporary and unique into a space."
Calico Wallpapers draw you in thanks to their background and foreground texture, colors, and patterns, resulting in immersive environments that make for inspiring and invigorating backdrops to a space as well as our lives. Their process combines artisanal methods from the decorative arts, such as traditional marbling and dip-dying techniques, with innovative technologies.
"Our work is something that is often born out of my studio practice, which is very process-based and iterative," says Rachel. "Projects develop organically in that space. Of course, we continue to look to inspiration in the realms of fashion and the arts, along with patterns in nature and other scientific phenomena."
Calico's dozens of collections are true works of art, from soaring tropical leaves to spiraling colors reminiscent of the galaxy. With names like Singing Sand, Oceania, Inverted Spaces, and Microcosmos, each pattern tells a story and invites one to get lost in its narrative.
"We start with handmade artworks and then digitize them so that they can be custom printed for large-scale interior applications," says Nicholas. "All of our designs are non-repeating and are tailored to the specific space in which they will reside."
Having launched their company during Hurricane Sandy—an experience that instilled the importance of creativity in a time of crisis for the couple—Rachel and Nicolas saw the value of bringing hope to the design community during the height of the global COVID-19 pandemic.
"We came up with the idea to invite leading designers to create their own gradient in the style of our Aurora collection in a new collection called Dawn," says Nicolas. "Given the global impact of the pandemic, it was important to us to select design partners across the world—from Shanghai to Milan to Rotterdam to Neuchâtel. We also wanted to bring together a group of creatives who would approach the brief differently. For Lyndon Neri and Rossana Hu of Neri&Hu, the work of an artistic master like Vermeer provided clear inspiration, while Ini Archibong sought to crystallize a fleeting moment with his young daughter by the shore of Lake Neuchâtel."
On the heels of Dawn's success, Rachel and Nick are excited to continue collaborating with iconic designers from around the world.