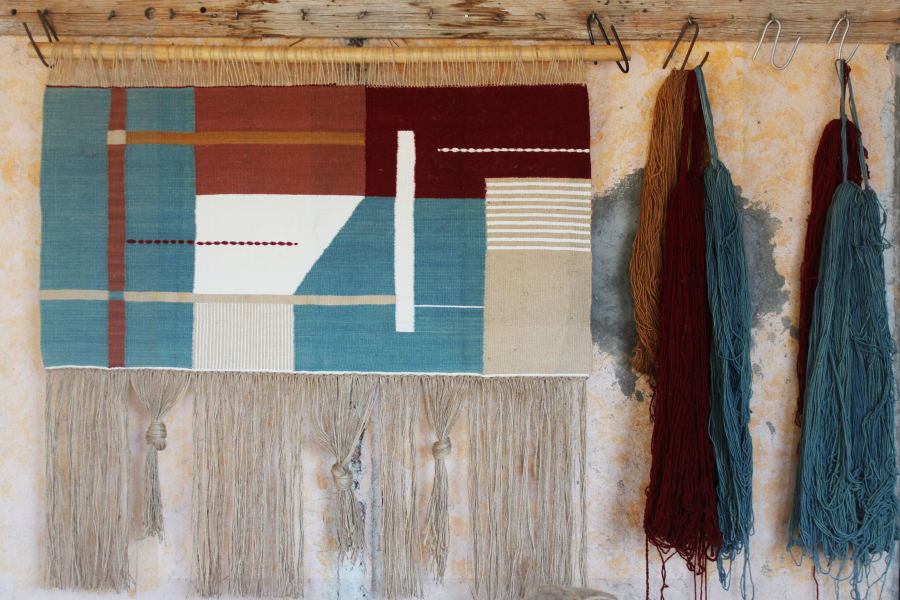 Brand Spotlight
Tramarte: New Traditions
Founded by friends Brenda Herrera and Ana Paola Sánchez Villa, Tramarte is a design studio born out of a love for textiles and the appreciation for the handmade process. Based in Mexico City, the partners produce high-end wall hangings, and pillows by way of traditional weaving techniques original to the area. Through a collaboration with a local weaver who has been weaving rugs since she was 12 years old, Tramarte is able to maintain these ancient weaving traditions while incorporating contemporary design into the process.
"When the pandemic hit, we received a message from an artist named Aida offering her services to produce our products," says Herrera. "She dedicates herself to preserving ancient techniques that her community has been working with for years, such as the pedal loom and natural dyes."
Since Herrera and Sánchez Villa are not in the same state as Aida, the COVID-19 pandemic made it impossible to meet Aida in person until recently, yet the girls virtually collaborated with the artist. This collaboration and constant back-and-forth dialogue resulted in a partnership that now defines Tramarte.
"In a collaboration between designers and artisans, each party has a skill set that compliments the other," says Sánchez Villa. "Through constant feedback, we arrive at something we couldn't have originally imagined—it's a continuous process of evolution."
When creating a new design, Herrera and Sánchez Villa will present an idea to Aida, but the conversation never ends there. Aida will offer her thoughts and ideas to improve upon the design thanks to her expertise in materiality and weaving, resulting in something entirely new.
"Our challenge is to maintain these ancient traditions, but at the same time, create products with a contemporary twist," says Herrera.
Having attended university together, the Herrera and Sánchez Villa made the decision to start Tramarte immediately upon graduating. It was a natural partnership, as the women share similar passions in design and aesthetic.
"In Tramarte, each part of the process is carefully planned, seeking the best quality, but above all, keeping the essence of who we are," says Sánchez Villa. "That's why this collaboration is so important to us—we can create pieces with an intimate meaning different from our own, while also helping the local economy and preserving ancient traditions."