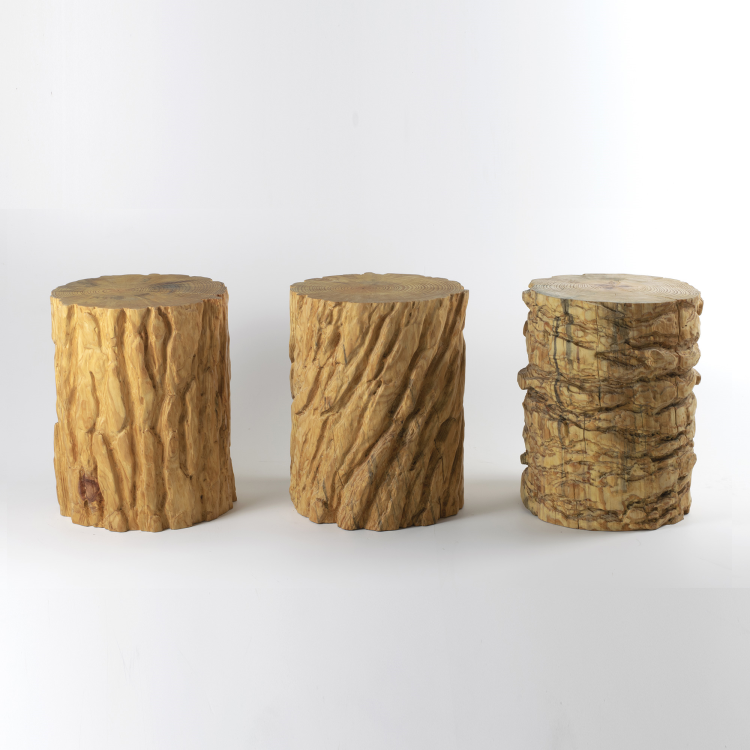 Timbur: Eye of the Beholder
Timbur is a New York-based digital fabrication company using advanced robotic and CNC manufacturing methods in a new way, to create beautiful, one-of-a-kind products from wood. The company was founded by Ezra Ardolino in 2009 out of his love for the arts, collaboration, and digital fabrication by way of robotics. Through Ezra's formal education as an architect and time teaching at Cornell University and Pratt Institute, he was exposed to furniture made from digital fabrication and grew a love for the process. Following years of partnering with an expansive list of architects, designers, brands, and institutes to develop and fabricate custom work, Ezra and his partner Ania have recently began their own design research and product development.
"Digital fabrication is any manufacturing method that takes the virtual information of a computer model and renders it as a real physical object," says Ezra. "In our case, digital fabrication really manifests in terms of CNC and robotic machining. Those are the areas that we focus on. And as the name implies, we have a special interest in wood."
Ezra and Ania purchased an industrial robot that essentially allows them to on a much larger scale than other forms of digital fabrication.
"One way I like to think about it is that the robot really has a universal envelope—it can basically reach and go anywher," says Ezra. "So while a regular CNC machine would be limited in its envelope, the robot is much more open and universal."
Ezra got his start in furniture manufacturing after spending time in Brooklyn while teaching at Pratt Institute and interacting with different furniture makers in the Brooklyn Navy Yard.
"While I knew a lot about digital fabrication, I was meeting people who knew about furniture, and that's how we got to where we are today. Over the years, fabricating for so many different amazing people, we've learned a lot and that has informed our knowledge and ability to design. A natural next step in our evolution, we launched our own product design division, pulling from our deep roots in digital fabrication to create objects that blur the line between hi-tech and handcrafted, natural and fabricated, functional, and artistic. All Timbur products are made in the USA using sustainable materials and processes."
Currently, Timbur produces two collections—their Bark and Stack collections. Bark is a series of metaphysical objects that explore the relationship between tangible and abstract, natural and fabricated, real and artificial. The pieces present a reordering of natural hierarchy as the texture of the bark is decoupled from its source, digitally manipulated, and re-applied to a piece of timber. The Stack collection is a raw yet refined line of digitally fabricated contemporary furniture developed through stack lamination—a method for building up a large volume of material from sheet stock. The blocks are then 3-dimensionally re-machined, assembled and finished.