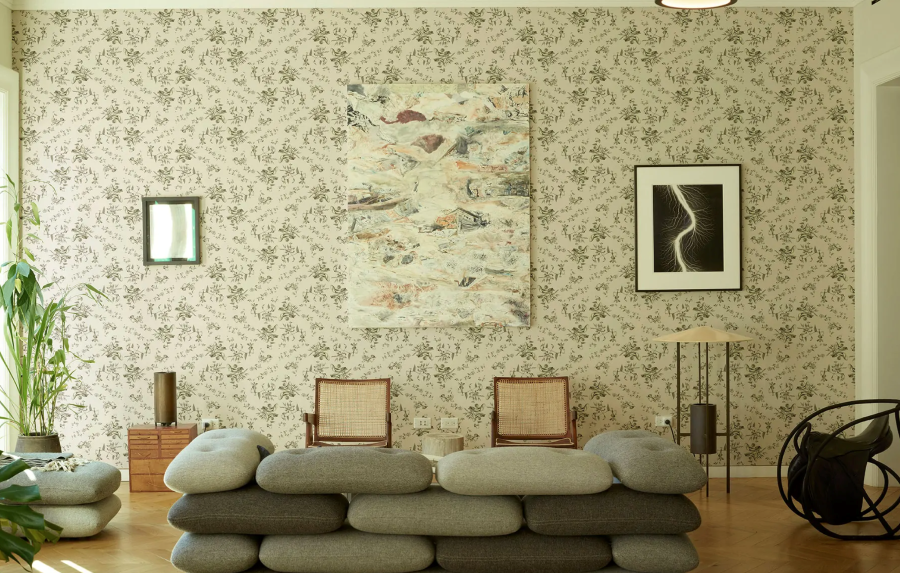 Brand Spotlight
Superflower Studio: Imaginative Faculty
"Something that could never actually be real"—that was the idea behind the larger-than-life florals that zig-zag across Superflower wallpapers. The New York City-based wallpaper studio officially came into fruition just this past January, but co-founder Nikki Bergen will tell you that the company she has build alongside her husband and photographer (just one of his many talents), Andrew Zuckerman, has been in process for a number of years.
"Superflower has been in development for a long time," says Bergen. "Andrew is always doing a bunch of different projects, and this has been his side project in the studio for years. He published a book called 'Flower' in 2012, and he has this library of the most amazing flowers. He went to the Smithsonian, botanical gardens, and got his hands on these amazing flowers—so he was kind of playing around to see what he could do with it."
The floral patterns that adorn Superflower wallpapers are created from precise photographic investigations of the natural world, presented in almost futuristic resolution and clarity. Inspired by both Edo period Ikebana and 19th-century European patterns, Zuckerman spent a great deal of time studying the feel, pattern, and prints of Victorian wallpapers. Unlike other floral wallpapers, the patterns draw you in, sparking curiosity with their fictitious elements, yet hyper-real quality.
"Andrew took elements from all kinds of different flowers, putting them together to create what we call 'superflowers', says Bergen. "In that process, we didn't really have an end goal. At the time, I had my three kids and we had installed these wallpapers for some friends and Andrew was like, 'when are we going to do something with this?'. We had to find the right time. It was in September of 2019 when I finally felt like the kids were old enough and in school, and I could be in the studio all the time."
Bergen, coming from the fashion industry, where she had worked with the likes of Norma Kamili as well as Sandy Chilewich, had experience with curating a product and putting it into the market.
"He had a crazy amount of stuff," says Bergen. "So we needed to narrow it down and make a cohesive collection. And that's where I came in and focused it, in terms of, 'how do we actually put this out and make this a real product?'. His technique and this hyper-real quality is what differentiates the wallpapers. The moment people see it, they go up and say, 'wait, is that a painting?'. That is something you can really only get from these high-resolution, super-real images, and his technique is something that you can't really duplicate. There's tons of floral wallpaper out there, so I asked myself, 'what is going to make this different and set this apart?'"
Superflower Studio launched with their Florescence collection, which features nine patterns, each available in nine colorways. Ranging from small, intricate flowers to awe-inspiring, large blooming pistils, there is a pattern for everyone—even if you're not yet ready to jump into bold combinations of pinks, yellows, and greens.
"Something I didn't realize until we hung it ourselves is that the paper that we're using feels like it's painted on the wall," says Bergen. "You still get the texture of the wall, so you get these hyper-real images. We fell in love with the texture and how it comes to life. It really feels like it's one with the wall as opposed to something being on the wall. It feels something special."
Since launching their first collection, the studio has been focused on getting the word out and joining showrooms, especially since exposure is limited with the strange times we're living in. Currently, Bergen and Zuckerman are also working on a second wallpaper collection and a line of textiles.