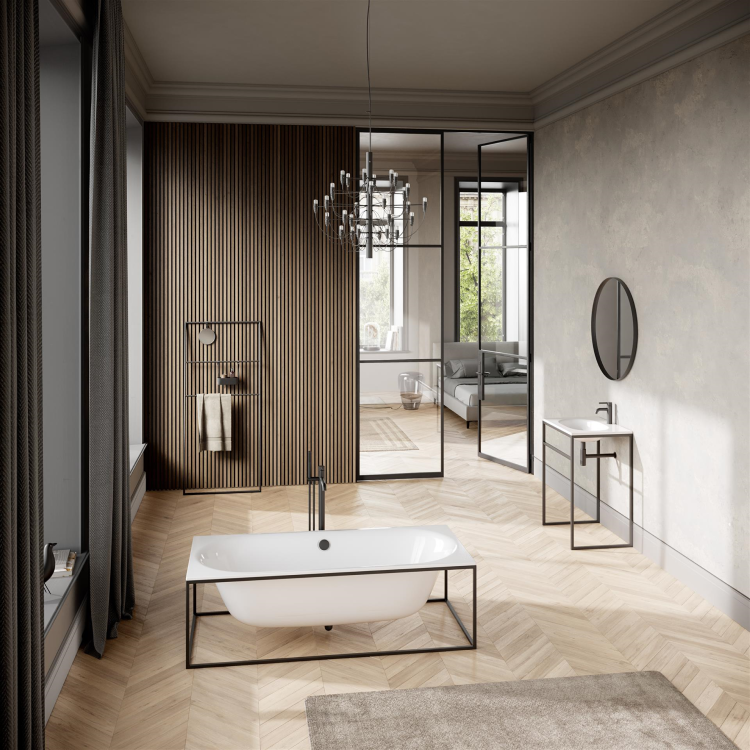 Schmidlin: Swiss Fix
Family-owned Swiss bath company Schmidlin does much more than produce high-quality glazed titanium steel bathtubs. The brand, founded in 1947 near Lucerne, Switzerland by Wilhelm Schmidlin, makes a clear and simple promise to its customers—Schmidlin is a partner helping every step of the way with made-to-measure products following the three core values of reliability, flexibility, and exceptional quality. Today, third generation Schmidlin family members Beat and Urs Wullschleger run the business with full commitment to their grandfathers dedication to the highest-quality Swiss products and services.
"The success of the Schmidlin business is the result of the courage, determination, and pioneering spirit of three generations," says Wullschleger. "In 1947, Wilhelm Schmidlin founded the first, and so far only, steel bathtub factory in Switzerland. Schmidlin is proud of its long tradition of innovation and quality. For this reason, we continue to invest in our production facility in Switzerland and remain fully committed to it."
There's a lot that goes into the production of a steel bathtub, and with over 70 years of experience, Schmidlin has perfected the process.
"Our products take shape as a raw product," says Wullschleger. "We place a titanium alloy steel sheet in our deep-drawing press, which deep-draws the steel up to 17-inches-deep at 630 tons of pressure. This gives the steel tub its interior shape. We then cut the metal, machine the rims, and press and stamp the holes for the drain and overflow. Our experts inspect each individual tub with their practised eye before the pre-treatment facility cleans and scours the material, making the raw product ready for glazing."
Glass is what give the steel bathtub its shiny, scrath-free, and acid resistant surface. Made entirely from raw materials—borax, feldspar, quartz, soda, aluminum oxide, and other metals—which are melted together to form enamel frits. The enamel frit is then mixed and ground with water and clay. This results in enamel slip, which is sprayed onto the steel tubs and baked in a continuous furnace.
"We are determined to reduce our consumption of energy and resources even further for each product we make," says Wullschleger. "We meet, and in some cases go beyond, all regulations concerning emission limits, workplace safety, and waste materials."
Just this year, a $10 million factory expansion was completed to produce the new URBAN Classic bathtub with integrated apron—the brand's first product development made exclusively for the US market. The bathtub, with its classic parallel shape and spacious internal casing, stands out thanks to its timeless form.