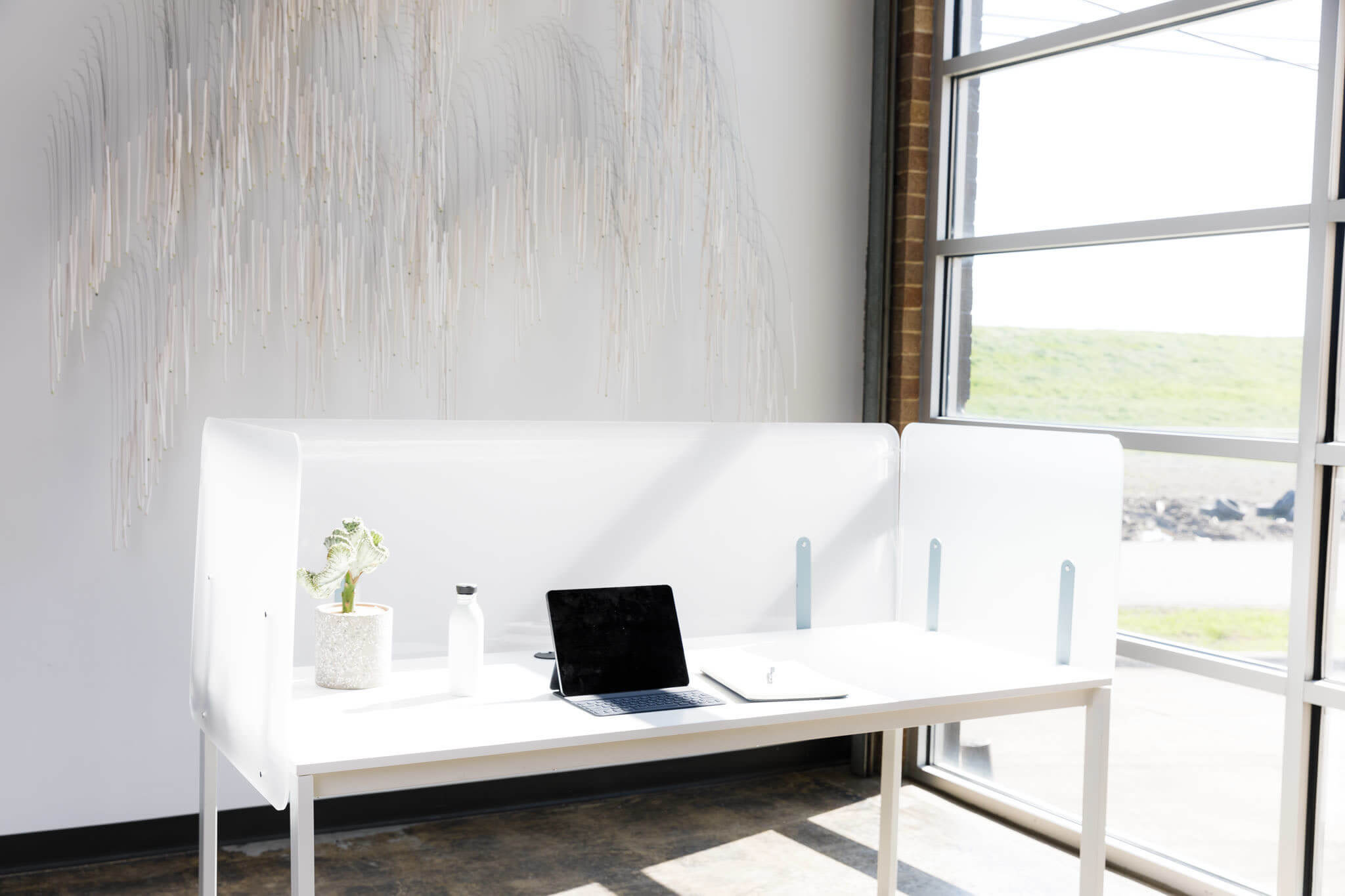 Loftwall: Hide Out
Steve Kinder, like his industry colleagues, is worried about the future. "There is an immense amount of uncertainty right now, and being a leader in an organization of any size in the face of uncertainty is daunting," says the founder of Loftwall, the Dallas-based manufacturer of modular room dividers, acoustical panels, and partitions including the textured Wave and natural light-inducing Web."This is the first time many of us have felt we have no control over what is happening day to day. It's a rollercoaster that won't end."
Still, by making time for creativity, reflecting on past successes, and envisioning a more joyful post-pandemic reality, Kinder has managed to find glimmers of peace throughout the COVID-19 crisis: "A practice I use is FISB. That stands for focus, inner state, and behavior. Whatever I focus on will drive my inner state and that will drive my behaviors."
Propelled by this matter-of-fact mind-set, it is not surprising, then, that instead of rolling out the two products Loftwall planned to debut at this year's ICFF, Kinder quickly and thoughtfully changed gears to "refocus our design and product development efforts to meet the needs of our current circumstances."
This new direction culminated in the launch of the Back to the Office collection. Featuring six products, including privacy screens and desk and counter shields, it is "specifically designed to help transform offices as they prepare for the return of their employees," adds Kinder.
In 2008, when Kinder established Loftwall, "the open office was in its infancy and co-working was a new concept. As mobile devices, laptops, and cloud storage evolved, the need for more agile solutions that pushed the flexibility and function of the workplace for a wider range of individual work styles evolved," explains Kinder, who began his career as an exhibit designer compelled by the notion of portable architecture.
By the time he started his own events agency a few years later, some of Kinder's clients had open offices "and a need for some visual barriers in their spaces. They asked for 'something like you made for our booth but that we can use in our office to separate work areas,'" he recalls. "That's how the company and core product were born. It was a no-brainer, yet unique and more versatile than anything else from office manufacturers at the time."
Kinder, no stranger to economic challenges, saw his events business get slashed by 50 percent during the Great Recession, yet was buoyed by the idea of pushing Loftwall and its space-dividing vision forward, formally introducing it at ICFF in 2009. "I wouldn't call it confidence looking back, it was just pure necessity to keep people doing something in the age of uncertainty," he points out.
A little over a decade later, as collective anxiety dominates the country once more, Kinder is adapting again, realizing there will be significant takeaways from the vast work-from-home movement currently in place, with "new guidelines and protocols about how we use, share, and interact in the spaces we work." He predicts that robust social distancing constraints will be implemented in open offices, including providing additional space between people and putting in more physical barriers.
The days ahead are ambiguous, but Kinder is thinking pragmatically. Right after completing the Back to the Office collection, Loftwall began hatching another campaign. "While we're not entirely sure how this virus will change our society," says Kinder, "we're confident it will, and we're confident good design will be crucial to protecting us every step of the way."