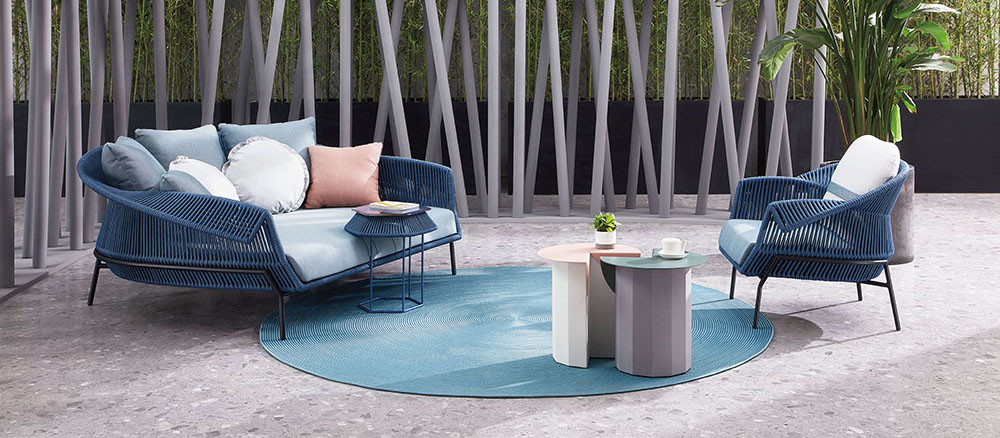 Livintwist: New Lines
Hong Kong-based Livintwist is an outdoor furniture company designing high-end durable pieces with absolutely no snobbery. Crafted with their innovative weaving and construction process, their designs are a breath of fresh air to the world of contemporary furniture. Founded in 2017, the young company is constantly scouting new emerging designers to create unconventional seating, loungers, tables, poufs, accessories, and more. Drawing inspiration from their creative customer base, Livintwist is constantly in the market for original designs featuring simple, clean lines that are sure to make you stop and stare.
Please tell me about your company and how it got started.
Livintwist is a young and open minded brand. We help people to turn their terraces, gardens, and pools from ordinary to extra ordinary places. No more snobbish luxury furniture but high end, iconic, and friendly design for a lifestyle that's full of wonder.
Where are you based? How many employees do you have?
Livintwist's headquarter is located in Hong Kong. We have approximately 200 direct employees globally.
What would you say is the Livintwist ethos?
We believe that life gives us many special moments that deserve to be lived with presence, happiness and fulfillment. We love smiling people who haven't lost the ability to wonder for simple things. Our goal is turning simple objects into something special.
How do you describe your furniture? 
The outdoor furniture full of wonder—the friendly side of luxury design.
What are your favorite materials to use? Where do you source materials? 
Our signature design combines a breakthrough silicon roping material, which we developed together with our laboratory partner, with new and innovative weaving and construction techniques to create a stunning ensemble of pieces that offers a symphony of tactile experiences, while delivering unprecedented durability and ease of use.
Was there a specific product that you launched with? Do you have a most popular product?
Our Manhattan, Nassa, Rock, and XC collections have been launched and now they are the most popular collections.
What are you working on now?
Livintwist has a long term strategy to put sustainability at the core of our corporate ethos. We are implementing circular economy into our development and production process. We want not only using recyclable materials, but also invest in and experiment with technology that can leverage recycled sources. We are a small company but we are striving to make a BIG difference when it comes to our planet.
How has the pandemic affected your business as well as your goals as a design company?
The pandemic has slowed us down in many ways, but we consider this is a good time for us to regroup and think clearly about what we really want to do and where we want to go as a brand.
What are you looking forward to in 2021?
2021 might be another difficult year for everyone, but big ideas often come from big constraints. I'm expecting to discover new and fresh innovations from many great creative minds.