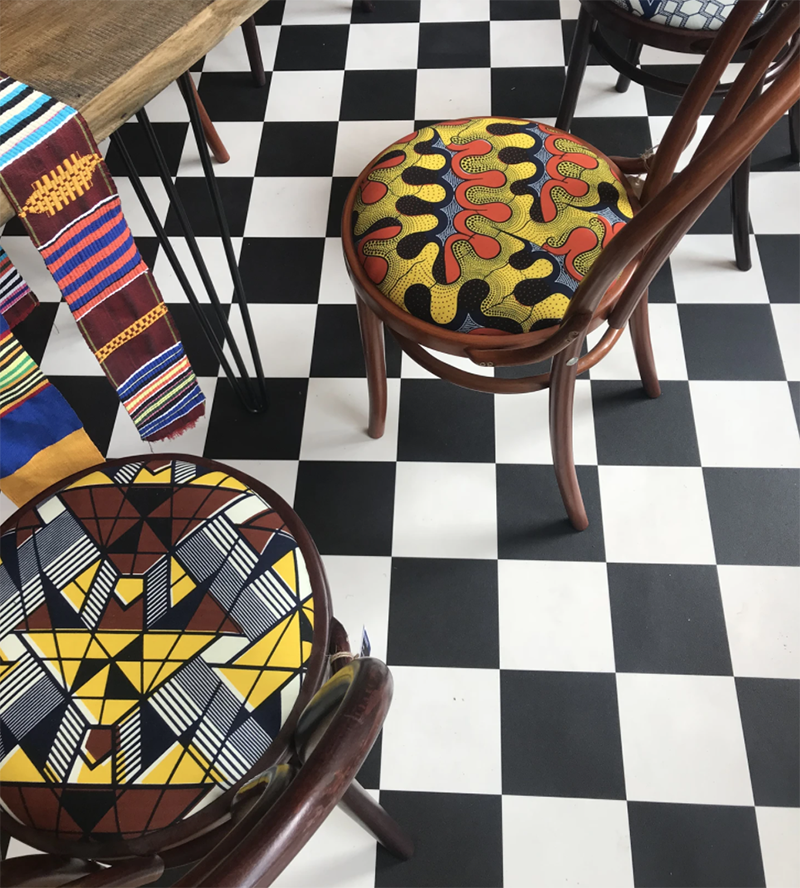 Kilubukila: Woven Culture
If ever you were looking for stunning textiles made in the Central African community of Kongo-Bantû by master female Kuba weavers—now is your time. Kilubukila is a cultural project based in London and the Democratic Republic of the Congo (DRC) creating products with cultures and communities to build sustainable resilience within those cultures and the female artisans of the DRC. Sponsored by the British Craft Council, Kilubukila is currently piloting a collaborative atelier between female artisan weavers and linguists to apply Mandombe, a pan-African langage as a pattern in order to modernize the Kuba textile. The project aims to bridge the gap between craftsmanship and design, between regional and international markets.
Where are you based?
We are in Kinshasa in the Democratic Republic of Congo, located in Central Africa. Just below the equator, the sun is really nice after living 8 years in London.
Please tell me about your Kilubukila and how it got started.
We are a cultural brand that started out by identifying the gap for modern African design and interiors. The idea was to question what it is to have a modern African interior outside of the colonial style. We have now grown and shifted into trying to change the Congolese narrative while supporting local artistry, techniques, and economically supporting our local partners in the DRC.
Kilubukila is a cultural project which aims at sharing positive images from the DRC by building a creative network of local artisans, designers, creatives, entrepreneurs, and various stakeholders with a positive impact.
Who designs and makes the textiles?
Our designs are an interpretation of an African script called the Mandombe, thus our designs are linguistics stylized by us. The textiles are then made by our female Kuba weavers—masters in the art of Kuba textile.
What is your company ethos?
"Kilubukila" is an injunction in Kikongo which means 'be wise'. This invitation is the spirit of our project. In the Kongo-Bantû society the community self-determines the social, political, economic organization, and its leadership. Being wise invites individuals to be bold, to free their creativity, and produce within looser sets of rules, re-shaping and maintaining them at the same time.
How do you describe your textiles? What are they inspired by?
We produce modern versions of the famous Kuba textiles of the Congo. Our objective is to preserve this local tradition by modernizing it with respect to its culture and tradition. That is where the linguistic part is key. The fabric is made of raphia palm growing in the region and we use natural dyes.
Where do you source materials?
We source our material locally. The raphia is grown in the Kasaï region of the Congo and the dyes are sourced in Kinshasa.
Do you have a most popular textile?
Our Kuba classics are definitely the most popular.
You value your community deeply. Can you talk a little about some of your community-focused efforts?
Community is at the heart of what we do as cultured based design from the Congo. We have indeed signed a partnership with the "UN Business Call to Action" as an innovative business trying to achieve the Sustainable Development Goals (SDGs) specifically around poverty reduction, gender equality, quality education, decent work, and economic growth. We're very excited about this.
The specific initiatives are around the Mandombe textiles and honey production to preserve the equatorial forest in the Congo basin.
What are you working on now?
We are working on a very exciting cushion collaboration between an urban Parisien brand and a major French retailer. Stay tuned for Spring 2021.
How has the pandemic affected your business as well as your goals as a design company?
The sales have definitely decreased but we are now back in full mode. I think for us the lockdown was the opportunity to slow down a little bit as we were growing too fast. We've taken the opportunity to regroup and redefine our goals and how to achieve them.
On another note it has pushed us for more digital content production.
What did you plan to debut at ICFF 2020?
A textile collection specifically designed for the outdoors.
What are you looking forward to at ICFF 2021?
It will be our US debut so I'm very excited for this. We're looking forward to restarting the physical events and connecting with creatives, businesses and hopefully signing contracts.