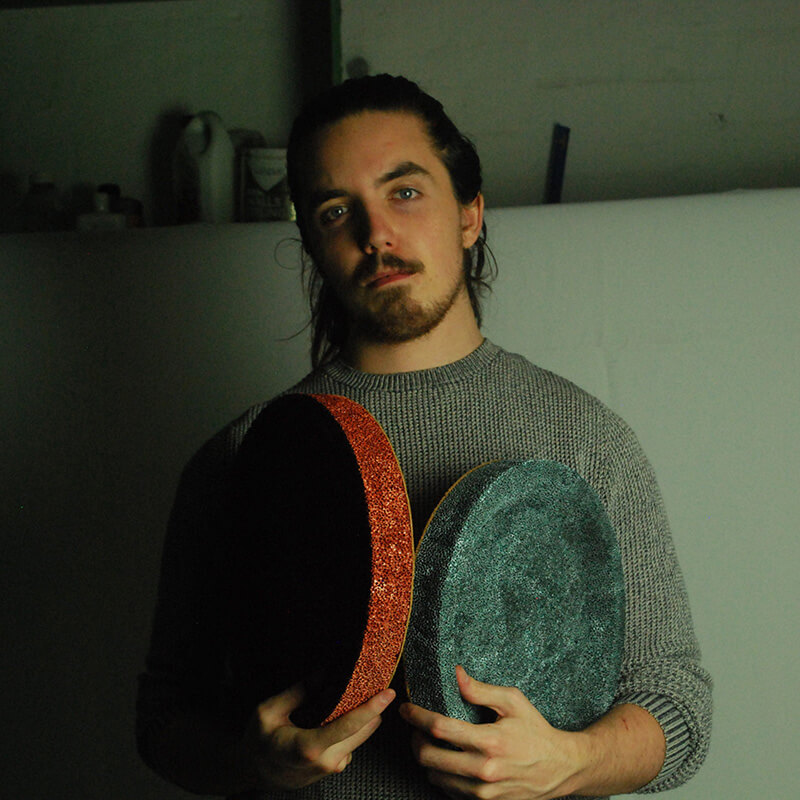 Jordan Keaney: By Hand
Jordan Keaney is a London-based designer creating exceptionally beautiful furniture, decor, and household objects from porous ceramic, metals, and rare marbles. Having grown up in a conservative home where there wasn't a great presence of art, Keaney took a risk to follow his dreams of making a career out of working with his hands. Having planned to exhibit at ICFF 2020, Keaney is keeping busy experimenting with new materials, products, and making plans for the future.
Please tell me about your company and how it was founded.
Jordan Keaney Design is a London based design studio born out of a garage 3 years ago, and now proceeds to exhibit its work all over the world producing exciting and handcrafted contemporary furniture and homeware such as tables, lighting, centrepieces, and even some exclusive chess boards, all made out of porous ceramic, various metals, and rare, breath-taking marble. Utilizing exciting new materials and lengthy hours of craftsmanship, these pieces walk the fine line between sculptural and functionality, and they walk it with ease. I graduated university with a degree in product design with technology but felt the technology side of work wasn't giving me the satisfaction I'd hoped for, and so I decided to teach myself how to weld and polish marble which led to the birth of my simple yet beautiful tables, and then experimenting with ceramics to produce my porous collection.
What initiated your interest in design?
I grew up in a very conservative home, raised by two parents who worked in recruitment, and when your childhood is managed by two people who work from a desk, naturally they want you to do the same, out of fear that the world of design is 'too risky', and I would agree. However that didn't stop me from wanting to make things. I was always quite good with my hands, and so naturally curious, but knew I could not handle working in an office environment. But my greatest inspiration growing up was probably going to visit the Habitat stores founded by the late Sir Terence Conran. Whilst my family thought they were merely furnishing a house, I was mesmerized by the forms and colours I'd see walking around those stores. I sadly never got to meet Terence despite working a few summers in The Conran Shop, but worked with his son, Sebastian, who was just as inspirational.
Where do you find inspiration for new works?
My inspiration for new work usually comes from one of two things, a detail, or a material. I might see an obscure detail whilst walking the streets of London such as the corner of the iconic red phone box and think "That would make a really nice table leg" or I could be working with a material and trying to figure out how I can manipulate it and what the results would be. In 2018 I was commissioned by the British Council of Art and Design to take part in the Biennale of Venice, Italy. The brief was to create a piece of furniture that I felt embodied the floating City of Venice. Whilst exploring the canals, I noticed a unique detail in the tail of the gondola boats, and after maybe 25 iterations I had simplified it and extrapolated the parts I liked, to come up with a side table that mimicked the silhouette of this boat end, titled Coda, meaning 'tail' in Italian.
What are your favorite materials to work with? Where do you source materials?
My favorite materials to use would certainly be Marble and Ceramics, the fact that no two pieces can ever be exactly alike excite me so much. Whilst two clients can request the same thing, they will receive the same thing, but if they take the details of the natural stone into account, the pieces are always truly unique. Metal work is also very pleasing to play with different patinas and finishes. I source all my raw materials from around London, I'm very fortunate to have been able to build up industrious contacts like stone merchants and powder coaters throughout the years to procure precious stones and expert opinions.
What are you working on now?
At the moment a new line of home mirrors are being developed which involve porous ceramic partly limiting the mirrors view, as if your reflection is just peeking through the cracks in this ceramic wall. You still have enough reflection to function as a mirror but it's combined with enough of an artistic touch that it maintains that balance between sculptural and functional. They provide a pop of colour into the home, simultaneously acting as a hanging art piece, similar to the work of Sabine Marcelis or Fernando Mastrangelo.
Any big dreams or plans for the future?
The next big dream is to display some of these functional art pieces at Design Miami. I've always been a huge fan of Craig Robins and how he curates the design district over in Miami and to work with him would be such a dream come true, I really think combining my work with the style that Miami demands would produce some very exciting results.
What were you looking forward to the most at ICFF 2020? What ways have you managed to stay connected to the design community throughout a tumultuous 2020?
A friend of mine, Tom Faulkner, who is a furniture designer based in Chelsea and is very well established, was going to be exhibiting at ICFF 2020 and I've enjoyed seeing him release work for years and he's been very good to me, letting me see his studio and his process. We were going to be exhibiting quite close to one another at ICFF 2020 and I was looking forward to seeing his new Papillon Collection. To be showing work next to someone of his status would have been very flattering and while I'm not quite yet his level, Rome wasn't built in a day. I've been keeping in touch with the design community during the pandemic by taking part in various webinars hosted by the design organisations from around the world and visiting their online exhibitions has certainly kept me in the loop.