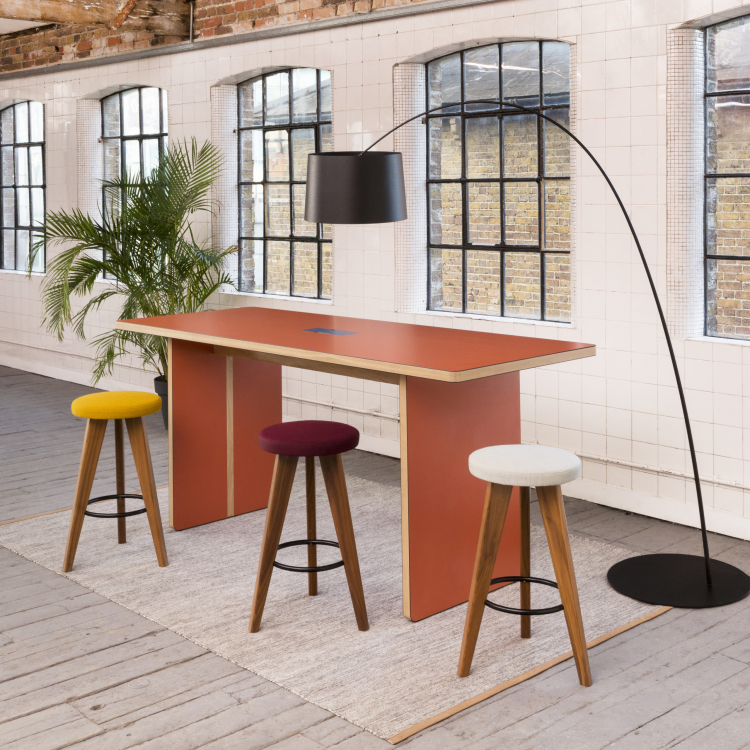 James Burleigh: Contemporary, With A Twist
James Burleigh began honing his skills for furniture design 30 years ago in his small workshop in London, England. Soon after, Burleigh's work gained popularity in the prestigious London design store Purves & Purves, which propelled him towards a well-earned reputation for the durability of his work. In 2012, Burleigh expanded the brand into the 7,500-square-foot facility in Northwest London, where the company resides today, with the goal of consolidating production methods and establishing a showroom and design studio all under one roof.
"Our company's design ethos centers on keeping the products simple but with high functionality and quality," says Burleigh. "A lot of time and energy has been invested into making James Burleigh Furniture stand the test of time. We have developed a 'tried and tested' method for our table-tops that is unique to us and we offer a solution that is durable and practical, without compromising aesthetics."
Burleigh draws inspiration from many places—long walks in the wilderness, travel, architecture, art, and meditation to name a few. Inspired by a passion for the natural world, landscapes, and organic shapes and colors, Burleigh also takes frequent trips to hike in Scotland, from which he draws creativity.
"It's important to get out of the office and away from the computer screen," he says.
James Burleigh designs and manufactures a signature collection of tables, benches, stools, and credenzas for agile workplaces in the contract market. The products are simple and honest in design; made to an extremely high standard; and offer visual appeal, strength, and durability. Color, material, timber, and size options are also extremely flexible to suit a client's needs.
"We manufacture and design all of our products in-house," says Burleigh. "We have a team of highly skilled furniture makers that carry out all the processing to the finished product. In this way, we believe we can manage and maintain our high standard. Our makers are absolute perfectionists and would never let anything leave our premises without being 100-percent perfect."
Currently James Burleigh is highly focused on sustainability and making strides to do their part to protect our planet and the world's natural resources.
"All of our packaging is 100-percent recyclable and biodegradable," says Burleigh. "We have been accredited with FISP membership and gained FSC status. All of these accreditations can help towards WELL, BREEAM, LEED, and SKA building accreditation. Our future sustainability goals include becoming Carbon zero, VOC Advantage gold certification, and attaining full 'Healthy Hospitals' criteria."
At ICFF 2021, James Burleigh is looking forward to presenting new standing designs as well as some exciting new products with more mobility for increased user flexibility, such as agile touch-down seating and lounge furniture for a new and more dynamic workforce. The James Burleigh team looks forward to meet everyone at Booth 3212 in November.