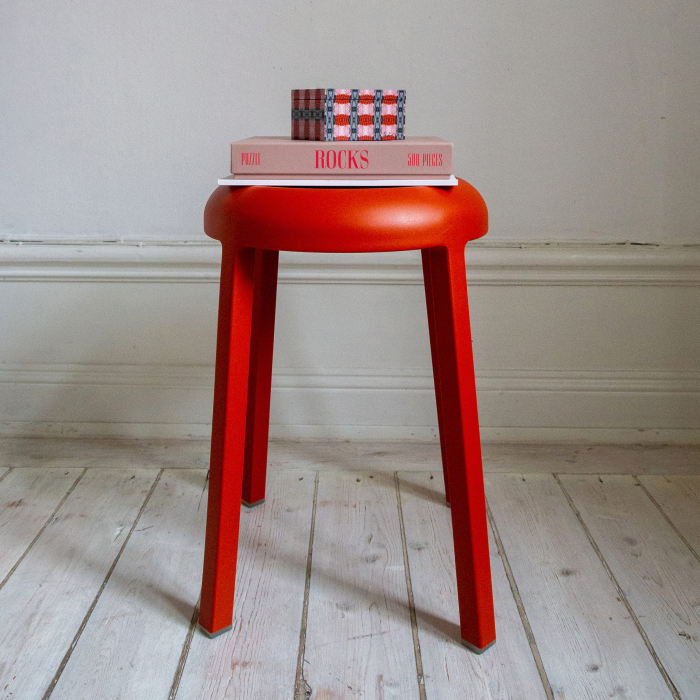 Emeco: Full Vigor
Emeco, a brand founded in 1944 in Hanover, Pennsylvania where they are based to this day, came into fruition after they received an assignment for a particular type of chair: A torpedo-proof chair that could withstand the toughest conditions for none other than the US Navy. And thus, the 1006 Navy Chair, built by hand from recycled aluminum, was born. Ever since, Emeco has been crafting the highest quality chairs in the US, mostly by hand and from recycled materials. Today, the Emeco team is made up of about 70 people, and while they still produce the Navy Chair, the brand's collection features a range of chairs, stools, and tables.
"Our commitment to hand-craftsmanship and slow manufacturing is really what sets us apart from other companies," says Emeco. "The complex 77-step process that we developed to produce the Navy Chair in 1944 is still the same method we use to make our chairs today. It's not always the most practical way of doing things, but we know when we're done, the chair will be so strong that we guarantee it for life. We really believe that it takes the human eye to know when the process is done right, and it takes human hands to get it that way."
As a brand, the quote 'Begin with what's left over. Turn it into what will last,' pretty much sums up Emeco's approach to making furniture. Although strength and durability are cornerstones to the Emeco brand, beauty isn't sacrificed.
"We're fortunate enough to collaborate with some of the world's best designers and architects to make high-quality furniture that sits lightly on the planet," says Emeco. "Some of our past and current collaborations include Philippe Starck, Barber & Osgerby, Jasper Morrison, Konstantin Grcic, and Nendo."
When World War II came to an end, and the need for a chair that could withstand torpedo blasts dwindled, Ameco received orders from Ettore Sottsass, Giorgio Armani, and (at the time, a young French designer) Philippe Starch for 1006 Navy Chairs, which opened the door to entirely new markets. For the first time in more than 50 years, Emeco began producing new designs. Starch loved the company and its work and was Emeco's first collaboration—the Hudson Chair, designed in 2000 for the Hudson Hotel in New York.
"Sustainability is part of our DNA," says Emeco. "The Navy Chair was made from scrap aluminum—a wartime necessity. At the time it wasn't about 'green,' but it set the bar. We still use recycled aluminum, but today we also engineer products out of scrap plastic, eco-concrete, and reclaimed wood. Today, it's a necessity for the planet. For us, it's about doing more with less; We make use of waste streams to build long-lasting furniture that people want to keep for a long time. That way, we keep waste out of oceans and landfills—and we reduce our carbon footprint by not using virgin resources."
Recently, Emeco came out with the Za collection by Naoto Fukasawa. A family of stools with round seats, handcrafted from recycled aluminum, Za is true to Fukasawa's "super normal" design philosophy.
"Za looks like it could have been a part of our collection from the beginning," says Emeco. "It fits in so well, almost like a little brother or sister to the Navy Chair!"